Media Democracy in the #indyref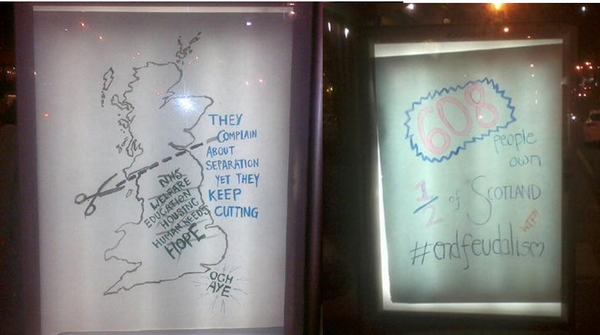 Pete Wishart tweeted this morning: "It now looks likely that none of the daily Scottish press will support Yes, Welcome to press diversity in Scotland. We have been let down." We haven't. They have been exposed.
Late to the party but bang on the money, George Monbiot writes: "Journalists in their gilded circles are woefully out of touch with popular sentiment and shamefully slur any desire for change" before discussing "How the media shafted the people of Scotland".
Whilst some clung to the hope that The Sun would come out, I wasn't amongst them. The Sun remains a reactionary misogynist rag.
The Guardian dipped low in it's assessment, pitching for a No vote by arguing: "a coded anti-English prejudice can lurk near the surface of Alex Salmond's pitch."
Legally, that word 'coded' was important.
But there's a paradox that often the best commentary and analysis has come from London and beyond.
As the #AllYes campaign group we held media conferences daily for three weeks, virtually no journalists turned up.
Channel 4's Paul Mason was an honourable exception as were freelance journalists from Ireland, Finland, Japan and Russia. John Harris, George Monbiot, Suzanne Moore, Bonnie Greer, have provided quality analysis, playing the role that Alex Thomson and Roy Greenslade did in recent footballing issues.
We launched a magazine dedicated to women and independence. We ran a design competition for an iconic image for Yes with a prize money of £1000 and a print run of 10,000 copies. Nobody turned up. Each time we contacted over 60 Scottish-based journalists inviting them in advance. None of them came.
There's nothing new about any of this. And it goes deeper than media ownership, limited resources, in-built bias or vested interests.
In 1935 Neil Gunn wrote "any effort on the part of any section – such as Ireland or Wales or Scotland – of the Celtic fringe to form itself into a nation is not merely opposed but bitterly resented as if it were not something in the nature of a betrayal of human progress."
A bond of trust between large sections of the people and the media is broken. It goes back before Nick Robinson, Leveson to Hillsborough and beyond as people have begun to realise the deeply reactionary implications of the slow tabloidisation of society.
This issue of trust is important when considering important matters. So who do we look to when we don't trust editorials or politicians or bankers any more?
Who would you trust? Janice Galloway or George Galloway? AL Kennedy or Charles Kennedy? George Robertson or James Robertson? We need to turn a negative into a postive.
The issue isn't to distrust the media but to have trust in ourselves,not to disown corrupt institutions but to build better ones.