One Chance, Just One Chance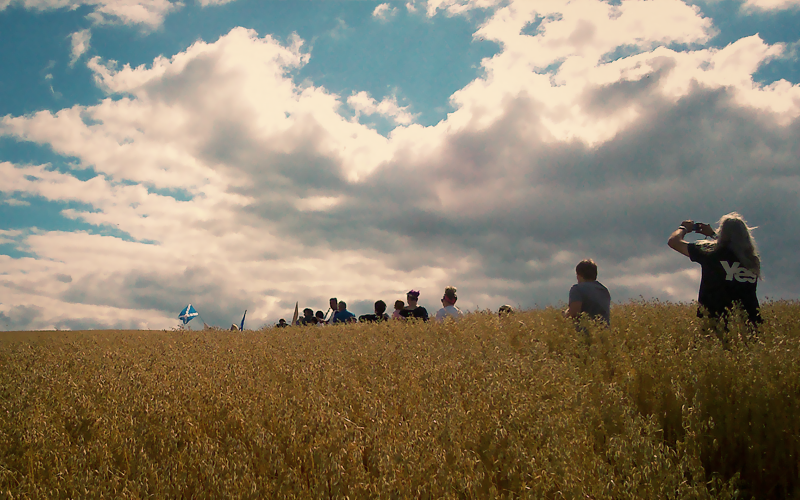 We have a few hours to persuade no-leaning voters who might be swayed by a pernicious promise that they can keep the apparent safety and comfort of the UK, while also getting 'further powers' for Scotland.
This offer of devo-pseudo-max, devo-we-forget-to-tell-you, devo-definitely-dodgy, devo-but-don't-ask-what, devo-special-powers-but-you're-not-superman business is actually much more of a threat to the cause of independence than you might think. Considering the context of the offer closely makes it clear why tomorrow is an opportunity that is very unlikely to come again.
The problem is not just that 'the vow' and its antecedents were cobbled together in a manner that will offer a good figurative definition of 'cobbled' for years to come.
The problem is not just that it arrived well into the eleventh hour, so clearly as a desperate response to an imminent constitutional threat rather than a longstanding democratic desire.
The problem is not just that this 'further devolution' and 'new powers' that dangle in the air are vapid and vague, while so much of the no campaign has been vindictive or vainglorious
And the problem is not even that there is no UK mandate for these promises, and every reason to believe that further powers for Scotland in any meaningful form will be resisted unless there are commensurate and concomitant changes in the rest of the UK, all of which will be complicated and contestable and take years to resolve.
You see all of those problems are propped up by another one, illustrated by the editorial position the Herald announced yesterday. I wrote for the Herald for seven years and was impressed by much of their reasoning, but I found myself dismayed by a key premise that is really axiomatic for their argument:
"To them (Westminster politicians) we say this: The Herald backs Scotland staying within the UK at this stage. But fudge this process, stitch it up and fail to deliver far-reaching further devolution, and make no mistake: you will be guaranteeing another referendum – one that you will lose, and deserve to lose…Substantive autonomy for Scotland's parliament and government could unify Scotland. Such autonomy is not merely an aspiration: it is a demand."
This sounds impressively measured and muscular at first blush, but I think it is politically naïve.
The Herald understands that promises of further powers could lead nowhere special, and suggest that this is an acceptable risk involved in voting no, because if that further devolution process does under-deliver, as many suspect it might, there will be another referendum just like this one.
Except why would there be?
There is no good reason to think there will ever again be anything resembling the 2012 Edinburgh Agreement which was, by international standards, pretty generous to Scotland, giving us the chance to unilaterally secede from a political union, with a helpfully worded question and requiring only a simple majority of votes.
Think about it from the perspective of the rest of the UK. Now that the prospect of Scotland becoming independent is a real and present danger, why would it make any sense to allow a vote of this nature to happen again, or to have the threat of it happening again as part of the political process?
Any extra powers for Scotland will have to be part of a broader UK constitutional settlement. Much of the UK thinks this current referendum result will be decisive, indeed David Cameron has been arguing – completely disingenuously, but still – that this is why Devo-max was not on the ballot paper in the first place; this prior commitment to the UK had to be established first. More importantly, when the British population woke up and suddenly realized Scotland might actually say yes they were pretty astonished that one part of the UK was ever given this chance of a unilateral vote with a simple majority.
So Scotland is very unlikely to ever be given the same kind of power that it has at this moment. A UK wide constitutional settlement will almost certainly place the bar higher, for instance requiring a 2/3 majority to secede, or a UK-wide vote.
No means Scotland remains in the UK and plays a relatively minor part in the constitutional conversation of the UK. Westminster might well not deliver significant extra powers to Scotland but that's not the main point. If they don't deliver, we may not be able to do anything about it.
So while I hesitate to quote from Mel Gibson, a line from his famous Braveheart battle cry does have resonance at this crucial moment. 
On top of all the other reasons for voting yes, when you imagine British Realpolitik that would follow a no vote, for Scotland it should be clear: there really is "one chance, just one chance."