Scotland Be Brave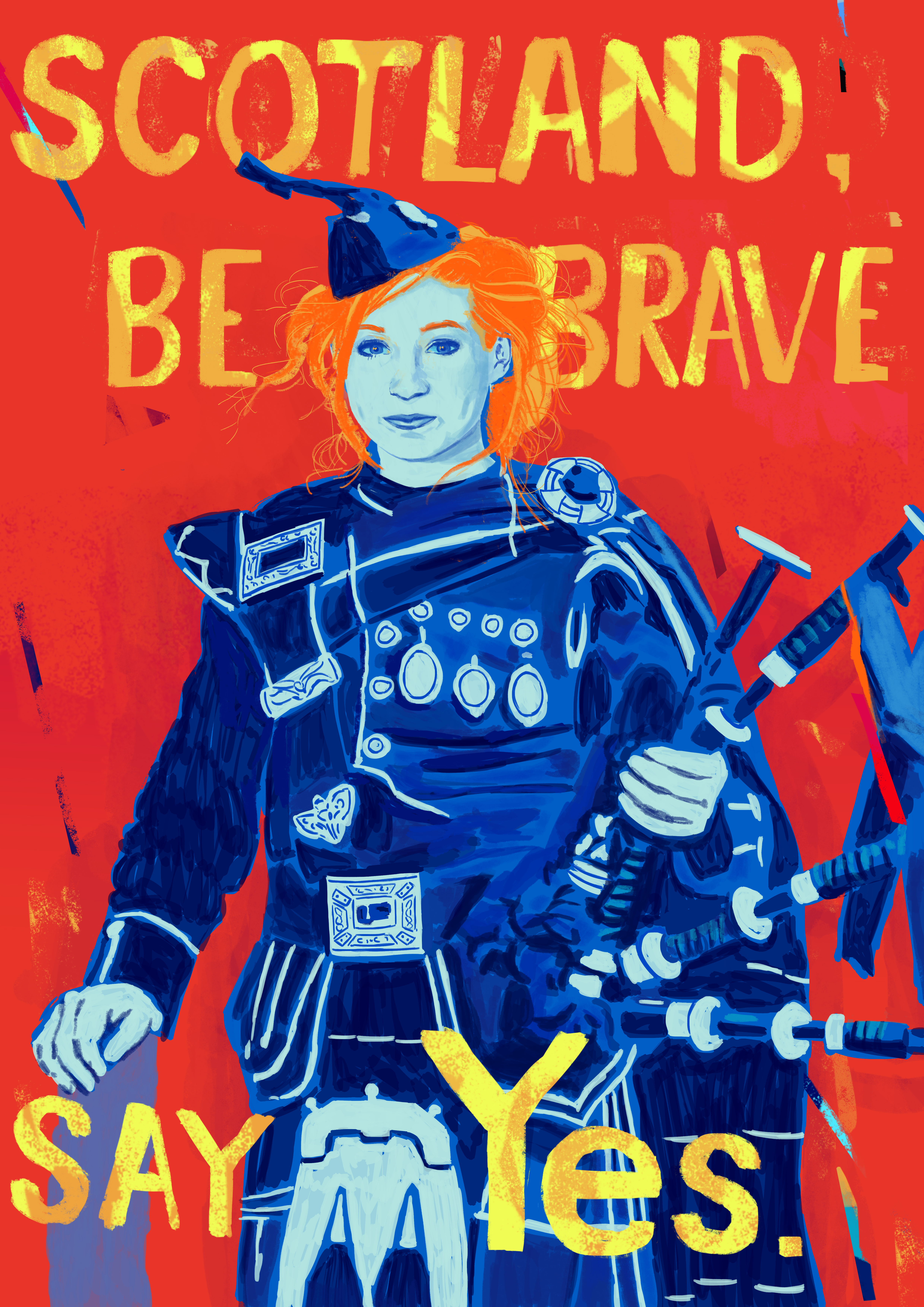 Our day of reckoning finally arrives tomorrow.  Every hair on the back of my neck is standing on end just writing this.  This is big.  Perhaps the biggest day of our lives.  For 15 hours we'll have the most incredible feeling of genuine transformational democratic power in our own hands.  The Unionist media, the British establishment, who've played such a despicable role in our public affairs during this campaign, can only scowl and wait.  The whole world will be watching.  But we – little us! the ordinary folk of Scotland – are the only ones who matter now, the only ones who can decide.
It's been a long road for some, even longer for others.  Some cherished individuals are no longer here to see this day, except in spirit.  We know who they are and many of us will be thinking of them tomorrow.  But we've got there and we're in with a shout.  Since this will be the last pre-referendum article I write there's a couple of things I wanted to say before it all goes frenetic.
I'd especially like to thank Mike Small for what he's done over the last seven years since the two of us set up Bella in 2007.  There's so many everyday heroes in this campaign who've moved heaven and earth to get us where we'll be tomorrow.  It would take forever to list them all.  But for my money few have been as inspirational as Mike.  What he has done here on Bella almost beggars belief. He's a modest chap, happy to work away in the background most of the time, and his generosity of spirit, his ability to imagine and articulate, and crucially, assist so many people to connect with others – when the mainstream media have blocked their voices out of our wonderful national conversation – has been so important.  I'm so proud of him for what he has achieved with Bella, and of everyone who has contributed to and read Bella over the years.
I'm confident we'll have a YES tomorrow. I'm convinced it is the best thing for Scotland and for our children in the long run.  It may be our only chance to break free from Tory Britain and build a popular social democracy fit for everyday heroes. This is why I believe the Scottish people will grasp this historic opportunity with both hands.
Yet it's almost impossible to call in advance.  If it's a NO vote I'll accept it – because the people will have spoken and I'm a democrat – and continue to campaign towards making Scotland a better fairer more equal country.  But the democratic forces unleashed in this campaign have woken up to possibilities and I hope they will not be going back in their box regardless of the result.  Politicians of every hue should listen to them. They are here to stay and they're the future.
Its important too to be gracious in defeat and conciliatory in victory, no matter how disappointed or elated you might feel. When you live here and intend to bring your kids up in this wonderful country of ours, full of fantastic people, there is no alternative. We've all got too many friends and family on both sides.  Think of them after the result.  They matter as much as those of us who have rallied around the banner of YES.
I adore the poster above, by Ciaran Murphy, which won the recent Bella/SIC competition.  It has been hung with pride on all my house windows.  It encapsulates,  in its essence, what many of us will be thinking when we wake up tomorrow and make our way to the polling booth, destiny in our hands.
Take a deep breath.  Be brave Scotland.  Be brave for yourselves and be brave for your children.  Be braver than you've ever been before. This is our moment as Alex Salmond rightly said.  Let's take it, with a smile on our faces, a spring in our step, and love in our hearts.
SAY YES!