Take One Action. Be inspired. Be the inspiration.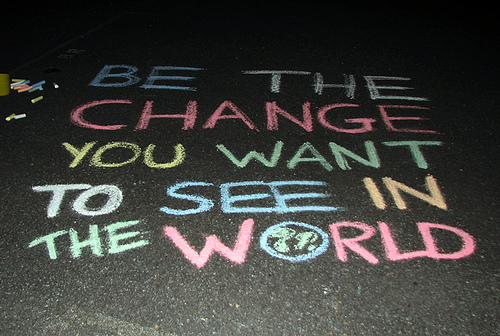 As an unashamed film buff there's something that's been bugging me for years: Where are all the independently produced feature-length documentaries made in Scotland?  Three years ago Anthony Baxter produced an absolute beauty with the internationally acclaimed You've Been Trumped.  Based in Edinburgh, but connecting with people all over the world, Mark Cousins is revolutionising the personal cinematic essay. There's the collaborative effort of Scotland Yet – a feature film on our journey to the referendum. There's the brilliant work of Nick Higgins who directed We Are Northern Lights. But these are the exceptions that illustrate a more general absence.
Let's put it another way. Where are all the clever, insightful documentary movies based on important Scottish essay books such as Lesley Riddoch's Blossom or Andy Wightman's The Poor Had No Lawyers or George Davie's The Democratic Intellect or Mike Small's Scotland's Local Food Revolution?  Do we really have to wait for the BBC to bother their backsides?  Who will make these films? You? Me? Any takers? That's the context I'd like to place the fantastic Take One Action documentary film festival.  As a call to action.
ANOTHER WORLD IS POSSIBLE
A new wave of documentary film-makers are recording, informing and connecting the many millions of activists working to make the world a better place to live in.  From the big budget brilliance of Michael Moore to thousands of lesser known or localised works, documentary film has come into its own in the last two decades and is increasingly used as an essential and accessible tool of global enlightenment and democratic self-education.
Timed fortuitously to come on the back of our Indy referendum the 8th Take One Action Film Festival explores the idea that Another World Is Possible through a diverse programme of world-class documentary cinema.
Artistic Director Simon Bateson has curated a wee gem of a festival.  Diverse, inspiring and relevant: it would be impossible to come away from these events not bursting with ideas. Following each movie are audience discussions with a chance to share ideas or connect with others who want to take personal or communal action.
Below are some of the highlights.  The full programme of events can be accessed at the Take One Action website.  Screenings are at Edinburgh Filmhouse, GFT and CCA.
EVERYDAY REBELLION (Dir: Arash & Arman T. Riahi, Austria, Switz, Germany) 2013
"If you want to defeat a boxer, challenge him to a game of chess." An exploration of playful rebellion and non-violence resistance from England, Ukraine and Syria to the US, Iran and Spain.
"This intelligent film proves it is the smaller, more personal stance that can ultimately make the bigger difference."  The Guardian
Filmhouse:  Fri 26 Sep, 1pm. £5/£3.50
INEQUALITY FOR ALL (Dir:  Jacob Kornbluth, USA) 2013
The 3 richest families in Scotland own more wealth than the bottom 20% of the population (Source: Oxfam report). Robert Reich, a former Labor Secretary in the Clinton administration of the 90s, forensically dissects the socially corrosive effects of inequality and explains why the status quo is not sustainable.  Essential viewing for everyone who has joined a political party in the last week.
"Persuasive and accessible, a gentle but urgent clarion call to action'  Toronto Star
Filmhouse: Fri 26 Sep, 8.30pm. £8.20/£6
CCA:  Thur 24 Sep. 7.30pm. £5/£4
THE REVOLUTIONARY OPTIMISTS (Dir: Nicole Newnham & Maren Grainger-Monsen, USA) 2013
In the face of dismal social conditions and adult resignation kids in Kolkata choose to fight back. Filmed over several years a camera crew follow Amlan Ganguly, a lawyer turned community educator, who works with local children in Kolkata who use imagination and determination to build their own slow, joyful revolution to empower and transform their communities.
"Most people could learn a lot from these little activists" Washington Post
Filmhouse: Sun 28 Sep, 8.30pm.  £8.20/£6
GFT: Sat 27 Sep, 3.15pm. £5
SALT OF THE EARTH (Dir: Herbert J Biberman, USA) 1954
A pioneering social documentary, banned in the USA for a decade, follows a community of striking zinc miners in New Mexico. Following a debilitating accident American and Mexican workers join forces to oppose safety cuts and what emerges is an inspiring story of how the balance of power in the dispute shifts in favour of the strikers when the miners' wives get involved.  After the screening a discussion will explore the legacy of the 84-85 miners strike, in particular the role of women in the movement.
"Has a strong claim to being the most ambitious American film ever made" The Guardian
Filmhouse: Tues 30 Sep, 8.30pm. £8.20/£6
GFT:  Thur 2 Oct, 6pm. £5
MILLIONS CAN WALK (Dir:  Christoph Schaub & Karmal Musale, Switz) 2013
After years of land grabs and destructive infrastructure projects in 2012 hundreds of thousands of Adivasis, India's aborigines, embarked on an epic peace march to Delhi demanding a life of dignity. This inspiring film shines a fascinating light into the philosophy of non-violent resistance at the heart of their march.
Filmhouse:  Thur 25 Sep, 8.30pm. £8.20/£6
CCA:  Sat 27 Sep, 7.30pm. £5/£4
+ CLAIRE LAMOND
There are no Scottish-produced feature films at the festival. There is, however, SEAMS AND EMBERS, a 6 min stop-motion animation by the incredibly talented Claire Lamond, where a Scottish miner reflects on younger days up to the closure of Scottish coal mines in the 1980s.  It will be screened before SALT OF THE EARTH.