Fracking Scotland
Laura Eaton-Lewis explains how Westminster has literally sold the ground from under your feet.
Ye'll have had yer Democracy, then?
Oh Edinburgh. It was all looking so good for you for a while.
Your high property prices, your comfortable financial services, your beautiful scenery, your controversial masonry, and now… this.
For various reasons, this good people of this city put its trust in London to make decisions for us. They voted not to take our own decisions here in Scotland.
Oh, but would they have seen one little map, they might have felt a little differently about that.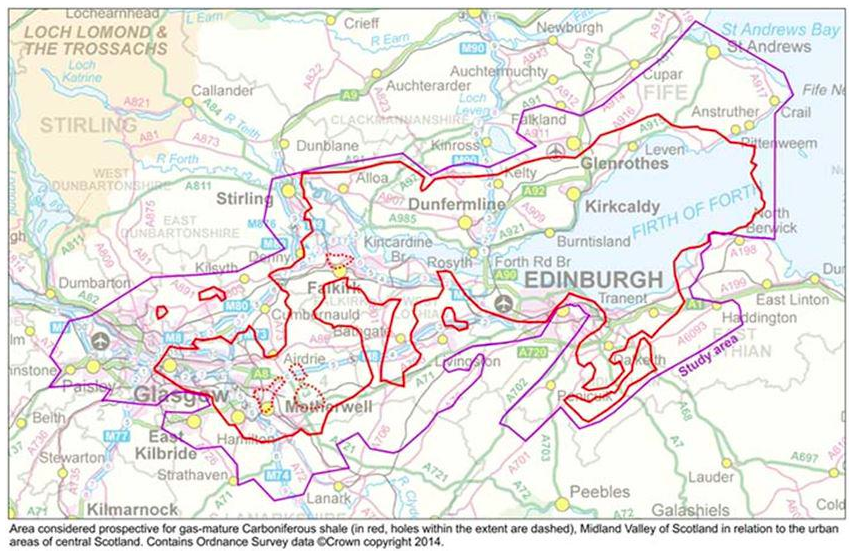 This little map from the Crown Office with the big red circle right around the whole of the centre of Scotland, shows exactly where the UK government are currently selling off licenses to energy companies to drill under your homes to get at that pesky gas and oil trapped in the shale down below. This is not some remote desert in America, this is where 80% of Scotland's population live, under our homes, in Glasgow (Yes) and Falkirk (Yes) and Fife (No!), and Edinburgh (NO!!).
Yes. Here's the Scottish Government statement published today, showing how powerless they are to stop this: http://news.scotland.gov.uk/News/Scottish-householders-rights-to-object-to-fracking-to-be-removed-108e.aspx
Our fair countryside, our honest touns, our historic cities… the entirety of Scotland including, dear old Edinburgh is fair game for fracking.
Westminster has literally sold the ground from under your feet. Soon, an energy company is going to start drilling underneath your own home, with a likelihood of causing earthquakes, poisoned water supplies and subsidence.
And there we were being worried about our mortgages going up! No need to worry about that, because you'll be too busy worrying whether you'll lose the entire value of your home, as happened in Lancashire. Thinking about being comfortable in your old age? Well, you'll have more to worry with cracks appearing in your home and your tenement falling down. Since our drinking water is about to be contaminated with carcinogenic chemicals, might be a bit pressing to worry about that, mightn't it?
But hang ON. How on earth has this happened and why didn't we know about it before? Last year, some of us had cottoned on that there were plans afoot and we duly added ourselves to the Greenpeace register with our postcodes and addresses to state that legally we denied permission to ever frack under our homes. That should have done it, right? We said no… we didn't want this to happen. But that didn't suit the government, who don't seem to mind that the UK is one of the most densely populated places in the world. Evidently, there's money to be made and if the public lose their money and their wellbeing, well, that's hardly the government's problem, is it? We voted for them after all.
So by stealth and without a single vote being cast, the Tories pushed a piece of legislation through the back door of Westminster's ironically named 'Department of Energy and Climate Change', on 20 December 2013 when all MPs had gone home on holiday. Four government ministers decided to make it unnecessary for drilling companies to seek the permission of every householder before drilling under their home and their land. According to Nick Boles MP (Lib Dem), notifying every homeowner was 'unnecessarily excessive'. This was ratified on January 13 2014 when they'd received no objections from MPs, presumably because they were too busy nursing their new year hangovers to catch up on parliamentary business. Now, no MPs objected, but they had received 155 objections (only 7 in favour) during the hasty piece of public consultation they'd done six weeks prior. Strangely none of those objections made any impact on their self-ratified decision.
The Telegraph reported:
'Shale gas industry body the UK Onshore Operators Group claimed at the time that the reform would not lead to fracking taking place under homes without their owners' knowledge because companies were still required to negotiate land access with the individuals under separate trespass laws.'
Then in June the Labour party confirmed that it would support the Government in removing householders rights to object to drilling under their homes via the trespass law
At this juncture over 45,000 legal oppositions to block energy companies from drilling became useless, as they no longer needed to notify you and no longer even needed your permission.
In September the Government put the licenses up for sale and the closing date is 2pm 28 October. In fact, some of Scotland has already been sold and a huge section renamed as PEDL 133, better known to us as a massive area from Falkirk to West Fife to South Queensferry has in fact already been licensed for fracking by Dart Energy
As have (PEDL 161, 163) which is the whole of central Fife, and that lovely bit of coastline from Anstruther to Elie to right the way inland.
Much of the rest of Scotland is up for sale right now. Including that area under Leith and Portobello where much of the town is built on old mines, sand and shale, where there is already subsidence. Including Edinburgh's grand New Town, The Grange, Bonaly, Colinton, Morningside, Merchiston, even the Scottish Parliament itself.
Ah.
Maybe we will be needing that power back then. Faced with a Government and an opposition who are quite willing to sell us out from under our feet, from under our own laws, where else are we to turn? There is no democracy here, there is nothing to see.
We could take heart from the Unis'to'ten people, who have set up camp on their land in Canada and every day provide a 'soft' blockade putting their bodies in the way of the advancement of the petrochemical companies and their drills. This might be the only hope. It appears that the law wasn't enough to stop the government once they'd set their eyes on this prize, and we know well from experience there is little hope from signing petitions or marching.
In a week where we've been sent to war, watched the 'vow' dissolve in front of us, witnessed promises to raise the pension age to 70 and cut child benefit; we have also seen David Cameron turn the 'Scottish question' into the 'English question', a proposal which would mean a two tier Westminster in which the opposition was effectively annihilated forever, democracy is very thin on the ground indeed. In the face of this assault on civil liberty, the Scottish Parliament must demand the power over fracking, and even though the licenses have already been sold, we must stand our ground and assert again, our ownership over our own ground.
The DECC Ministers are as follows:[4]
Minister
Rank
Portfolio
The Rt Hon Ed Davey MP
Secretary of State
DECC strategy and budgets; Electricity market reform; Carbon price; Annual Energy Statement; Energy security; National Security Council; DECC delivery landscape; Devolved Administrations; Carbon Plan; 2050 Pathways; Renewable energy strategy
The Rt Hon Matthew Hancock MP
Minister of State for Energy
Energy Bill; Supports the SoS on EMR; Security of supply; International energy; CCS, gas and coal policy; Nuclear policy; Renewable energy deployment; Grid policy including smart grids and network of recharging points; Oil and Gas exploration,; licensing and revenues; Offshore environment and decommissioning; Regulation and competition in the energy sector (incl. nuclear); Waste and decommissioning policy for new nuclear; Resilience and emergency preparedness; Energy Council; Coal Authority; Lean regulation
Amber Rudd MP
Parliamentary Under Secretary of State for Climate Change
The Green Deal; CERT, CESP & ECO; Energy Efficiency Deployment Office (EEDO); Energy demand reduction (including its contribution to EMR); Public sector energy efficiency, including greening DECC; Green jobs and skills, SMEs and growth; Promoting the interests of energy consumers; Fuel Poverty, Warm Home Discount and Warm Front; National and international climate change; National carbon markets and EU ETS (including Energy Intensive Industries); Climate science; Carbon budgets; Carbon reduction commitment; Green Investment Bank; Heat, including the Renewable Heat Incentive; Decentralised/community energy and small scale renewables (inc cooperative / local ownership and business rates); FITs; Energy innovation, including marine energy (wave and tidal) and geothermal; Planning reform and consents
Baroness Verma
Parliamentary Under Secretary of State
Departmental performance and Delivery; Efficiency; Managing liabilities, including coal health and the Concessionary Fuel Scheme; Departmental business in the Lords; Transparency; Managing the nuclear legacy, including NDA performance and delivery (supported by the Shareholder Executive) and policy on plutonium and MOX; URENCO; Geological Disposal Facility (GDF); Civil nuclear security, including responsibility for the Civil Nuclear Constabulary; Smart meters; Nuclear safety and regulation; Nuclear non-proliferation; Supports Greg Barker on Green Deal and fuel poverty