50:50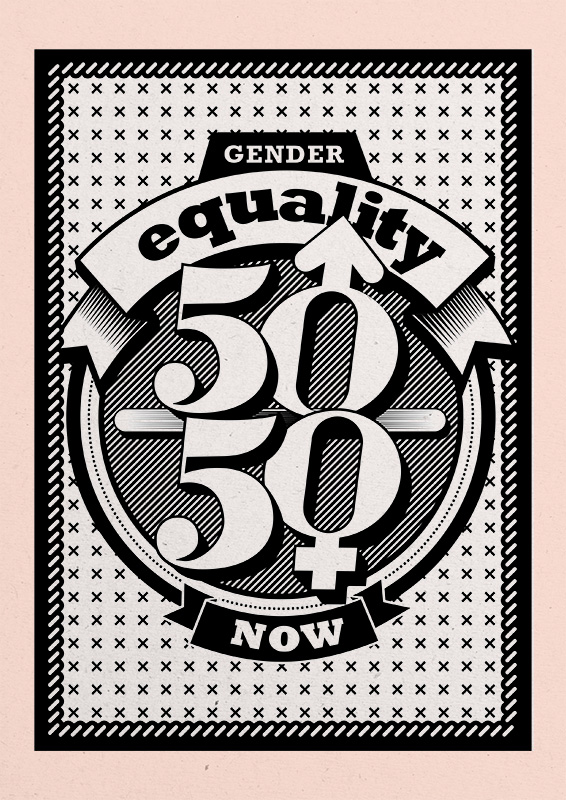 SNP MSP Marco Biagi talks about how he has come to support the Women 50:50 campaign and sketches out a simple reform to elections that he thinks could make it happen.
In secondary school we were all in awe of the calm, collected ability of those seven academic high flyers who got the straight As in their Highers, all of them girls. At university my best friends were women – I know 'some of my best friends are…' is a terrible way to start any sentence even in the general neighbourhood the subject of discrimination, but it is true – in fact in my case it wasn't just 'some' it was 'all'. Together we took on an elitist, all-male society and together we tried (and failed) to get Germaine Greer elected as rector, though at St Andrews that was always going to be like selling Santa hats down the turkey farm. Time and time again I saw some women taking on male counterparts on their own terms and outperforming them.
Today the articulate feminism I hear often talks more of difference, and of adapting how things are done to the broadly though distinctly different set of preferences and experiences of women. Just as – to paraphrase Anatole France – the law in its majestic glory forbids both the rich man and the pauper to beg in the street, what can be seen from one perspective as a level playing field can be from another hopelessly tilted in one direction.
It is an intellectually intriguing debate that I can only ever engage with in abstract rather than through personal lived experience, so I will leave others to wage it. But what it meant is that for years I resisted the kind of proposal I have now come to support.
But first as parliament staff and now as a parliament member I have come to be in environments that are unmistakably male. Holyrood is one of those workplaces where the urinals are the toilets with queues.
I used to – actually still do – take pride that the SNP in the first parliament achieved a relatively balanced gender mix (16 women to 19 men). And for many a year too I though to myself that if the situation had been reversed, on principle I would abjure any kind of special recognition or advancement based on such an uncontrollable factor of my demography.
Who am I kidding? In my early days as a member of the SNP I was Token Young Person all the time, receiving the benefit of responsibilities and rewards on the basis of my age since that age was hugely under-represented. In more recent years being one of the (now rather impressively large) group of gay parliamentarians has undeniably afforded me extra political niches, and was I expect in the mix when I was thought of by my party as being the right choice in appointing a new deputy convener of Holyrood's Equal Opportunities Committee.
And it is by this long, winding route that I have come to the conclusion that in local and national government the firm hand of policy needs to be applied. The underrepresentation is just too pervasive and too persistent. We need more than the targeted recruitment campaigns, or leadership and encouragement, or changes to hours and working practices that everyone gets behind. They just ain't working. I long underestimated the scale of the challenge, the unconscious behaviours, and just assumed all but the most unreconstructed minority (eg that all male society) on my side of the chromosome gap really did accept women as equals. Experience has taught me differently. Business as usual will mean more glacial progress, a la Westminster. Our parliament will still provide the eyes of young women with a vista of difference and exclusion.
Is this the only way in which our parliament needs to better reflect the people it represents? No. The numbers of people in parliament with a disability – though many will be unseen – fall short of the 20% usually cited for the population. At the tender age of 32, my fellow MSPs are on average twenty years older than me, but also around ten years older than the average member of the electorate. If Holyrood gains the ability to legislate on its own elections we should use the opportunity to reshape itself.
So let me float just one modest proposal for discussion. If it gained power over elections, the Scottish Parliament should move to the single transferable vote (STV), long the preferred system of SNP, Lib Dems, the Greens and the UK's Electoral Reform Society. Constituencies would elect between three and five members, and voters can choose between candidates from the one party as well as between parties. This is reasonably straightforward.
There would also be one added feature. Any party running in any constituency would have to put up a gender balanced set of candidates, and have at least one man and one woman running in that constituency. This heads off bitter selection battles, party hierarchy-forced retirements, or choices of which constituencies become men-only or woman-only of other solutions. It instead places a welcome onus on parties to bring forward a greater number of qualified female candidates from their membership. The critics who would always decry tokenism have to concede that the final decision lies with the voters. Those voters would also have the added benefit of a choice between candidates of the same party that STV allows for but does not always in practice provide. It could be an elegant solution that would ensure no MSP had a safe seat and so had reason to work hard, as well as causing winnable female candidacies to soar and female numbers in parliament to follow.