A Cut Out and Keep Guide to Understanding the 2015 General Election in Scotland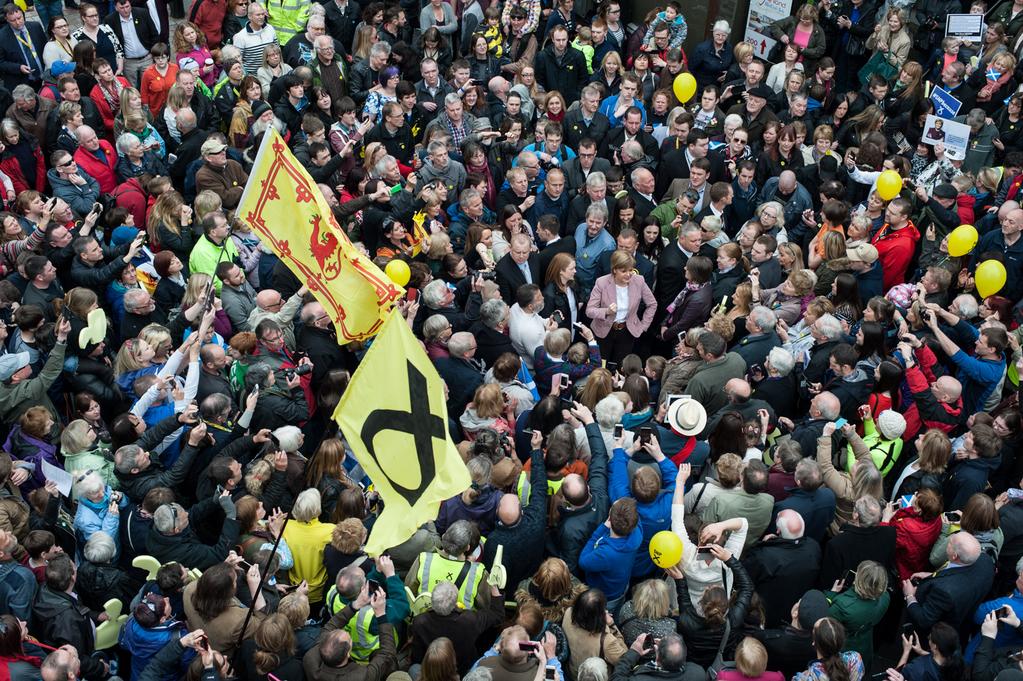 By Gerry Hassan
This has been an election campaign like no other in living memory in Scotland. While Westminster commentators have regularly stated that this is the 'most boring' and 'risk free' election they can ever remember, north of the border nothing like this has ever been seen before.
Scotland is on the cusp of huge political change which could see Scottish Labour's Westminster political establishment vanquished, and a new political dispensation and map of the country created, which will not only have ramifications here, but for the whole of the UK.
Scotland normally doesn't matter in UK general elections. For decades its anointed role has been to provide 40-50 Labour MPs in the hope that the rest of the UK returns a Labour Government. The action and battleground has always been elsewhere, somewhere over the distant horizon.
This election feels and is very different. Scotland is the pulse and the heartbeat of the contest. It is providing much of the story and drama, and may well determine pre and post-election who forms a UK government and under what conditions.
To aid the contextualising of this potentially historic moment, and so you can check any erroneous comparisons being made over the course of May 7th-8th here are some historic facts, figures and precedents – about what might be broken and not broken later this week.
1. The '45 aren't the same '45:
The argument goes 45% voted SNP in 2011 and produced a landslide victory, 45% supported Yes in the indyref and lost in a binary choice, and now 45% plus are away to vote SNP and sweep the board against a divided pro-union opposition. Assume as a minimum the SNP win 46% on Thursday on a 75% turnout:
Year Contest '45 Turnout Actual Support Description
2011 Scot Parl. 45.4 50.4 902,915 SNP vote
2014 Indy Ref. 44.7 84.6 1,617,989 Yes vote
2015 UK Elect. 46.0 75.0 1,482,073 SNP vote
Thus the argument goes nothing has changed except the impact of 45% in different contests. This is erroneous on a number of reasons. First, the SNP didn't always get the 45% it won in 2011; its constituency vote increased by 12.5% between 2007-11. Second, there is a huge difference between the 45% in 2011 and 2014 – which can be seen in turnout; the Yes vote in 2014 was in actual numbers 79.2% higher than the SNP's 2011 vote. Third, there is significant churn between the 2014 and 2015 votes – with 85% of Yes voters supporting the SNP and 7% of No supporting the SNP (the same number as are planning to vote Lib Dem).
2. Highest ever vote for a party (or alliance) in actual numbers:
What level of support do the SNP need to win on Thursday to outpoll every party in Scottish history? The highest post-war vote by a party was the 1,349,298 voters who supported the Conservatives in 1951: this amounting to 48.6% (when they won 50.1% in 1955 this was less in actual voters).
In the inter-war years the National Government of 1931 achieved a higher vote – 1,385,385 – representing 64.0% of the vote, but this was made up of an alliance of four parties.
3. Highest Turnout at UK Elections in Scotland:
The Scottish referendum resulted in the highest ever turnout for a national contest in democratic times (i.e.: since women got the vote). The highest turnouts in Scotland so far in post-war times are:
1951 – 81.2%
1950 – 80.9%
1955 – 79.6%
There are four turnouts in pre-democratic times (since 1832) which have exceeded these figures: 1832 with 85.0%, January 1910 with 84.7%, December 1910 with 81.8%, and 1885 with 82.0%. The first two figures: 1832 and January 1910 are the only Scottish figures to ever exceed the indyref turnout – doing so respectively by 0.4% and 0.1% in tiny electorates (the total Scottish electorate in 1832 amounting to 14,047 voters).
4. Highest Ever Labour Vote at a Post-War Westminster Election:
Scottish Labour has never won a majority of the popular vote. Its highest votes at Westminster have been:
1966 – 49.9%
1964 – 48.7%
1951 – 47.9%
5. Lowest Ever Labour Vote at a Westminster Election:
Scottish Labour's previous lowest vote at a post-war Westminster election was 35.1% in 1983. Their previous lows post-1918 – the first election which saw Labour compete as a national party across Great Britain – were as follows:
1918 – 22.9%
1922 – 32.2%
1931 – 32.6%
6. Highest Ever SNP Vote at a Post-War Westminster Election:
Any SNP vote above 40% will be ten percent higher than their previous high:
Oct. 1974 – 30.4%
1997 – 22.1%
Feb. 1974 – 21.9%
7. Highest Ever Conservative Vote at a Post-War Westminster Election:
The Conservatives famously won over half the vote in Scotland in 1955: the only party to achieve this in post-war times. They also won over half the vote the same year in England and Northern Ireland, only being prevented from a UK majority of votes by Wales.
1955 – 50.1%
1951 – 48.6%
1959 – 47.2%
8. Lowest Ever Conservative Vote at a Post-War Westminster Election:
The Conservatives four lowest election shares have been achieved in the last four Westminster elections:
2001 – 15.6%
2005 – 15.8%
2010 – 16.7%
1997 – 17.5%
9. Highest Ever Liberal Democrat (or Liberal/Lib-SDP Alliance) Vote at a Post-War Westminster Election:
1983 – 24.5%
2005 – 22.6%
1987 – 19.2%
10. Lowest Ever Liberal Democrat (or Liberal/Lib-SDP Alliance) Vote at a Post-War Westminster Election:
The lowest post-war Liberal Party support, as it then was, were all in the 1950s:
1955 – 1.9%
1951 – 2.2%
1959 – 4.1%
11. Largest Number of Labour Seats at Westminster:
1997 – 56/72
2001 – 56/72
1987 – 50/72
12. Smallest Number of Labour Seats at Westminster:
1918 – 6/71
1931 – 7/71
1935 – 20/71
13. Smallest Number of Conservative Seats at Westminster:
1997 – 0/72
2001 – 1/72
2005 – 1/59
2010 – 1/59
14. Smallest Number of Liberal Democrat (or Liberal/Lib-SDP Alliance) Seats at Westminster:
In 1945 the Liberal Party failed to win a single seat in Scotland – a record low so far not repeated. In the three Tory election victories of the 1950s they won one seat – Jo Grimond in Orkney and Shetland – the party failing to win a single mainland seat (a pattern repeated at constituency level in the 2011 Scottish Parliament elections where they won the separate seats of Orkney and Shetland and no other FPTP seats).
1945 – 0/71
1951 – 1/71
1955 – 1/71
1959 – 1/71
15. Highest Ever Scottish Green Vote at a Westminster Election:
The Scottish Greens are standing 31 candidates at the forthcoming election and have so far never won more than 1.1% at a Westminster contest. Their highest Scottish-wide vote was 8.1% in the 2014 Euro elections.
2005 – 25,760 – 1.1%
2010 – 16,827 – 0.7%
1992 – 8,291 – 0.3%
16. Highest Ever UKIP Vote at a Westminster Election:
UKIP are standing 50 candidates at the forthcoming elections and have never won more than 0.7% at a Westminster contest. Their highest Scottish-wide vote was 10.5% in the 2014 Euro elections – which saw the return of one UKIP MEP.
2010 – 17,223 – 0.7%
2005 – 8,859 – 0.4%
2001 – 3,236 – 0.1%
17. Highest Ever Labour Lead over Conservatives:
1997 – 28.1%
2001 – 27.7% (Conservatives in fourth place)
2010 – 25.3% (Conservatives in fourth place)
18. Biggest Gap Between Scotland and England as Defined by Lab/Con Lead:
One of the biggest debates in Scottish academia and politics is: how different is Scotland from the rest of the UK? The answer is that it is both significantly different and not different at the same time. Measuring the gap between the Labour lead in Scotland over the Tories and the Conservative lead in England over Labour gives one indication: the gap of 36.8% in 2010 is the highest on record. A corollary of a Labour collapse in Scotland on May 7th would be that this gap will close markedly.
2010 – 36.8%
1987 – 35.1%
1983 – 25.7%
19. Lowest Turnouts 2010:
Glasgow North East was the lowest Scottish turnout in 2010, and fourth lowest in the UK, Glasgow Central the ninth lowest. In 2001 the lowest post-war Scottish turnouts were recorded at Glasgow Shettleston (39.7%) and Glasgow Maryhill (40.1%).
49.1% Glasgow North East
50.9% Glasgow Central
52.0% Glasgow East
20. Will Glasgow and 'Glasgow Man' Decide the Fate of Scotland's Election?
Since the indyref some commentators have identified the phenomenon called 'Glasgow Man' as the key to the election – denoting traditional Labour working class Yes voters. This seems to be a bit of an overstatement: Glasgow had fifteen constituencies (21% of Scotland's total) until 1970, but now has only seven (12%), so is less important and less reliable as a weathervane.
Secondly, for all the talk of 'Glasgow Man', Glasgow is the most female city in the entire UK: a factor caused by poor male life expectancy. The most female constituencies in the UK are in the city, topped by Glasgow South West (53.1% female) and Glasgow East (52.9% female). So perhaps 'Glasgow Woman' could prove more of a crucial swing voter!
Note:
Scottish Universities constituency abolished in 1948 not included in 1945 and pre-1945 totals.
Sources:
F.W.S Craig, British Electoral Facts 1832-1980, 1981; Gerry Hassan and Douglas Fraser, The Political Guide to Modern Scotland, 2004; Nuffield British General Election series; Durham University Constituency Explorer, http://www.constituencyexplorer.org.uk/; BBC News, Scotland Vote 2014 Europe, http://www.bbc.co.uk/news/politics/eu-regions/S15000001