Tory Telly and Short Money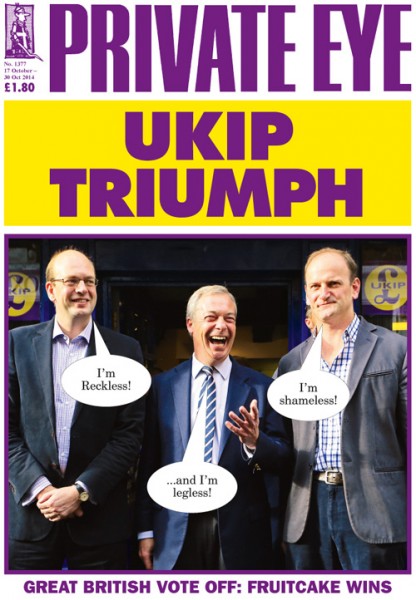 By Mike Small
We've lived through a huge election process with winners and losers. People move on and new lights shine. But not if you're the BBC's Question Time which is to feature tonight (again) the permanently-present Nigel Farage,  Tory Health Secretary Jeremy Hunt, Badger Champion Brian May and Zanny Minton Beddoes, editor of the Economist. The token 'lefty' is Tristram Hunt, son of Baron Hunt of Chesterton.
It's a hilariously imbalanced political spectrum consisting of right, far-right, celebrity, far right and posh left.
BBC Producer Paul Lambert's departure to UKIP last year might, you'd have thought, have offered some respite to Farage's incessant presence on your telly, as might his failure at the election in Thanet. Not so.
There's even a website dedicated to the phenomena of his eternal presence 'Is Nigel Farage on Question Time?'
It's a pantomime show.
He may be propped up by the state broadcaster but Farage was yesterday described by his own general election campaign director as a "snarling, thin-skinned, aggressive" man who is turning Ukip into a personality cult. But the claim made by Patrick O'Flynn, Ukip MEP for the East of England is nothing next to the feud spilling out between Farage and the party's only remaining MP, Douglas Carswell, over whether to accept £650,000 in 'short money', which it's entitled to after getting 3.9m votes overall.
Presumably Carswell had thought he would become leader after Farage resigned and then unresigned within days before spouting off that he wouldn't accept the cash boost.
If Farage and Carswell can't resolve their feud, and if he was to resign, UKIP would lose all of the £650,000 with him.
As the fruitcakes descend into chaos it may be entertaining to watch, but not on tv we have to pay for.
The devolution of broadcasting remains one of the most compelling (and least discussed) issues for a more democratic Scotland.
More on UKIP Wars here.