Outfoxing the Barbarians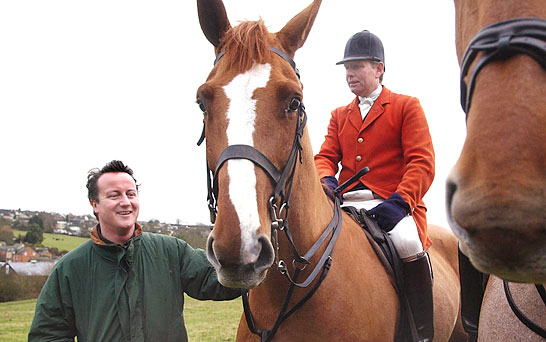 By Ian Dey
Damned if you do, damned if you don't. Vote against repeal of the Hunting Act, and be damned for interfering in English affairs where they do not directly or indirectly affect Scotland. Do not vote, and be damned for failing to oppose the most right-wing Tory Government for decades.
The SNP made promises on both counts. They are caught on the horns of a dilemma of their own making. Must our newly fledged crop of MPs choose so soon between hypocrisy or humiliation? The subterfuge of awaiting the legislative detail merely prolongs the agony of indecision.
Having avowed to be a progressive force in UK politics, the SNP faces the ignominy of falling at the first hurdle. Cameron's indecent haste to legalise a barbaric 'sport' has stirred passions against a crass and cruel practice. The foxes are not an irrelevance but another telling symbol of how this Government oppresses the weak and the defenceless.
Influential voices call for prudence rather than passion. There is no place for 'English' foxes in Gerry Hassan's Caledonian Dream: no Barnett consequences for Scotland, no reason to vote. For Iain Macwhirter, a vote against repeal would be 'hypocrisy squared', Nicola Sturgeon herself having cited fox-hunting as an English affair over which the SNP has no mandate. And James McEnanay states bluntly that the Scots cannot have it both ways: the English would be just as unhappy, were we to deny them their fox-hunting, as we would be if Westminster imposed it on us.
And don't be naive, warns McEnanay. Fox-hunting repeal is a Tory trap, set to lure the SNP into provoking a backlash which will legitimate EVEL. That won't protect the foxes, and would impose more woes on Scotland through privatisations and austerity.
But is Cameron (to quote Baldrick) 'as cunning as a fox who has just been appointed Professor of Cunning at Oxford University'? Does he really have a cunning plan to trap the unwary Scots? No – because a trap implies a surprise, and there is none. Certainly Cameron will exploit the SNP's discomfort either way. But no cunning was needed. He merely gave an assist for an SNP own goal.
A free vote might seem to finesse the issue, but it would not. It would not offer leadership. And it would be just as useful to Cameron as an excuse for barracking the Scots.
There is a way of avoiding the own goal. It is time to reframe the story-line.
The SNP's former role at Westminster has been overtaken by events. A hands-off approach could only work when the SNP presence was insignificant, not explosive. The long-standing practice (was it ever a principle?) of not voting on matters of no relevance to Scotland is no longer tenable.
Let us dispose – finally and for good – of the so-called West Lothian question. It was conceived as a divisive ploy by a vehement opponent of devolution, Tam Dayell, whose heart bled for English MPs barred from devolved assemblies, while the Scots still voted on English matters at Westminster. But the UK Parliament is in effect an English Parliament. When English interests are at stake, they can always vote us down. There are 533 MPs for England; 59 for Scotland, 40 for Wales and 18 for Northern Ireland. Do the sums. English MPs can always advance their own interests – even at our expense. That is why we have a devolved parliament, and they do not. We could never impose fox-hunting at Westminster, but without devolution they could – and would – impose it on us.
The SNP's self-denying ordinance – no one else bothered – was a cosmetic aimed to placate over devolution while consigning the West Lothian question to the bottom drawer. Scotland could exercise its own powers more tactfully if legislation affecting England was tacitly treated as though it was also devolved. It was a case of the SNP tail soliciting goodwill (or at least forbearance) by promising not to wag the English dog.
Those days are gone now. The dog is angry, opportunistic, and in no mood to forbear. It is on the hunt for ways to cajole and punish the Scots. And it does not require excuses. The only conceivable rationale for SNP self-restraint was to solicit 'fair play' through a reciprocal abstention from Scottish affairs. That is now a joke, as my son would say. Or two jokes. First, unless and until Scotland becomes independent (and – let's be realistic – even after) Westminster will continue to interfere covertly or brazenly in Scottish affairs. Second, like so many footballers these days, Westminster thinks 'fair play' means cheating whenever you can get away with it – and brazening it out if caught. Recall its breath-taking mendacity over the Vow, the civil service bias, and currency union.
The SNP should no longer play this game, for it cannot win it. No amount of good behaviour will induce a self-denying ordinance on the part of Westminster. Game theory shows that it is better to cooperate than compete; but also, that it is important to punish uncooperative behaviour. The referendum was lost in part because we were too nice. We offered to be good neighbours, and we did not anticipate or know how to deal with a neighbour who cheats. Now we are again thinking of being too nice – not to the foxes, but to David Cameron.
What worked before will not work now. It is polite not to tell your neighbour how to arrange his garden furniture. That is his business. But when he begins to beat his wife, that is everybody's business. When his wife calls for help, because he is now beating the children, do you refuse the assistance you could give, just because it does not affect you?
If it fails to oppose the Tories in their thirst for barbarism, the SNP risks dissipating the enthusiastic support it has generated since the referendum. Much of that support is not narrowly focused on what affects only Scotland. It is engaged with a wider world. It is largely pragmatic, seeing national autonomy as a means to an end, and not an end-in-itself. Independence is part of its democratising agenda, not the whole of it.
The SNP tuned in to this groundswell of support, and blossomed with it. It has just participated fully in elections for Westminster, not Holyrood. It did not campaign on independence. It was not elected on a nationalist platform. It argued instead that it would protect the interests of Scotland at Westminster, as part of a broader progressive agenda: to challenge austerity economics and the uncaring arrogance of the Westminster establishment. It was a promise, not to abandon other progressive forces at the first hurdle, but to ally with them in pursuit of change. This was an effective counter against those who hoped to dismiss the SNP for pursuing a petty, parochial nationalism.
It was to be done by keeping Ed honest. That could never have been done by supporting Labour only when Scottish interests were at stake. Now it must be done by opposing Cameron. While still represented at Westminster, the SNP have a duty to protect the interests of all those at risk from Tory oppression. Including the foxes. We would indeed object to fox-hunting if Westminster tried to impose it on a devolved Scotland. But we should object to fox-hunting whatever. It is wrong, whoever and wherever someone tries to introduce it. The moral imperative to ban a barbaric sport transcends national boundaries. That includes Scotland too – there can be no place for complacency in a country itself dominated by rich estates and cruel sports. We are not exempt from accusations of animal cruelty and barbarism; we urgently need to put our own house in order.
It is not just animal rights, but human rights which are at stake – regardless of location or nation. The SNP can – and surely therefore must – resist Westminster policies which oppress the vulnerable, and not just those that oppress the Scots. How else could it hope to offer effective and honourable opposition? Just imagine the scenario: we won't resist the withdrawal of Human Rights in England, just so long as we can fix it so that it does not affect us here in Scotland? This is a politics that washes its hands of suffering so long as it happens elsewhere. Is that really what we stand for?
The impact of the SNP in the election came from reaching across the boundaries that divide us. This was wise, for however the next referendum goes, our future will never lie entirely in our own hands. We need good neighbours. Independent or not, it is in our interest, short-term and long-term, to build a coalition of progressive forces not bound by any narrow conception of borders.
There is a difference between disinterest and indifference. We may be disinterested in the fate of the foxes, but we should not be indifferent.
If you like Bella Caledonia and want us to continue and develop we need you support – please donate to our appeal fund here – and if you can share the link on Facebook. Thank You.