Bus Stop Birmingham Debate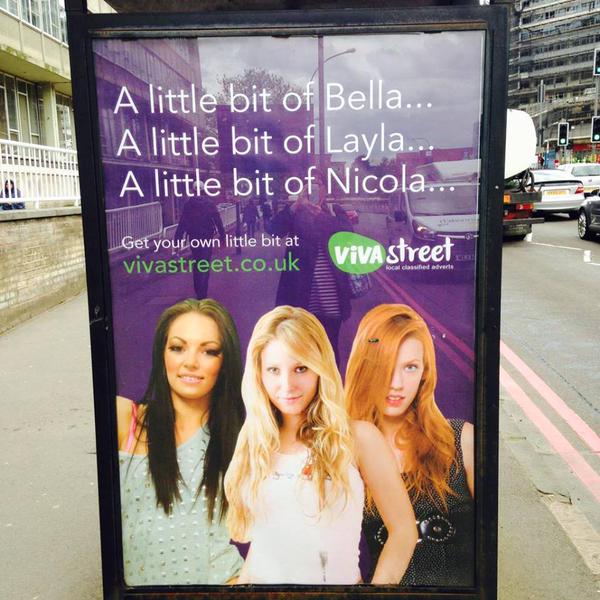 By @pastachips
It's just a bus stop advert – but the reaction to it has felt alarmingly vitriolic. The advert I'm talking about is this one (right), which seeks to make its audience aware that Viva Street, a listing site akin to GumTree, has an adult services section. Since being made aware of the existence of these ads, the response from feminists has ranged from shock at an advert "selling women", "treating women like a product", and "promoting women as merchandise", while 'new broadcaster for Scotland' Broadcasting Scotland opined "pity it doesn't say the media company clearly on the poster. A bit of direct lobbying might make them rethink their clients … Don't know which I find more sickening; the media company accepting the ad or the company placing it".
It's totally valid to criticise the advert – the wording of which implies that "a little bit" of sex workers can be 'bought' – but the feminist responses that I saw uncritically reproduced and re-emphasised the problems of the wording, rather than challenging it. The idea that sex work is "selling women", so we sell 'ourselves' – or even 'a little bit' of ourselves – when we sell sex is a profoundly misogynous notion: as Lori Adorable once noted, it's the "standard misogynist narrative of penetration equalling ownership or occupancy, turned up to eleven". I don't "sell myself" or my body when I do sex work any more than I'd "give myself" or my body to a man if I had a one night stand with him. (Of course this trope invariably assumes heterosexuality in women – indeed, it barely makes sense applied to queer sex, which tells you something of how patriarchal it is.)
The advert is one iteration of this bad and wrong idea; phrases like "selling women" and "women as merchandise" are a much more forceful edition of the same thing, and maybe doubly hurtful because I'd hope that other women might understand how harmful the idea that we somehow fundamentally 'belong to' to the person – or people – we have sex with is; or that our 'worth' or 'selves' are somehow given away with sex. (Sex workers had further criticisms of the way the advert was discussed, with Desi sex worker @desiredxthings wryly responding to the contention that "search terms like 'Indian' or 'blonde' suggests [Viva Street] doesn't see women as fully human" by tweeting: "I'm Not Human, I'm Indian".)
Beyond the immediate use of language, though, the reaction spoke to wider anxieties about space and class. Melissa Gira Grant has written about the campaign by American feminist and evangelical groups to shut down the adult services section of Craigslist, arguing that "websites such as Craigslist used to make sex work visible online. If you were looking for an apartment or at the gigs sections on the front page, erotic services were right next to them, which made quite a statement and I think provoked some anxiety that it was just treated as another service on the site". If you can purchase a blowjob in the same space that you can purchase a second hand bike or put up a 'lost cat' notice, that's troubling to people because it feels like the 'encroachment' of something coded as 'Other' onto a space coded as 'normal', everyday. It's not hard to see that dynamic at work here, for example in the mis-description of the advert as an "escort ad", which evokes an image of something much more sexually full-on than the reality. The visual evidence of sex work in 'normal' spaces, whether that's a listings site or a bus stop ad, is mislabelled as much more 'sexually aggressive' than it actually is – to both reflect and further provoke the anxieties from which the outrage springs. (It's not an escort ad, of course: an escort ad is an ad for a specific worker. This advert is an ad for a subsection of a listings site.)
Anxieties about space (what is normal, and default; what is 'Other', sexually threatening, and encroaching) are often also anxieties about class and race, especially when commercial sex and the visibility of the sex trades is in contention. As such, the MP contacted in the initial outrage tweeted in support of the feminist outcry, adding to her tweet of support the hashtags "#alittlebitoffeminism" and "#alittlebitofclass". A little bit of class! Echoes of Tina Fey's hard-to-forget comment, "I love to play strippers and to imitate them … I love using that idea for comedy, but the idea of actually going there? I feel like we all need to be better than that. That industry needs to die, by all of us being a little bit better than that". #Alittlebitbetterthanthat, eh. It's certainly not unknown for women with 'impeccable' feminist views regarding the sex industry (by which I mean, the belief that criminalisation is a kindness which solves the problems of marginalised people) to observe, in response to concerns about safety and policing: "I don't think we need to have an obvious whorehouse next to the greengrocer's in Marchmont, thank you". The greengrocer's in Marchmont! If leafy sandstone Marchmont isn't safe (for who?) from the visual assault that is sex workers in the community, maybe nowhere is. Does nowhere have #alittlebitofclass anymore?
Leafy Marchmont, it's greengrocer and it's "obvious whorehouse" (both now closed – perhaps the above sentence, when first uttered, unleashed an ancient curse?) are subject to one kind of policing; meanwhile, questions of sex work, visibility are disgust are policed in other ways across the media. Broadcasting Scotland's view that it's a "pity it doesn't say the media company clearly on the poster. A bit of direct lobbying might make them rethink their clients … Don't know which I find more sickening; the media company accepting the ad or the company placing it" irresistibly recalls Eva Gantz's recent piece regarding tech's quarantining of sex work: "even just the proximity of association with sex workers is too much to be borne … The true discomfort … stems from the idea that sex workers are dirty, unimportant, and worlds away from a respectable woman". After all, there are legitimate ways to express concern about the content or the placement of the ads (and it's worth noting that there are plenty of examples of sex workers criticising sex industry advertising, including getting bad ads taken down), but to find Viva Street itself "sickening" goes beyond concerns about context or content, and instead suggests that the only non-emetic option for the company would be to cease to host sex work ads at all: as it is, Viva Street is "sickening" for doing business with sex workers, and other companies are "sickening" for doing business with Viva Street.
If no listing pages took our ads, sex workers would be even more reliant on managers – those "obvious whorehouses" – or the street. Or does crowdfunded Broadcasting Scotland think everyone pays their bills with indiegogos? Feminist-framed anxieties around sex work as contagion aren't hard to trace in Scotland's new media: consider trying to be #alittlebitbetterthanthat.
If you like Bella Caledonia and want us to continue and develop we need you support – please donate to our appeal fund here – and if you can share the link on Facebook. Thank You.