Pink Dot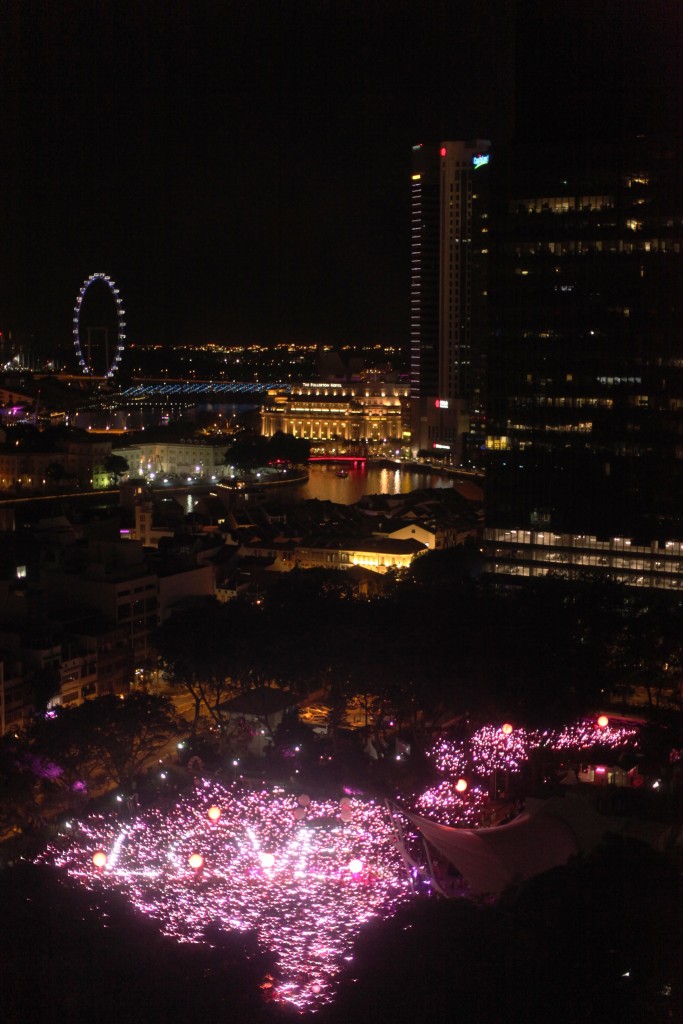 By Kirsten Han
The evening was hot and muggy, as Singaporean evenings often are. The press of thousands of bodies didn't help either. People nudged past one another, or sprawled on mats on the grass, snacking and bobbing their heads to the booming music from the stage.
Once a year, Hong Lim Park – the only park in which Singaporeans can demonstrate or assemble for a "cause-related activity" without a permit – turns pink, festooned with balloons and pink-clad supporters of Pink Dot, the country's only gay rights rally. Saturday's Pink Dot saw a record number of people turn up: organisers put the number at 28,000, a 2,000 increase from the previous year.
It's amazing that Singapore has any gay rights rally at all. The country – or those in power, anyway – is still hugely conservative. While other countries and states have been celebrating same-sex marriages, Singapore still retains a colonial-era law criminalising sex between men.
The government often claims that Singapore is "not ready" for same-sex marriage or LGBT equality, and sees the current situation as some sort of compromise: while the anti-gay law remains on the books (therefore placating conservative voices), it is not enforced. This is apparently enough for Prime Minister Lee Hsien Loong to say that Singapore "does not harass [gay people] or discriminate against them."
Yet the existence of the law continues to be a symbol of the state's endorsement of discrimination and prejudice, and has very real knock-on effects. For example, it is difficult for the Ministry of Health to provide education on safe sex for men who have sex with men, as that would technically involve abetting a crime. The Media Development Authority, too, tends to restrict access to any material with LGBT themes: a song from a Taiwanese pop star was recently banned from broadcast because of its pro-gay message.
All this makes Pink Dot even more significant in its emphasis on the visibility of Singapore's population of LGBT people and their allies. The event achieves its massive turnout – the biggest any civil society group can hope to have in Singapore – through a combination of slick promotional material, popular celebrity ambassadors and attractive concert line-ups, achieved through sponsorship from big-name corporations such as BP, Goldman Sachs, Twitter and Google.
"Pink Dot is like Chinese New Year for gay people," joked Olivia Chiong, holding on to her young child Zoey. Her partner, Irene, lingered nearby, chatting to friends. "It's a nice time to catch up with friends, some of whom we only saw last year!"
Mardell Bsapaden was trying to tie a knot in his partner's oversized pink Barclays (also a sponsor of Pink Dot) T-shirt. He'd lived in Singapore for eight years, moving from the Philippines to be with his partner, yet 2015 was his first Pink Dot.
"It's very entertaining, and people are so friendly and awesome. Everywhere you go in this park they say hello to you!" he enthused, taking in the atmosphere of families, pets and endless amounts of pink.
Pink Dot has attracted its fair share of detractors. Conservative Singaporeans have long been enraged by their presence: the Facebook group We Are Against Pinkdot in Singapore has members who actively post anti-gay messages, urging their fellow Singaporeans to pressure the government into retaining anti-gay policies and legislation. Others urged their fellow Christians to pray for rain to disrupt the rally (but there was only a slight and short-lived drizzle towards the end). A pastor urged his congregation to dress in white to worship as a counter-movement.
"It's very interesting that they want to react," observed Reverend Doctor Yap Kim Hao, a long-time LGBT ally. "Anyone has the right to wear whatever he or she wants, and give it whatever meaning, but Pink Dot has not attacked any other group so for them to do so is quite unfriendly."
None of this put a dampener on proceedings as the rally reached its climax after sunset – the iconic formation of a giant human pink dot. People stood in clusters with friends and family in the darkened park, counting down together to ten before raising pink torchlights and mobile phones, light up the park. Pink Dot crew members among them held up white torchlights, spelling out the word 'LOVE' in big bold letters.
Pink Dot positions itself as a feel-good event making a statement about acceptance, family and love. In a country where discrimination often goes unacknowledged, it is a rare safe space, a community carved out of the wider population of 5.5 million for a day.
Whether this will eventually bring equality to Singapore, only time will tell.