Forget compassionate conservatism – this budget was a full frontal assault on the young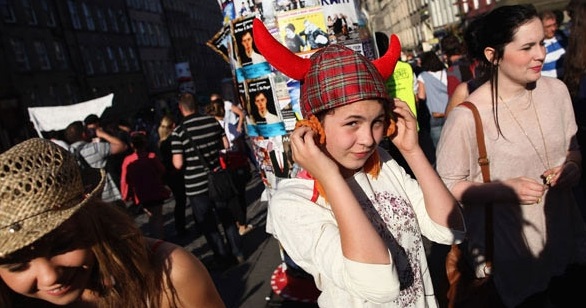 As Child Poverty Action report 13 million families will lose an average of £260 a year from #budget2015 changes we look at the implications.
I work for a children's charity and volunteer with the Citizens Advice Bureau. I've witnessed first-hand the human cost of the Chancellor's deficit reduction obsession, and I know that everyone working in the third sector anticipated the first wholly Conservative budget for 19 years with a sense of dread.
True to form, this ideologically driven budget has continued George Osborne's relentless attack on the poor and disabled, with policies which suggest that Osborne believes that poverty is best addressed by taking money away from the poor.
A thirty percent cut to Employment Support Allowance will devastate the lives of those unable to work due to illness or disability. Cuts to working tax credits will take money directly out of the pockets of the very people who need it most.
However, it is upon the heads of the young that the axe will fall heaviest.
The Chancellor challenged young people to "earn or learn" with his "youth obligation", which will force under 21s who find themselves out of work for six months to do community service in return for their benefits.
Those under 25 who do find work will be excluded from Osborne's headline grabbing National Living Wage, which at £7.20 is still some distance from the current living wage of £7.85 and insufficient to compensate for the loss of tax credits which are a vital lifeline to the lowest paid workers.
Housing benefit will be withdrawn altogether for 18 to 21-year-olds, placing our most vulnerable young people at severe risk of homelessness. The government clearly do not recognise that the majority of young people claiming housing benefit do so out of crisis, not choice.
Some will be looked after children leaving care, others will be attempting to flee domestic violence or have been kicked out due to arguments at home, while many more will be leaving their communities in order to find work elsewhere.
This too has been made more difficult as the rise in insurance premium tax will mean that drivers aged between 17 and 22 will find themselves paying an average premium of £1,247 a year – an increase of almost £40 – before any other motoring bills have been paid.
This is typical of a Conservative Party that occupies a weird parallel universe where every young person has a wealthy mum and dad who can put them up, lend them money for a deposit and provide the extra cash required to put them through university and top up their wages.
This isn't the world I knew when I was growing up in Fife, and it's not the one I see around me in Leith today.
During the budget, Osborne stated that a life on benefits was a "lifestyle choice", displaying a complete lack of understanding of the corrosive effect poverty has on those who are struggling in one of the developed world's most unequal countries.
Yet rather than address this issue, the Chancellor has helped ensure that the gap between rich and poor will grow even wider – but it is the children who aren't even born yet who will suffer most.
There is a cruelty to the decision to limit child tax credits to two children, and a distastefulness to this crude form of social engineering which will apparently require women who conceive a third child as a victim of rape to justify their circumstances to the DWP or lose their benefit. All this in a week where the government ditched the legally binding child poverty targets enshrined in the Child Poverty Act.
With this budget, the government has succeeded in forcing those who share no responsibility for the banking crisis to bear the burden of deeper austerity. The Tories are peddling a perverse argument that suggests a generation of young people must suffer so that the deficit can be reduced and a generation of young people can be saved from suffering.
It makes no sense, and we're not falling for it.