The Age of Gendersaurus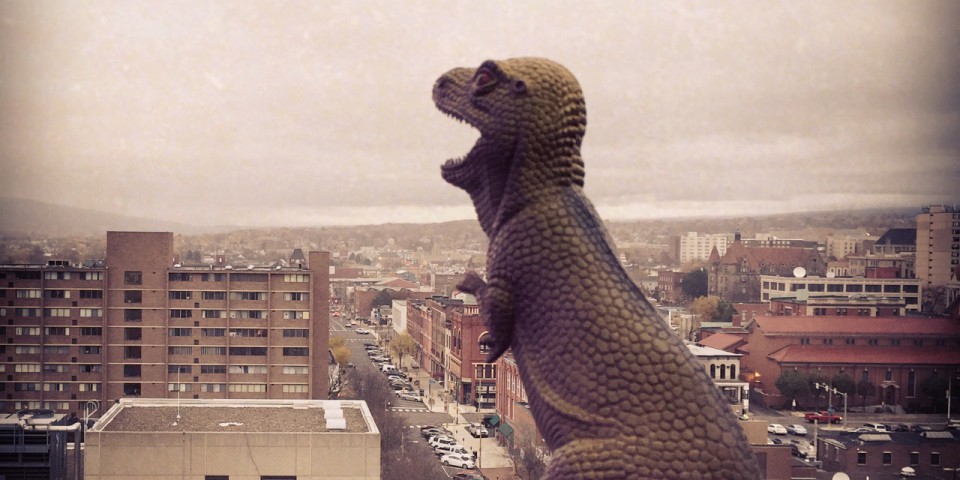 Here's a curious little fact. Last year the Imaginate children's theatre festival hosted a morning discussion about gender. Six people turned up. This year the festival did it again, and the room was so full you could barely get in. And everyone there seemed completely gripped by the subject.
What changed? It's difficult to be sure. It might have had something to do with Gendersaurus Rex, an Imaginate-funded research project by theatre-maker Eilidh MacAskill into gender, sexuality and children's theatre, which MacAskill began working on early this year. Or it could simply be that, in zeitgeist terms, gender is having a bit of a moment. This year, for example, transgender people have become more visible than ever. There is, most obviously, Bruce Jenner's transformation into Caitlyn Jenner, eclipsing Laverne Cox as the world's most talked about trans person (although Cox herself almost broke the internet herself this year when she was photographed naked for Allure magazine). There is model Andreja Pejic, who this year did her first catwalk show as a fully transitioned woman, and there is Aydian Dowling, a trans man who made headlines in April after becoming the frontrunner in Men's Health magazine's 'Ultimate Guy Search', with 40,000 votes – an ultimate guy who had grown up as a girl.
Then there's this year's Edinburgh Fringe. The comedian Will Franken, a Fringe regular, will appear for the first time in her new identity as Sarah Franken; veteran Fringe producer Paul Lucas is bringing a play called Trans Scripts, based on interviews with trans women. Dance Base has a show called Boys Who Like to Play with Dolls, in which two performers "morph from one body to another, attacking the conventions, norms and clichés of gender". And one of Traverse's flagship shows is Swallow, a new play by Stef Smith in which gender and sexuality are, apparently, key themes. All are likely to be talking points.
Two 2015 Fringe shows I recommend in particular are by veteran Scottish artists who have been exploring this subject for years. The first of these is Jo Clifford, whose The Gospel According to Jesus Queen of Heaven had a low-key Fringe run in 2014 but is back this year, this time in the prestigious Made in Scotland programme. Suddenly an intensely personal, poetic solo show in which Jesus, like Jo herself, is transgender, is considered to be something that might be internationally sellable – six years after it premiered at the Glasgay festival to howls of religious protest. Jo was ahead of her time, but then she has been ever since the 1980s.
The second is Diane Torr, whose Donald Does Dusty is another very personal show, a tribute to her late brother, in which Diane plays a man playing a woman. This should be no stretch for Diane, a pioneering drag king whose Man for a Day workshops have been teaching women how to disguise themselves as men for 25 years now. Diane never planned to do the workshops for so long, but demand has rarely diminished. In 2010 she co-authored a book called Sex, Drag and Male Roles: Investigating Gender as Performance. In 2012 Man for a Day was made into a film that she has since toured to Germany, Mexico, and cities across India.
I had long conversations with both Diane and Jo recently, as part of the research for a book exploring gender, and in particular my own ambivalent relationship with masculinity – a project I am currently tempted to abandon after realising how brain-meltingly complex and contested the subject is, every tangential piece of research sending me off on another tangential piece of research rather than to an actual finished chapter. Last month I also discovered via friends in publishing that at least three extremely famous men are planning to write more or less the same book. The one you may know about is Matt Haig, who caused a stir recently after sharing a half-formed book idea with 76,000 people on Twitter and provoking a backlash from feminists weary of being mansplained to, but also a huge wave of support from people who knew what a good job Haig had previously made of writing about depression and thought he'd make a great job of this one once he figured out what he was doing. Everyone, it seems, is interested in gender now, even if we don't always know what we're talking about.
At time of writing, Caitlyn Jenner has gone viral once again, with the acceptance speech she gave on Wednesday for the Arthur Ashe Courage Award. Like a lot of people I have become slightly transfixed by Caitlyn, who has done for transgender rights what the Spice Girls once did for feminism – turned an important and complex issue into a cartoon that is largely about her. In her speech Jenner said her responsibility is "to tell my story the right way", which is quite a Kardashian family thing to say, but perfectly fine as long as it's clear to everyone that Jenner represents a very specific and not at all typical transgender identity -binary, ultra femme, with access to expensive make-up and clothing, and propped up by several layers of privilege (rich, white, famous, and raised as a man). There are not many young, isolated trans people for whom Jenner will be a very practical 'how to' manual. To be fair, she seems to recognise this; Wednesday's speech concluded with a desire "to promote a very simple idea: accepting people for who they are, accepting people's differences", and an aspiration "to keep learning".
Still, Diane Torr, Jo Clifford and Eilidh MacAskill feel like more solid bets to me, as models for alternative ways of living. Diane's life story is a textbook example of why you should never assume anything about anyone based on their sex. As a child she was a tomboy, while her brother Donald, later to become a flamboyantly gay man who modeled himself on Dusty Springfield, loved playing with his sister's dolls and kept trying to make her look more feminine. "I was very skinny, but Donald would dress me up and stuff a bra with old socks so it looked like I had breasts," she told me. "He taught me how to walk in high heels. I was not interested in that at all, I played centre forward for Aberdeen High School for Girls hockey team. I loved winning and getting the ball through the net and hitting people in the shins. I loved sports. My brother was always trying to get me to put on make up. Because I loved him and I admired him I would let him experiment with my hair. He would try to do a Mary Quant cut and it would be all jagged and he would start laughing and I would look in the mirror and it would be awful."
"It's all made up, the idea of what it is to be a man and what it is to be a woman," concluded Diane. "For people who can't, won't or have no idea how to think for themselves, society has a plan about who you will be. Personally I have no idea what it is to be a man or what it is to be a woman. I only know how it is to be me."
Jo Clifford, meanwhile, spent years as a married man, John, and had two daughters. "I was a very good man," she says, but one whose earliest memory was looking in a mirror and feeling traumatised because she didn't recognise the boy she saw. It was only after John's wife, Sue, died in 2005, that John felt able to become Jo, but she has never had full gender reassignment surgery. "I think there are many more genders than our society allows," she told me. "I wouldn't say I've always had the feeling I'm in the wrong body. I live as a woman because the law doesn't offer me any other option really. I'm not a man but I wouldn't say I was a woman in the sense of somebody who's been born and brought up as a woman. I'd say I'm a third gender person."
Clifford's website and email signatures describe her as "a proud father and grandmother". "I think it's very important to tell the world that I'm transgender, I'm very proud to be the person I am. But it's also true. When I told my daughters that I couldn't go on being a man I also said 'I will always be your dad whatever happens, and I'll always love you.' And that was true. I couldn't possibly expect them to start calling me mum, especially so soon after their mum had died. And then about three years ago my daughter said to me, 'Dad you're going to be a grandma' and that's also true. Gender is so much more complicated and diverse and miraculous and wonderful than we give it credit to be and I just kind of want to make a public statement about that."
And then there is Eilidh MacAskill, who is not transgender but says she doesn't always feel as if she's a woman. "I think biology is murky and complex," she told me. "Within a transgender point of view I know some people who are not going from one gender to another but are somewhere in between. As an adult that's quite appealing." MacAskill's research into gender and children's theatre is particularly interesting because childhood is where so many of our ideas about gender are solidified – in the roles we are expected to play, the toys we are expected to play with, the stories we are expected to read, the subjects we are expected to be interested in. The forcing of binary concepts of gender on to children is so pervasive that it is often invisible to most of us. Eilidh's blog at Gendersaurus Rex is becoming essential reading on this subject.
At this year's Imaginate Festival there was a show called Bounce, performed by two acrobats, one male, one female, whose characters were identical frog-like creatures that were neither girls nor boys. This is such a rare thing in children's theatre that it felt revolutionary – an idea more at home in Sweden than Scotland. Sweden – as described in more detail in one of Eilidh's recent blogs – has been attempting something quite radical when it comes to gender: a plan to become a gender-neutral nation. In 2012 the country introduced the gender-neutral personal pronoun 'hen', a combination of the words for he and she. In schools, children are encouraged to wear gender-neutral clothes, play with gender-neutral toys, while teachers address them as "buddies" rather than "boys and girls".
The risk of such projects is that they turn into social engineering rather than exercises in "accepting people's differences". Gender is a subject that can inspire extraordinary levels of intolerance even in people you would hope would be a source of understanding and empathy. The hostility towards Caitlyn Jenner from some feminists, and even some fellow trans people, has been dispiriting to watch. Jo Clifford has experienced something of this herself, from other trans women who don't think she's feminine enough, and find talk of being a third gender person, as Jo puts it, "unbelievably threatening". Caitlyn Jenner has faced the opposite – condemned for being too femme, a caricature of female sexuality.
"It's so distressing to see it," Jo told me, "but a bully is often the person that's been bullied. When you grow up transgender you feel incredibly excluded from the rest of the human race. I couldn't really be with men and I wasn't a woman so I couldn't be with women either. That sense of exclusion is horribly painful and so one of the things that tends to happen is that when trans women come out they develop this very strong idea of the pathway – this is where you belong, this is what you do and this is how you behave. When you transition, which is so terrifying, it offers you a way forward, a kind of refuge from the fear, from the terror." What Jo is describing here is the "transgender narrative" – the pressure on transgender people to stick to a script in the name of solidarity. For example, transgender people who have mental health problems are discouraged from talking about them because, as a community, trans people are fighting the prejudice that being transgender, in itself, is a mental disorder. This, though, is not solidarity, it is an attempt to impose a simple political agenda on complex, often contradictory human lives.
This, for me, is why art plays such an important role in this debate. The best artists constantly question things and resist simple answers, or indeed any answers at all. And they are perfectly at ease with contradictions. So it should be an interesting Fringe. Just be wary of people who act as if they have any sort of sophisticated understanding of this subject – including me. And assume nothing. About anyone.

The Gospel According to Jesus Queen of Heaven is at Summerhall, 5-30 August, 10.45am.
Donald Does Dusty is at Summerhall, 17-30 August, 7.35pm