Franco's Face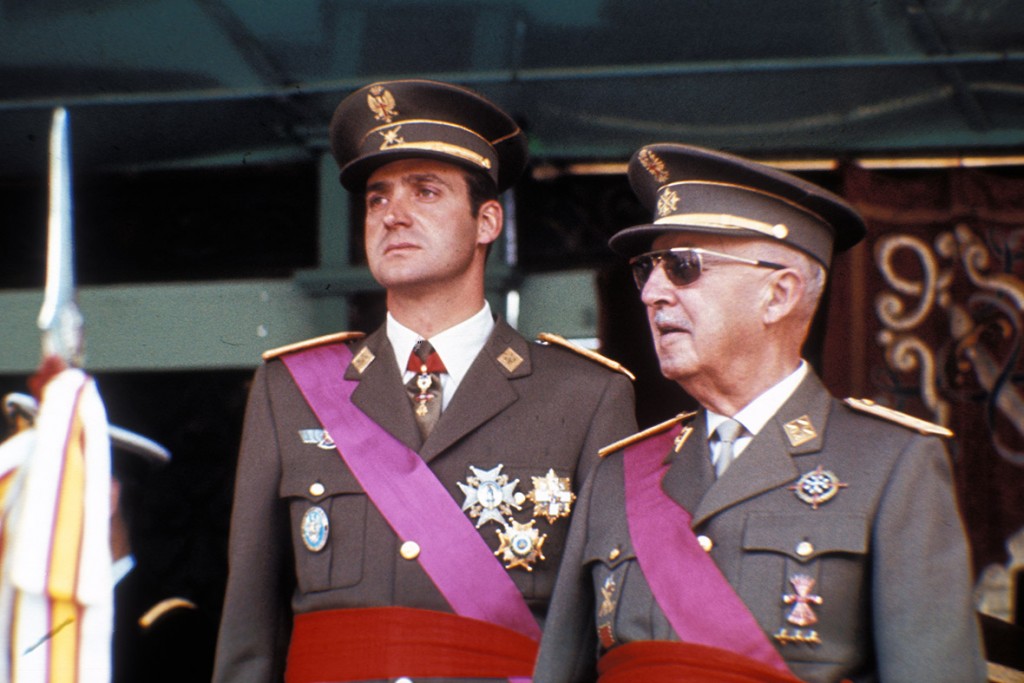 Nuno Silva, a Portuguese-born footballer who has played in Angola and Portugal, and who has just started playing for Spanish football team Real Jaén in Andalusia, this week wore a t-shirt emblazoned with the face of Spanish dictator Francisco Franco (who died in 1975) to his inaugural press conference. Twitter was, initially, in uproar, especially since Silva's excuse was, despite being from the Iberian peninsula, not knowing who Franco was thus neither what repercussions wearing said t-shirt might have.
However, a day later – incredible as it may seem – a recently-minted video advert appeared on the Real Jaén website, which contained the hashtag #LaCamisetaDeNuno('Nuno's t-shirt'). It is an offer for their season ticket holders. Nuno Silva rather awkwardly presents the free t-shirt one could receive if one were a season-ticketed fan who turned up with a friend. The advert ends: 'Nuno Silva didn't know the history of Spain, but he did know what a 'Friend's Season Ticket' (Abono Amigo) was'. There is a lot to take in here: the alarming fact that Silva had no idea who Franco was, and saw the offending t-shirt as a fashion item; the way in which polemic is treated on social media; and finally, the paradoxes of a neo-liberal society and its skewed approximation of historical fact.
'I have lived in Portugal and Angola and do not know the depth of the history of Spain', declared Silva in his statement of apology. One cannot blame another for lack of knowledge, but not knowing this particular information about the recent history of a neighbouring country (and coming from a country that has its own long history of dictatorship – and indeed spending time in Angola) shows an incredible lack of personal interest. It is not out of the ordinary to criticise a person's own trajectory through the world. I do not like it when people are dismissed as 'stupid'; it is a stupid reaction in itself. What interests me is the question of a figure who is crucial to Spanish consciousness – and its conscience – seemingly slipping back into view, ultimately with very little real commentary. The obvious misjudgment of the act is perhaps where the immediacy of social media can hold impatient judgment. But the response to the apparition of Franco's face in public is fascinating, because in only a matter of days it has disappeared from view – although none of the broadsheets have yet produced any commentary on what is a very recent event. However, don't hold your breath.
What Silva does not know, he says, is the 'depth' of Spanish history (he uses the word 'grueso', which also implies density, fattiness and complexity); the shallowness of time is a feature of liberal capitalist culture, where a person born in 1986 like Nuno Silva has no idea about the events of his parents' generation; shallowness, also, is apparent in social media's initial rage, followed by enchantment at the killer publicity move performed by Real Jaén, called by one on Twitter 'masterful'. By either re-tweeting or favouriting Real Jáen's advert, you can also show like or dislike. As another Twitter user put it, 'there's no such thing as bad publicity'. All that matters in this case is the image itself as a symbol in the Twittersphere – as an act of controversy that, through the machinery of social media, can be approved or disapproved. The content of the image is, for the most part, ignored. This is all about appearance and says nothing about the fatty, dense, complex recent past of Spain. It denotes social media as a kind of viral imagistic poetry, launching images like bullets into the ether which, whilst under consideration, are not considered at all.
Francisco Franco's dictatorship started in 1939 after a Civil War. He died in 1975, after forty years as Caudillo (leader), or Generalísimo, of Spain. His image hung in every city, town and village in Spain. His profile, proud and powerful, appeared on coins. His regime was oppressive and characterised by a focus on national tradition, family and the Catholic religion. Many writers and artists went into exile; others were shot or subsumed into the regime. The civil war that preceded Franco's long term as caudillo was a bloody affair by any standards – it has been controversially called 'the Spanish Holocaust' by renowned Spanish cultural critic Paul Preston. An internecine struggle has left its hidden mark on Spanish culture. In the latter part of his dictatorship, as censorship relaxed (somewhat), Spanish letters offered its own critical response to authoritarian Spain in the shape of authors like Juan Goytisolo and Miguel Vázquez Montalbán. After 'the transition' to neo-liberal democracy, the new democratic government declared a 'pact of silence' on the past – and looked forward, like any good modern capitalist state. Only as recently as 2007, with the inauguration of la ley de la memoria histórica (the Historical Memory Law), were mass graves of soldiers shot during the war dug up and plotted. As many as 2000 have been exhumed, but there are more. But the impulse to move forward at any cost – the madness of modernity – finds no depth in these exhumations. There is a public sense that Franco is very much in the past and that silence might be more useful than discussion.
In literature, the case is rather different, of course, and the poets continue to unearth the bones and ghosts of franquista Spain. There, arguably, is the only place we can question the madness of the capitalist machine – and the shallowness of its trajectory. It makes the apparition of Silva's t-shirt doubly confusing; firstly, that by wearing it he shockingly, according to some, brings Franco back into the public sphere – what is Franco doing here, as a latterday Che Guevara, with an aura of magic conferred to the Generalísimo's person?; and secondly, all we find in the shallows of response is a Franco that everyone can recognise – a product, made to sell season tickets.
What if we were, as Silva suggests might be wise, to immerse ourselves in the meat and gristle of Franco's face? The incongruity of this symbol of fascism used – if only indirectly – to get bums on seats, underlines quite how insidious culture can be. That the past is reduced to a series of like and dislike buttons is nothing new – it is a disturbing feature of social media that has been much commented on. And new Luddites abound as you would expect; being reactionary is a facet of the shallowness of culture. But let's take a look at that face; such death behind the eyes; such poise even after his own death. Let's rip back a bit of that skin – the muscles are taut still, the eyeballs even more glaring without the folds of skin that surround them. All of this seems familiar. Under the glare of the spotlight, Franco's ravaged face is reassuring. In fact, it is not attention-grabbing at all.
Because Franco is not dead.
The process that starts with well-meaning horror and ends with admiration for a publicity stunt well done shields another, more complex truth. Spain, like every other neo-liberal state, exists at least partly in a quick-moving blur of denial. Generations forget from one to the next – Nino Silva is an example of that. Underneath the skin of being Spanish lies the meat and gristle of Franco's face, existing alongside forgetfulness like a malevolent alien. It is not that Franco has suddenly made a reappearance into the Spanish cultural imagination – and needs to be shut out. Quite the opposite: it is that Franco always exists under the skin of conscience and the manner in which culture reacts to his apparition – like a spot, or tumour – is the measure of the substance of culture itself.