Who is the Largest Publisher in Scotland?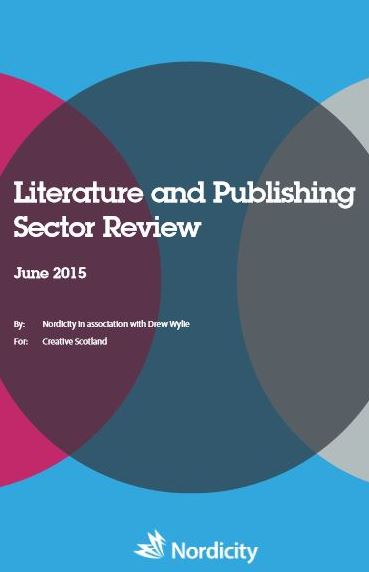 Scotland is bloated with failing cultural monopolies argues Peter Burnett:  if over four out of five writers in Scotland earn less than the living wage, then how can this fail to be the fault of the bodies who receive millions each year to promote them?
Before we answer today's quiz question, I'd like to respond to the recently published Literature and Publishing Sector Review 2015, prepared for Creative Scotland.
The Review was also well reported by Rosemary Goring in a critical article in The Herald.
The Review, as Rosemary Goring confirms, is not easy reading, largely because it seeks to state the obvious in as roundabout way as possible.
What the Review is in short, however, is a quantitative look at Scottish writing and publishing – anything obtainable using quantifiable measurement processes – presenting stuff like How Many Writers Are There in Scotland, and so forth. The paper offers no comment on the quality of Scottish writing, but adopts the default 'all writing is good' position taken up by the non-departmental government bodies the Review discusses.
That aside, the Review's Foreword states that it will form the basis of 'a broader Arts Strategy', but at no point does anyone state what that strategy is, or explain why we need a strategy at all – and of course the Review features much consultant-style jargon and amusing chapter titles such as Re-scoping the Sector and The Sector Ecosystem – the sort of thing you'd expect – although I also learned a new acronym – the RFO.
An RFO is a Regularly Funded Organisation, much in the tradition of a NDPB (Non-Departmental Public Body) or a QUANGO (Quasi-Autonomous Non-Governmental Organisation).
RFOs however are not involved in cultural production but in cultural engineering, and their funding is protected while publishers, writers and arts organisations which actually produce stuff, need to keep re-applying for theirs. Publishers, like theatre companies, could not qualify for RFO status, and so they do not automatically get money, unlike these bureaucratic guys – so whereas a publisher could be allowed to go out of business, as has happened in 25 cases in Scotland in the past four years, this could never happen to a QUANGO, or an RFO.
While you can find out about QUANGOs elsewhere (I recommend Mark Thomas) I should tell you that while non-governmental these RFOs (among which are listed The Scottish Book Trust, the Edinburgh UNESCO City of Literature Trust, Edinburgh International Book Festival, Publishing Scotland and the Scottish Poetry Library) are still carrying out functions of government even though they are placed at two arms' lengths from the public purse.
Here, it transpires that non-governmental means you are spending state money without being answerable to anybody, so for example, instead of supporting grass roots literature in Scotland you could do anything you want such as organising an egg and spoon race.
THE RECOMMENDATIONS MADE IN THE LITERATURE AND PUBLISHING SECTOR REVIEW 2015
Many of the recommendations of the Review argue that the large amount of existing RFOs co-operate with each other in sharing information and it even suggests that they do what they do best, and have more get-togethers, networking sessions and conferences. (See Recommendations 13, 14, 20, 21, 22, 23, 28, 29, 31, 38.)
While this all costs money, some of the Review's Conclusions suggest that writers are poorly paid due to their lack of knowledge of self-promotion (Conclusion 11) and that our country's scribes are broke due to the defalcations of in particular, book festivals and publishers. (Conclusions 4, 5, 8 etc.)
Recommendation 1 advises that Creative Scotland and the RFOs engage 'in inclusive terms with writers'. (I wanted to point this out because if they are not already, we really are in trouble!)
Recommendation 6 contains an interesting note that training for literary criticism should somehow be made available and that literary criticism should be 'supported'. Presumably, if grants are available for writers, then why not for critics?
Recommendation 9 argues that schools should be encouraged to employ Scottish writing as a prominent element in their resources. Also Recommendations 10 and 11.
Recommendation 19 is that booksellers be encouraged to work harder with the RFOs and with libraries 'with the objective of supporting writers' and recommendation 25 argues that the RFOs should encourage writers to take up crowdfunding (!)
Some, like Recommendation 26, make no sense whatsoever:
Recommendation 26 – It is recommended that Scottish literature interests review how best to promote and champion the ways in which Scottish literature and publishing positively impacts the literature and other sectors and subjects, and equip them with the tools and arguments to do so.
Recommendation 30 echoes what I think Recommendation 26 may be suggesting, and offers that the RFOs of 'the literary sector' may use literature to boost even higher echelons of government. It reads:
It is recommended that Scottish literature institutions demonstrate the value of and uses for Scottish literature to advance the aims and ambitions of other sectors, including the relevant Cabinet Portfolios.
(PERSONAL NOTE: I have come to loathe the term 'literary sector' it clearly excludes writers and publishers and is used to refer to the members of the literature bodies based in Edinburgh. And Recommendation 30 shows what I mean. The responsibility of Scotland's dozen literary RFOs is not to writers and publishers but to the civil service, other arms of government, and even as it states here – the Cabinet.)
Publishing Scotland is identified in the Review's recommendations, as an organisation which could help develop international markets, and this is discussed in Recommendations 9, 13, 15, 18, 19, 34, 35, and 36.
I think this is positive as Publishing Scotland could be an effective body as it is made up of the people that know more about the business than anybody – the publishers.
Yes – the publishers know more about the book business than writers and they know a lot more about it than the RFOs, and are the sort of people that can identify and develop writing talent.
Certainly if Publishing Scotland are to take on the extra responsibilities the Review recommends, then resources should be reallocated. If this were to happen, we might have to make difficult cuts elsewhere, and for example, consider giving up on the annual RFO Egg and Spoon Race.
In contrast to the idea that Publishing Scotland develop the international market, Recommendation 32 offers that a new body be set up to manage international literature promotion.
By my reading then, the Review makes two conflicting recommendations; the tension here is between giving publishers the opportunity to develop the international market for themselves via Publishing Scotland, and forming a new body of bureaucrats, to do the same.
I do not think that in this matter there is much of a decision to be made: the last thing Edinburgh needs is another literary RFO, especially when this Review makes such a display of highlighting how poorly paid everyone else is.
MONOPOLIES

It is my (unpopular) opinion that The Scottish Book Trust, Edinburgh UNESCO City of Literature Trust, and the other QUANGOs and RFOs here applauded, are cultural monopolies.
States create monopolies. The state itself maintains a monopoly on violence – that is a defining aspect of the idea of a state – but you will see monopolies in all aspects of statism, including services like health, transport and education.
There are plenty examples but here is a quick one – the British Medical Association – whose aims include maintaining 'the honour and interests of the medical profession.' As part of their work, the BMA decides how many doctors there are in the country and how much they will be paid. Hence – monopoly.
As I work in writing and publishing, my immediate concerns are the monopolies on culture enacted by the quangocrats at our various public literature bodies.
And one of the reasons that writers are paid so poorly, I argue, is that the quality of their writing is threatened as more and larger literature bodies perform the function of arbitration.
This means that the RFO class are deciding what is going into print. I argue this because RFOs must justify themselves to politicians and others who delight in saying things like: "We have a thriving literature sector!" There are so many people working for Scotland's dozen literary RFOs now that we may already be witnessing the evolution of a sizeable culture in which the writing is now certainly being influenced.
I feel that as more governmental weight is applied to literature, the duller it becomes. As such, Scottish books may well sell here, but they will be a hard, hard push to market overseas, or even in England.
As if to back this up, the Review emphasises that 81% of Scotland's 2,300 writers earn less than National Minimum Wage, but the Review itself is a page by page by page reminder that there are group of people that are doing very well out of Scottish books – these are the people that work for the mushrooming semi-public bodies which are engaged in 'promoting literature'.
Begging this question: Why does Creative Scotland argue that Scotland's writers are failing in promotional terms, while the various egg and spoon racers employed in Edinburgh's RFOs are let off the hook?
My argument is this – if over four out of five writers in Scotland earn less than the living wage, then how can this fail to be the fault of the bodies who receive millions each year to promote them?
Of all the publishers I know, none have been able to survive without public funding, private backing from sponsors, or by in some cases having second jobs.
Yet Scottish publishers are desperate to publicise their books in London (which would be a good start) and further afield, especially when you consider that within living memory and up until the 1970s, Scottish publishers had little difficulty in selling books in London, New York, Hong Kong and beyond.
How is it then that in terms of distribution we have as a literary nation regressed?
Cherchez la QUANGO!
THE THEORY OF QUANGOS
QUANGOs are liked and loathed in equal measure by both the left and the right, but for different reasons. Their popularity in the UK is down to Margaret Thatcher's reading of economist Friedrich Hayek, and many QUANGOs were set up in the 1980s and 90s as a result of her government's policies.
Margaret Thatcher believed that such Non-Departmental Public Bodies could reduce the budget deficit by reducing the size of the public sector. On this point she was attacked by New Labour (with Gordon Brown famously calling for a 'bonfire of the QUANGOs'), but as it turns out both Labour and the SNP, as all politicians inevitably must, found that they like the QUANGOs after all.
When I was growing up our family worked one of thousands of small livestock or agricultural holdings in Scotland that made a basic profit. Gradually this process changed as we hoved into the Thatcher era, and large-scale farming took over, and my family were offered subsidies to stop working as large-scale price fixing and 'quotas' were introduced.
Those small farms are gone now and market monopolies dominate. In farming, as in literature, subsidy is the norm, and while our family farm closed years ago, farmers now deal with more QUANGOs and other bodies than they can count ó maybe even more than writers do.
Just as agricultural metaphors are perennially useful in literature and poetry, so they may be in economics. Either way, the emergence of QUANGOs in both farming and letters has led to reduced wages for producers (farmers, writers and publishers), and a reduction in quality and integrity of production as monopolies enforce a product for mass consumption. The more state involvement there is in writing and publishing, the lesser the quality will be.
EDINBURGH = SCOTLAND
In reading this recent Literature and Publishing Sector Review, a friend in Aberdeenshire, took the time to count how many times each city and other literary town is mentioned, and here are his findings:
Edinburgh: 78
Glasgow: 46
Dundee: 4
Aberdeen: 2
Inverness: 2
Stirling: 1
Perth: 0
Stornoway: 0
Lerwick: 0
Kirkwall: 0
The issue is not so much that the consultants and other undesirables involved in writing the Review confuse the word 'Edinburgh' with the word 'Scotland' so much as the fact that in the Review they are reflecting themselves. By talking about Edinburgh, the consultants are exposing a prejudice.
The Scottish Book Trust, The UNESCO City of Literature, Creative Scotland and the other weird government-funded arms-length bodies for whom this report are bread and butter are nearly all based in Edinburgh, and in this much their world-view is revealed.
But Edinburgh isn't Scotland and in contrast to this lack of geographic engagement, the cringeworthy phrase 'literary ecosystem' – obviously much loved by these types – appears seven times in the Review!
These are examples of idees fixes – everyone employs them. This article that you are reading now, for comparison, contains the word monopoly ten times, and the word QUANGO, or its variants, twenty five times. It's just a shorthand to find out what is really on peoples' minds…
TODAY'S QUIZ ANSWER

And now on to today's quiz question: WHO IS THE LARGEST PUBLISHER IN SCOTLAND?
Maybe when you saw this question you were tempted to say something insane like 'Canongate Books', 'Harper Collins' or 'Birlinn', but you would be wrong – because the largest publisher in Scotland is by far and a long way amazon.com – and this is thanks to the furtherance of another monopoly, which not only granted Amazon £10.6 million of public money, but offers them tax breaks.
Regardless of your position on this, it is certainly a monopoly, and one which effects book publishing and distribution in Scotland. There is a decent enough discussion of the pros and cons of the Amazon investment here on Scottish Economy Watch (if you read the comment threads, also), but my own problem with it is the central planning of business.
It ís hard to say how many ebooks Kindle Direct Publishing (KDP) publish from Scotland in a year, but it is without doubt in the thousands.
In fact, KDP publishes 20,000 ebooks a week, and Amazon take between 35% and 70% of the revenue for every sale. This fee includes conversion, and access to their store, used by millions of ebook buyers.
In the meantime there are many reasons why the Amazon money was not invested in other domestic distribution and publishing infrastructure, but one is that under the theory of economic central planning, money is simply dumped into the economy on the basis of a deal that does not involve public input.
If Amazon already publish thousands of Scottish books, what's to stop them hiring editors? They already manage marketing and distribution networks and have put several of our publishers out of business without even editing a single work they've published.
Meanwhile, the Literature and Publishing Sector Review 2015 notes that since 2010, 25 Scottish publishers have quit trading, and whereas there were about 1400 people working in Scottish publishing in 2010, there are now just 1000.
Certainly this downward trend (loss of 100 publishing jobs per year on your watch Creative Scotland, SBT et al) will persist if resources are fed to RFOs and QUANGOs and if Amazon's growth continues. With regards Amazon, The Literature and Publishing Sector Review 2015 plays it cool and above all, works hard not to upset the giant.
While the Review agrees in Part 5.1 that Amazon have a dominance over sales, distribution, and even publishing, Part 5.2 refers to the fact that so many publishers have gone out of business in recent years as 'consolidation in publishing'.
I have known several of the publishers that have stopped trading in recent years, and I have never heard them describe the process as 'consolidation'.
PERSONAL CONCLUSIONS
While RFOs and groups like Creative Scotland have every right to defend their livelihoods, it is still the case that nowhere in their consultants' Review does it say that they should take a look at themselves.
Instead the Review (and its press release) says that tourism bodies, education bodies, book festivals, publishers, bookshops and even the media should be doing more to help writers.
I am a publisher and writer in Scotland, so what has the Literature and Publishing Sector Review 2015 have to offer me?
Not a lot, but as I have said it serves a different purpose. It demonstrates that in identifying a problem, non-governmental bodies default to the suggestion that they need to create a new non-governmental body to solve it. I would say, in the wise words of Ian Dury: what a waste.
While I appreciate that we can't simply give money out to anyone who happens to be a friend of the Commissariat, there must be a better way of getting money to publishers, without it being reduced by an order of magnitude by so many public bodies. What goes in as large amounts of millions, comes out to publishers as small amounts of thousands, once it has been tenderised, laundered and squandered by the egg-and-spoon-racing RFOs.
I take the view as first expressed by Adam Smith that prosperous businesses arise not from the actions of governments but through the voluntary actions of buyers and sellers in the marketplace. No one person or group dictates what the supply or demand of a particular thing should be, and this applies as equally to culture (in my view) as it does to bread.
And I am also a reader, and nothing in the Review promises to increase the quality of Scottish books, but only guarantees more ëliterary sectorí style of activity, such as best exemplified recently by the Edinburgh UNESCO City of Literature Trust Annual Egg and Spoon Race.
This egg and spoonery was great fun for the millenial class employed in Edina's fair RFOs, but tell me, how does this promote – or improve the quality of Scottish literature?
Perhaps the following clip raises questions of:
Leadership
Organisation and
Value for Money
See the CREATIVE SCOTLAND Literature and Publishing Review 2015:
http://www.creativescotland.com/__data/assets/pdf_file/0018/31950/Creative-Scotland-Literature-and-Publishing-Sector-Review-Nordicity-2015-CIRC.pdf
The consultants and Steering Group members responsibe for the Review are NORDICITY, Drew Wylie, Jan Rutherford, Robyn Marsack and Tom Pow.
Mark Thomas investigates QUANGOs:
https://www.youtube.com/watch?v=uEoTEsMjUZE
Further Reading:
An article by Martin Williams in The Herald Scotland, January 2014, about benefits and other expenses paid to resigning QUANGO heads at Creative Scotland, amid further accusations of money-squandering at what Don Paterson calls the 'dysfunctional ant-heap'.
Outcry as quango heads forced to resign receive huge pay-outs