Women on the Land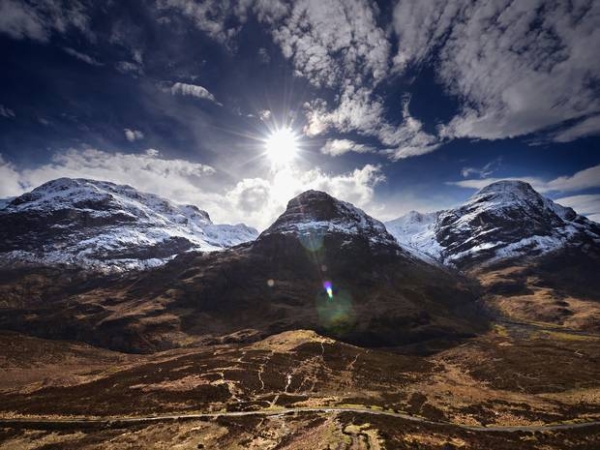 Can Land Reform create new opportunities for women?
Our traditional view of a land worker is a fairly male stereotype. The crofter, farmer or shepherd, work worn and wise, tending his land with generational knowledge built into the genetic pool. It is still not unusual to hear the comment: "It's good to see a woman in a man's world" with reference to women working in the land based sector. This area of work may well be one of the last 'glass ceilings' as evidenced by the National Farmers Union of Scotland, where all of 21 chair and director positions appear to be held by men. This is despite the fact that women run successful businesses, growing and producing food across our world today – with globally one in five farms run by women.
However, if we look back at the story of working the land in the Highlands and Islands, there is a very different picture with women at the forefront. History suggests that some men in Highland communities viewed working on the land as beneath them, and as they were often absent fishing or, increasingly, fighting in distant wars, working on the croft and providing food for the table was left to the women. This then gives us a picture of matriarchal societies with women playing a leading role in as key providers.
Crofting and smallholding women, have for generations worked relentlessly to feed and nurture their families and communities. Their lives were tough and not for the faint hearted, with grit and perseverance needed in abundance. As well as working the land, they would carry peat creels to keep the fires burning, carry water, raise the children, cook for and feed the family, and in fishing communities they would even carry the men on their backs into the sea to deliver them warm and dry to their boats. The phrase "a women's work is never done" could well have been born from their stories.
Despite there being few official records or statistics relating to this (possibly because those in authority were men who gave little recognition to the role of women in communities), we can get a glimpse of what their work and lives were like by looking at countries where women are still major contributors to food production. In parts of sub-Saharan Africa, it is estimated that an average women will carry 80 tons of fuel a year, whereas her male equivalent will carry 10 tons ; this on top of working the land, carrying water and caring for and feeding her family. Similarly in The Himalayas a man will work 1212 hours and a woman 3485 . Where they are being paid, women also often work longer, for example in Benin and Tanzania rural women work respectively 17.4 and 14 hours more than men per week.
Some of the strength and tenacity of these women comes to the fore in stories from the Highland clearances and the crofters' wars in 1880. During this time, while landlords were trying to evict the families from the land, and men were out fighting for King and Country, the women were often found on the front line of resistance, trying to protect their patch of land that they needed to feed their families. We find many examples of this, but two examples stand out:
• At the Battle of the Braes in Skye in 1882 women who stood up for their rights were beaten and pursued by the sheriff's men. Some of these stories were recorded in song; one such (written by 'Big Mary of the Songs') used words such as "and the gentlest women, most graceful in movement, their heads were broken on the Bares of Bheinn Li".
• In the Strath of Kildonan we hear tell of a picket line of 200 women armed with stones facing up to the sheriff's officers, and behind them around 100 men. These women were charged and beaten with batons leaving a large number seriously injured, all in the name of sheep! And while we can smile at tales of women catching the sheriff's officers, stripping them naked, and pelting them with stones and clods of earth, we can also imagine the humiliation of these 'officials' and imagine their rage and increased intent to punish the perpetrators.
We can also look back within living memory to see the major role women played in working the land and feeding the country during the first and second world wars with the Women's Land Army.
But what of women's place on the land now? If we look globally at land workers we see that small scale farmers are producing most of the world's food on just 25% of the land. It is recognised that small farms are more productive, and play a vital role in feeding the world. But what isn't always recognised is that most of the world's small scale farmers are women, feeding their families, their communities and the urban poor, who rely on their markets for affordable produce.
An incredible 1.6 billion women rely on farming for their livelihood, and they produce 50% of the world's food. In less developed countries 70% of women work on the land, carry out 80% of the work, yet receive less than 10% of small farm subsidy and credit assistance. Despite their enormous input, women only own approximately 2% of the titled land in the world .
If we look closer to home, agriculture is the seventh largest employer of women in Europe. Working in every stage of food production, women are not only feeding their families and communities, they are actually feeding the world. But even in the EU, despite their input (and partly thanks to archaic inheritance laws keeping women out of land ownership) women only own 20% of the titled land, whilst men own 77% and government owns 3%. Scottish government, under the land reform bill, hopes to start changing this by introducing new inheritance laws (let's hope that this isn't annulled by the creation of family trusts and other avoidance solutions).
In what new ways can land reform bring new life to the role of women as food producers in our rural communities? Over the last 30 years women have often been the driving force behind new and imaginative community led initiatives. It is reassuring to still see women at the forefront of many new initiatives to build and strengthen our communities. There are already great examples in Scotland of food production businesses run by women. Now we also see the emergence of even more intrepid and enthusiastic young women who are taking on the challenge of working the land, for example:
• Aspirant crofter Cheryl McIntyre (a 26 year old primary school teacher) and crofter Maddy Norval (a 25 year old illustration graduate); have been involved in starting up a Young Crofters movement. The movement seeks to provide a voice for active and aspirant young crofters through political advocacy, training, support, and networking to ensure the future of crofting. It is also reassuring to see that 50% of the participants in the croft induction courses run by the Scottish Crofting Federation are women.
• And the young women from the central belt, who intending to establish a community growing project, decided to lease land with a group of friends so they could grow food and feed themselves and their local community. They have now been involved in trying to establish a Community Land Trust, whose aims are to buy and rent quality farm land, removing land from the private commodity market and providing affordable land for rent. With initiatives and options now, such as crowd funding, these dreams are not so distant or remote.
Cooperative ventures; community supported agriculture; community buy outs; forest crofts; secure tenancies; and ideally, publicly held affordable land to lease: these are all possibilities which could enable this new generation of young women (with land in their blood) to take control and drive forward change.
The path will not be easy: mountains of red tape to be navigated; access to funding and loans; access to 'community' land where no community as such exists; coupled alongside the ever prevailing attitudes towards women in farming where 'hobby farmer' is used as a detrimental adjective. Eliminating the obstacles that hamper women could be the key, not only to new and vibrant rural communities, but also to achieving the goals of the World Food Summit . To give the right support we need to understand both the difficulties experienced by women and their aspirations and also encourage them to participate. As well as the hard physical labour required to work on the land these women will also need the tenacity to wade through the red tape, pull communities together, have the wherewithal to diversify to ensure a regular income and often raise a family – but hey – this actually sounds like many of the women I know already!