Living Rent: a systematic vision for rent controls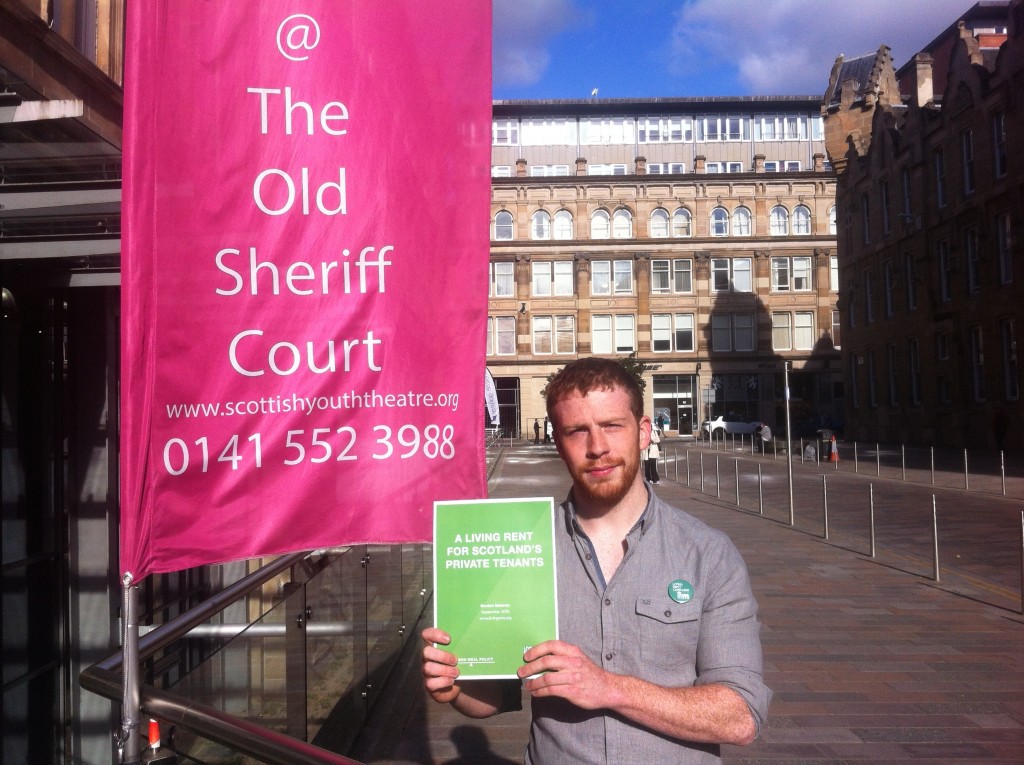 100 years ago next month, the women of Glasgow made history. On 17 November, their rent strike, supported by workers on the Clyde who had stopped work to join them, marched in their tens of thousands all the way to the Old Sheriff Court on Brunswick Street in merchant city. Their, landlords were attempting to get 17 of the 25,000 families who had joined the strike evicted for rent arrears. After threats of industrial action and much more, the Sheriff told the landlords to drop their case.
The rent strikers won that battle, and their success pressured the UK Government to introduce the first ever Rent Restrictions Act that year.
Fast forward a century, and the Rent Restrictions Act is gone. Margaret Thatcher made sure of that. Landlords can once again raise rents with no restriction; and have done so, rewarding themselves handsomely in the process.
The private rented sector doubled in Scotland in two decades, rising from 7 per cent to 15 per cent in 2013. From 2011/12 some £1.7bn of housing benefit left the DWP and passed straight into the hands of Scottish landlords. Since the crisis, as wages have stagnated, rent prices have risen steadily, up at least 20 per cent in Glasgow, Edinburgh and Aberdeen.
Private tenants spend almost 40 per cent of their income on rent (with one in ten tenants in Scotland in arrears). One-third of all private renters are in fuel poverty – double the figure of those with a mortgage.
Big financial rewards haven't led to improvements in the quality of housing on offer – one in three private rent tenants in Scotland are living in structurally inadequate housing, and more than 50 per cent have failed the Scottish Quality Housing Standard.
It's a situation that needs drastic action, and thankfully we can do something about it – the power lies at Holyrood to introduce rent controls.
The Private Housing Bill, published last Thursday, made the first moves towards rent restrictions since the Scottish Parliament was founded. That itself is an important step – an acceptance that the market left to its own devices can't provide affordable housing for renters – but it was only a small step.
The Bill means rents can only be introduced once a year and with three months notice for the tenant, and it gives councils the power to request to the Scottish Government that rent controls are introduced in "rent pressure areas". It also ends 'no fault ground' repossessions, where landlords could get rid of tenants at the end of a contract without giving any reason whatsoever.
This is a start and tackles some of the most glaring inequities, but given the severity of the problem, and in comparison to rent control systems in many European countries, it is pretty limited. What we need is a comprehensive system in place to ensure fairness, affordability and rights for private tenants.
In a report published jointly by Common Weal and the Living Rent Campaign today, a Living Rent for Scotland's Private Tenants, Gordon Maloney, former NUS Scotland President and Living Rent activist, outlines a systematic vision for rent controls. Maloney has five key proposals:
1) That initial rents be set against a points system to reflect the value of the property, similar to the system in the Netherlands.
2) That rent increases be capped at a rent affordability index to ensure increases do not push tenants into hardship.
3) A move towards indefinite tenancies as default, away from short-term contracts.
4) Ensuring that all tenants are entitled to a hardship defence in relation to evictions.
5) The creation of a Scottish Living Rent Commission, to oversee these recommendations and to serve as a centre of expertise for the Scottish Private Rental Sector.
The report also addresses a number of the myths peddled by those determined to stop any move towards rent controls, namely that such a system would drive landlords out of the market and lead to a crisis of under-supply. There is already a shortage of housing supply in Scotland because the private sector is not building enough homes, but that aside, Maloney shows that the introduction of rent controls has never led to a collapse in the private rental market, and there is no correlation whatsoever between increased or decreased regulation and the size of the rental market.
It's worth taking the time to read the report in full – it outlines a plan for a Living Rent that is fit for a country that really believes in social justice, and is a plan that is a fitting marker of the 100 year anniversary of one of Glasgow's greatest moments – the victorious rent strike.