The Neu! Reekie! Xmas Extravaganza (Thurs 17 Dec)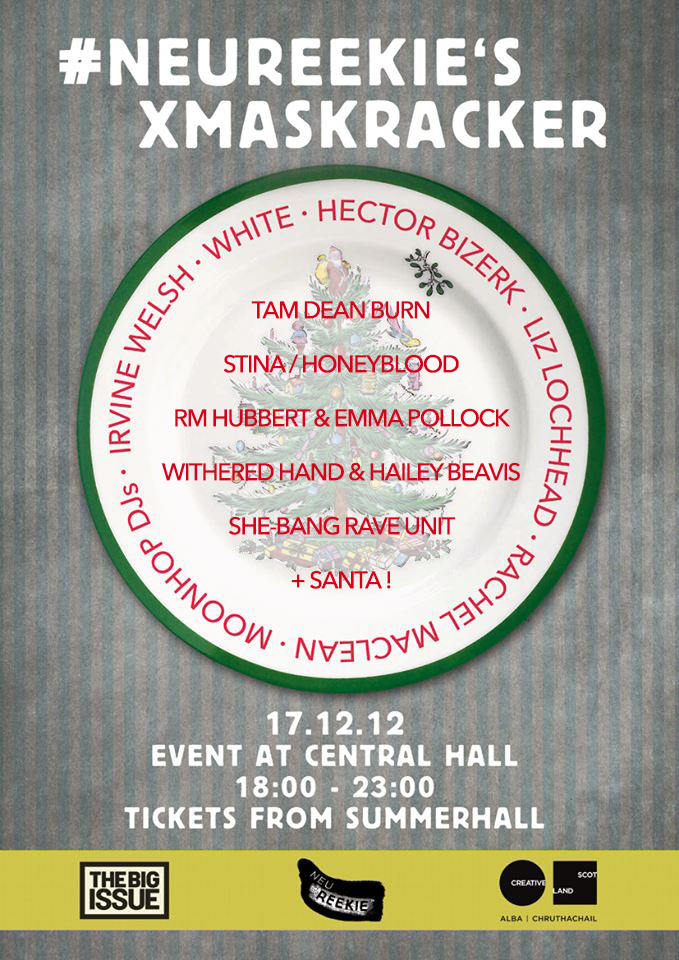 For the last 5 years Michael Pedersen and myself have organised around 90 cultural happenings/extravaganzas showcasing some of the most exciting poets, musicians, bands, film-makers and conceptual artists we can get our hands on. Everyone from Alasdair Gray and Liz Lochhead to Primal Scream and Young Fathers have performed at our events.
Over the years we've been fortunate to have had the support of the many thousands of folk so as a big thank you we've organised a massive Xmas party on Thurs 17th December and you're all invited.
When I say massive I mean we've thrown everything bar the kitchen sink into this show. Seriously. Here's what's happening on the night:
We've got Scotland's Makar Liz Lochhead performing. This will be one of her last public events as Makar and we want to thank her for doing the job with such panache. Liz we salute you.
We've got Irvine Welsh reading from… well let's just say he's unveiling a brand new Xmas story re-uniting two of his favourite characters.
We've got two amazing Scottish bands – WHITE and Hector Bizerk – bringing the party to its climax, ramping up the volume, and danceability factor, with, respectively, their hiphop and nu-disco vibes. We've got actor Tam Dean Burn opening the show performing Little Junky Rabbit's Christmas – a William Burroughs/Harry Horse seasonal mashup.
We've paired up some incredible artists to do seasonal duets – as our tribute to Kirsty McColl & Shane McGowan who sang the greatest Xmas song of all time. We've got RM Hubbert singing with Emma Pollock; Withered Hand singing with Hailey Beavis; and Stina from Honeyblood performing with a very special guest.
Before all the live acts begin we'll have an animation film showcase from 6-7pm which features new work from Scottish animators such as Rachel MacLean, Ainslie Henderson & Will Anderson.
We'll have two sets of decks in two spaces. On the Main Stage between the live acts the Moonhop DJs will be playing their dancey soul tunes.
In Area 2 where our bar staff will be serving everything from Scottish craft beers to mulled Buckfast we'll have the gals from She Bang Rave Unit spinning their hands-in-the-air party tunes.
We'll have a tasty festive menu of hot food prepared by the Alternative Roots collective. We're chuffed to bits to be collaborating with The Big Issue on The Great Art Heist and we'll have celebrity vendors on site selling the Big Issue with amazing artworks to be won inside.
And we'll have Santa there. The real one!
If that's not enough to get you along… we give up!
We've kept the ticket prices down to just £16/£13.50 (if bought in advance) since it's our treat to everyone who's supported us over the last 5 years. (Tickets will be £20 at the door on the night).
Hopefully see some of you there.
Seasonal greetings
Kevin Williamson & Michael Pedersen
Artistic Directors, Neu! Reekie!
Ticket Link: http://neureekiefurxmas.brownpapertickets.com