Writing Against Violence
It is rare and refreshing to be at a media or politics event where women outnumber men. This usually only happens when the topic is a 'women's issue' – that dreaded term that sees good writers and politicians relegated to discussions of childcare, or care work, or tampons.
Some might see the third and largest Write to End Violence against Women (WVAW) award ceremony on 10 December as a 'women's issue'. But I doubt that any of the attendees would agree with such a label. The thing about domestic abuse and violence against women is, as campaigners have been shouting for so long, that it's a societal issue. It affects all of us; stemming from inequality and attitudes, with repercussions that go far beyond the home. A societal shift is required to truly end it.
"Men's violence against women is caused by gender inequality, and it helps this inequality to continue" – the unequivocal statement of campaign group Zero Tolerance, who run the awards. Liz Ely, the organisation's Development Officer, describes how the awards reflect this focus on attitudes and societal change.
"When these awards were founded we saw them as a tool to encourage good writing by recognising it publicly, as well as allowing the violence against women campaigners to engage with the press in a critical but constructive way.
"By publicly rewarding excellent writing, whilst simultaneously highlighting issues which persist in the Scottish press, we hope to support the Scottish media to be a force for good."
Teaming up with The National, the WVAW campaign encouraged nominations for the best and worst reporting on violence against women. Categories ranged from news articles and features to blogs and student articles.
Introducing the awards, campaigner and academic Lesley Orr said that journalists should be at the forefront of progressive change in society, not making matters worse. "Let us see the pattern and of power, privilege and patriarchy that underpin the enduring inequality between women and men, and drive up media standards by rewarding those who further gender equality through their work", she said.
It was notable that women made up the vast majority of the nominees and all of the winners, with the exception of Alex Renton, who won best feature for his campaigning journalism on historic child abuse at Gordonstoun school.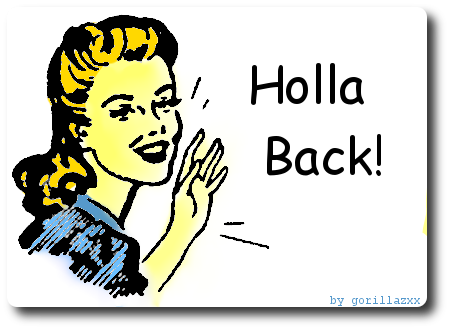 Winning best article was the Sunday Herald's Judith Duffy, for her piece about women tackling street harassment. One of the judges, Zero Tolerance co-director Jenny Kemp, said the piece "challenges the myth that street harassment is just 'banter' and isn't harmful, and explicitly names it as sexist … It conveys the seriousness of this under-examined form of violence against women". The article referenced the story of Poppy Smart, who received abuse online after reporting wolf-whistling to the police, and looked at the wider context of street harassment in Scotland in terms of surveys and campaigns like Hollaback.
Important too was the inclusion of categories for student writing and bloggers – platforms which seldom attract the attention print media enjoys. Awarding blogger Isabelle Kerr a prize for her blog on coercive relationships, Engender's Emma Ritch noted the importance of "encouraging a new audience to think about power and abuse in relationships". A new award this year was the Gender Equality in Political Reporting, sponsored by Women 50:50 and awarded to Edinburgh Evening News journalist Gina Davidson for a 'Let's hear it for the smart girls'. This piece on the overlooked women in science brilliantly evoked the pioneers who received little or no credit for their work. Finally, former award winner Eve Livingston received best student article for her blog 'On Rape Culture', written in reaction to the spate of sexual assaults in Edinburgh last year. Eve is a prolific blogger and campaigner who has been published by The Guardian.
"…words have the power to change perceptions, to ignite prejudice or help wash it away … to mould public opinion and, in turn, how we perceive victims and their worthiness".
So while a vital role of the awards is the promotion of good journalism, they also provide a much-needed service in recognising female writers and new media platforms. In a media landscape still utterly skewed towards men – and Scotland is absolutely no different in this regard, whether we're talking 'mainstream' media or the fabled 'new' scene – much needs done to bring women's voices to the fore.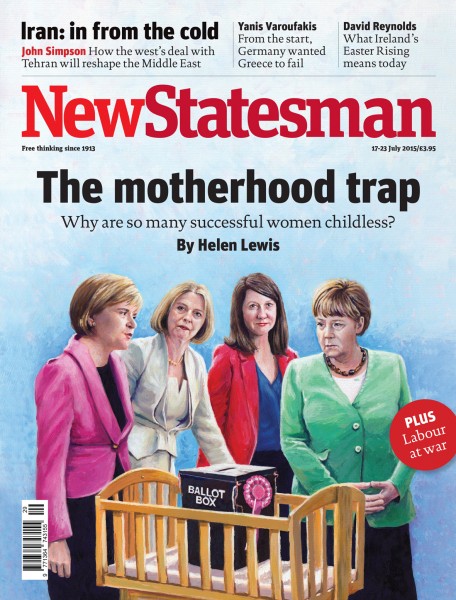 Working with The National newspaper, the WVAW campaign awarded Kirsty Strickland a bursary to write pieces on violence against women over a period of several months. The competition had been open to anyone who hadn't previously been paid for their writing, in recognition of the fact that beyond the professional world there is a wealth of articulate and informed bloggers whose work doesn't get the recognition it should.
Since then Strickland has written on a number of topics, including an eloquent plea for people to challenge engrained ideas that perpetuate the unacceptably high levels of violence against women in our society. She wrote: "for too long there has been a societal acceptance that the threat and consequences of male violence are just part of the female experience … But fear of violence should not be an inevitably consequence of being a woman."
In an earlier piece, Strickland highlighted the power of the media, writing that "words have the power to change perceptions, to ignite prejudice or help wash it away … to mould public opinion and, in turn, how we perceive victims and their worthiness". She noted the "grotesque nicknames" given to brutal murders such as the 'Shampoo bottle murder', and the habit of listing a women's sexual history alongside details of her death.
This sad exacerbation of the harms of violence against women so often found in the press was highlighted at Friday's ceremony by the 'Wooden Spoon' category. Used to condemn the sexualised, offensive imagery and headlines used by sections of the press when violence against women is the story, the Wooden Spoon previously went to the Sun for its reporting on the murder of Reeva Steenkamp by her boyfriend. Thousands of complaints were received when the paper used a picture of Steenkamp in a bikini to illustrate news of her death.
Such reportage is not just deeply damaging – it's disempowering too. The idea of that Sun front page being seen by millions, with its gratuitous description of Reeva Steenkamp's death and sexualised image of her bikini-clad body, makes such reporting seem so normalised as to be impossible to stand up to.
But by highlighting this – publicly, loudly, and with a touch of grim humour – this 'wooden spoon' award feels like a collective kick back. It's lonely to be the one repeatedly condemning the harm of these headlines on twitter, and dealing with the subsequent abuse: but it's empowering to do it as part of a movement celebrated in parliament, backed by women's organisations and MSPs.
This year, the WVAW had not just one but a collection of wooden spoons, awarded to the deluge of crass, sensationalist headlines about violence against women, and about women in public life.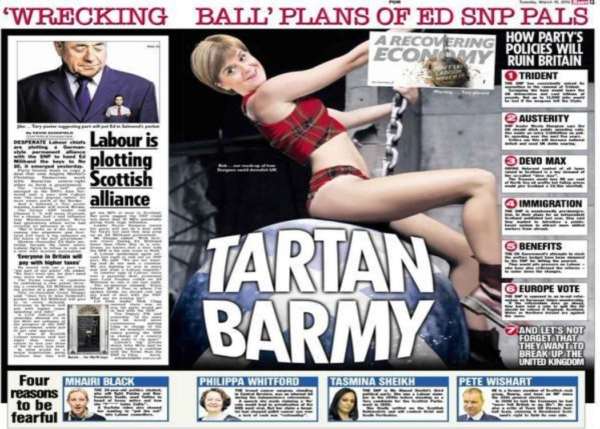 There was no difficulty in finding examples: from the Sun photoshopping Sturgeon's face onto a tartan-bikini-clad 'wrecking ball' image, to the New Statesman's 'Motherhood Trap' front cover, to more disturbing examples – the murder of a sex worker with a large chest described simply as 'BUSTED'; the numerous descriptions of abuse and assault in sensationalist terms – 'beast', 'monster', 'battered'.
Their effect of sensationalist press coverage on social attitudes is well-documented, and those attitudes are not exactly progressive. In her speech at the WVAW ceremony, Scottish Labour leader Kezia Dugdale reminded the room of the latest survey which suggests one in four young people think sexual assault is the victim's fault if she was drunk. Dugdale, who is the parliamentary sponsor of the awards, said it is vital to "commend those journalists and bloggers who are changing attitudes with every word they write."
This goal of pushing up standards is, then, inextricably linked with promoting and hopefully increasing the number of women writers and journalists. A healthy and thriving media which can cover these difficult issues responsibly cannot be an imbalanced, male-dominated media. Nor can it be a owned by a handful of multinational companies, bent on generating revenue with lurid headlines.
How to have a media fit for purpose is a much-discussed topic in Scotland today, as evidenced by the recent launch of Chris Silver's book on the subject. Awards like Write to End Violence Against Women are a vital part of this effort. Next year's ceremony will no doubt be even bigger, but the organisers hope they'll be able to throw away the wooden spoons.
Follow Jen at @jm_stout