Without Fear or Favour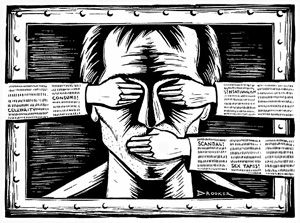 There is a bucketful of irony surrounding my departure from the Sunday Herald which doesn't escape me.
Firstly, I was sacked less than a week after penning a column about the abuse I've experienced as a journalist, much of which has come from fans of Rangers Football Club following my work editing a book about the financial collapse at Ibrox. In that column, I detailed how groups connected to Rangers had tried to get me sacked from jobs I'd had since, and how important it was for employers to back staff who come under attack online when using digital technology is essential to do their work.
Within days, and apparently under threat of a legal challenge from the club itself, I was fired.
Secondly, when I was informed of the news that I could no longer write for any Newsquest title, I was in a meeting with Scottish PEN discussing their campaign for reform of defamation law in Scotland. The law here has never been updated to keep up with the development of online tech, and all too often legal threats from big businesses are enough to close stories down.
Scottish PEN has been running its campaign for reform, for the sake of a free press, with the Herald newspaper.
As I said, a bucketful of irony.
I first became aware that I'd been sacked within just hours of tweeting solidarity with Graham Spiers, who was under a deluge of online hate by that point. I hadn't commented on the stooshie between Rangers and the Herald because I assumed the Herald was being throttled by a legal challenge, and I concluded that defamation reform perhaps couldn't come fast enough.
However, when I see a colleague of my trade being subjected to the same abuse I've experienced – and I know how much pressure that can bring on a person – I won't hesitate in showing support and condemning those online taking part in it.
The decision to sack me must have been rapid. I was given no opportunity to state my case. When I finally spoke to Magnus Llewellin, it was simply to inform me of the reasons behind the decision, it wasn't really a discussion.
He informed me that "representatives of Rangers Football Club" had brought my tweets to the attention of the Herald, and that, to cut a long story short, the paper was under so much legal pressure that he felt he had no option but to let me go. He also informed me that Neil MacKay, editor of the Sunday Herald, had fought strongly to stop it happening, but in the end he was overruled.
I understand the difficult position Llewellin was in. He is the editor-in-chief of a group of titles getting set to make yet another round of editorial cuts amid an increasingly difficult financial environment for newspapers. Throw in a legal challenge and even a hint that advertisers might pull some funding if they don't like what they're reading – although Llewellin denies this was an issue – and you're in a very difficult position. I can sympathise with that. I don't know Magnus Llewellin, but I'm sure this isn't personal and that he made a decision that troubled him.
And that's the key thing here, you have to ask who the winner out of this is. In this episode, it's Rangers Football Club, but on a wider level it exposes the influence of corporate interests in our media. In the current financial landscape, that influence is ever more prominent. Take a look at the alleged influence of HSBC bank on the Telegraph's editorial content, for example.
Scotland's new media has avoided this problem by sourcing funding entirely from readers rather than advertisers. Of course, this can have its pitfalls: people pay for what they want to read, and if they don't like it they can remove their funding in exactly the same way advertisers can. It's also not the most stable of financial models upon which to build a substantial new media offering.
But the principle that we are held to account directly by our readers rather than commercial interests matters.
No matter how difficult Llewellin's decision was, the knock on effect of this is significant. The notion that the Herald can provide coverage "without fear or favour" has been called into question, and rightly so. I can have personal sympathy with Llewellin, but the bigger picture here is far more important. The Herald threw two journalists under the bus whichever way you look at it, and that decision will have consequences both in terms of reader trust and what vested interests now think they may be able to get away with.
The Herald now looks like it scares easily, and that is not a good image for a broadsheet newspaper. Somewhere along the line the big business publishers have become fearful and the new, independent outlets have become ballsy.
I'm extremely proud to be the editor of CommonSpace, a grassroots platform which is open to all who want to use it. There are no rules for our contributors, there is no obsessive need for 'brand protection' – they're entirely free to criticise CommonSpace content they don't like, there are no repercussions (except me moaning a bit on Twitter, probably). We're not above being held to account.
I'm saddened that what could have been a great relationship with the Herald has ended this way. As editor of a new media platform which has worked on several occasions with The National on big stories, I felt we were making progress on the Scottish media front. I hope we still can.
In terms of the Rangers situation, I'm not in the slightest bit surprised, and I hope this incident will be an eye-opener for those unaware of the influence of Glasgow football clubs and those connected to them on the media in Scotland. This is a serious problem, and it should be examined further.
For me, I'll continue building CommonSpace and working towards a better Scotland. I've been overwhelmed by the support shown to me since this happened, and if this is what it took to bring attention to deeper problems within our media then that's a silver lining I'm happy to live with.