Getting the Military out of our Schools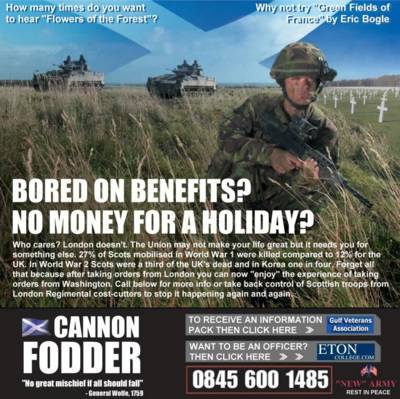 Many claim the UK armed forces provide legitimate, legal careers for children – others counter that this is against international standards and the recommendation of the UN Committee on the Rights of the Child. However the career they provide is one fraught with dangers. Not only could there be the possibility of permanent disability or death, there is also the possibility of being complicit in the loss of other human's lives. We should never underestimate the impact that has on someone. We know that the younger someone joins the worse their outcomes are. They are more likely to die, be disabled and suffer poor mental health. We also know veterans can experience addiction, become homeless and commit suicide. It is precisely because Quakers in Scotland, and Forces Watch, understand the risks involved in armed forces that we believe this institution, uniquely underpinned by violence, should be limited and carefully monitored when interacting with children within education, an institution focused on safety and growth to ensure that the visits are operating in the best interests of young people.
Recruitment agenda and visits to schools

There is ample evidence that the armed forces visits to schools are part of a recruitment agenda. In 2011 the MoDs Youth Engagement Review made it clear that their visits to schools "should have two clear outcome: An awareness of the armed forces role… and recruitment of young men and women…" In a 2007 document also stated that among other benefits of having access to schools "…In gross numerical terms the main driver is recruitment… There are many other reasons for visits but many of them have an implicit careers link." These and other sources are detailed on the Force Watch website.
Over the last year Quakers in Scotland have teamed up with Forces Watch who have been working on this issue since 2012 and published this report on armed forces visits to schools in Scotland in 2014. This report revealed a high number of visits to state secondary schools in Scotland. We've used Freedom of Information requests to the MoD and Local Authorities in Scotland to find out what the current picture of visits across Scotland is. While we have received data we have concerns about its accuracy. There have been changes in personnel and recording methods and it seems that even the armed forces themselves aren't fully aware of the extent of their own engagement with schools. One reason why one of the calls of our petition is for proper transparency and accountability in this area.
We did manage to find incidents of Navy career officers visits Primary Schools in Scotland – counter to the 2007 claim that the army does not recruit in Primary Schools. Since then anecdotal evidence has emerged that they have even turned up at nursery events with virtual weapons systems.
Colonel Allfrey, former head of recruitment for the whole of the UK armed forces said "It starts with a seven-year-old boy seeing a parachutist at an air show and thinking, 'That looks great.' From then the army is trying to build interest by drip, drip, drip." This shows that those at the head of the armed forces are aware of child's natural inclination to curiosity, adventure and limited assessment of risk, and are willing to exploit that from a young age.
Comparability with other employers?
The armed forces counters arguments by saying that other comparable employers also attend schools. Other employers where staff may expect to be put at physical risk would be the emergency services. However the emergency service enter schools mainly to give safety information, not to recruit. Aside from carers day other employers rarely enter schools at all. It is important to remember due to its unique nature comparing the armed forces to other employers is not comparing like with like. There is no other employer like the armed forces – and there is no reason why their position should be privileged over other employers as was recognised by the Welsh Assembly and accepted by the Welsh Government.
Evidence we have collected show that many Local Authorities are not clear about the nature of armed forces visits to schools in their areas and are not adequately ensuring that students encounter opposing views and are not always consulting parents or guardians about visits. Several Government documents for both teachers, head teachers and guidance on employer relations all contain no reference to the armed forces. However there is a substantial body of evidence that shows pupils are not encountering a balanced view. Crucially, unlike England, there is no legal requirement for balance within Scottish schools.
While it is right that local authorities and schools make the majority of decision around the curriculum, as they are best placed to know what their pupils need, the overall quality of education and the experience of learners is a concern for the Scottish Government and specifically Education Scotland.
Vulnerable children
Of course the armed forces often gain access to schools under the guise of building "character". As comedian Mark Thomas points out in the short film The Unseen March there is only one type of character the armed forces are interested in – one that follows orders. Other touted benefits of having the armed forces include discipline, team work and duty. This plays into a regressive view of children as feral things, when evidence points to a generation of children growing up who are excellent at making decision and many have plenty of self-discipline already.
It is important to remember that those children who find themselves in difficulties, for whatever reason, need a child-focused flexible approach which can speak to the multiple complexities in the lives of those falling behind their peers. Employment in the armed services does not immediately mean an individual can deliver the kind of approach our vulnerable children need. Fully trained youth workers can though, and there are many ways to support children through increased support for literacy, child mental health services and high quality child care which could do with the funding that armed forces receives for educational outreach.
It is right that as a society we are giving our children more of a voice, and encouraging them to become involved with decision making. Growing-up, like everything in devolved Scotland, is a process not an event. The last part of that process should be the ability to choose a career which could possibly result in the terrible finality of your own violent death.
Those who do not hold a similar view cast the whole debate in black and white, as though all taking part are either pro or anti-army. Society and political debate in Scotland has moved on from drawing a line in the sand and taking sides, and there is a need for us to utilise that higher level of nuance and sophistication to open up the real debate here. If all Jock Tamson's bairns are going to get the best result then rather than taking arbitrary sides and dismissing concerns with platitudes about the "good job" the army does, having a discussion centred around the welfare of children is what is needed.
Of course, the easiest way to combat the recruitment of our children into the armed forces would be to follow the international standard and change the age of entry to eighteen. There is something uncomfortable about the way we decry child soldiers in other countries, yet tolerate and even defend them in our own. However, this is not a gift that Scotland has the power to give.
Limit access

The next best thing is to limit the access of the military to young people, especially where there is no evidence of balance. Our petition takes the first steps towards that by calling for transparency about these visits; information about their frequency accessible to all the public; that Local Authorities and schools are given clear guidance on the visits and; parents and guardians are always consulted. It will close for signatures on 20th March and Forces Watch will be holding events around Scotland where you can find out more.
Support the petition here: https://www.scottish.parliament.uk/GettingInvolved/Petitions/armedforcesvisitstoschools