The Yes volunteers: Capturing the "Biggest grassroots campaign in Scotland's History"
By Dr. Iain R. Black. Heriot Watt University, School of Management and Languages,and Sara Marsden, Social Researcher and activist with Common Weal Edinburgh North & Leith.
Much has been said about the Yes campaign, much has been written about its vibrancy and excitement, openness and inclusivity. It was planned to be the biggest grassroots campaign in Scotland's history, it has been said that it brought new people to politics and represented a departure from the type of campaign seen when political parties fight for our vote. Yes was said to have been positive and Better Together was supposed to have been negative.
This report [read and download the full report here] provides detailed results of what we believe to be the largest and most comprehensive survey of those who said they took part in the Yes campaign. It examined who the volunteers were, what they did, what they thought of the campaign and their experience of it and the results from it provide evidence to support, refine or debunk ideas held about the campaign.
993 Yes volunteers responded to an online survey and to collect their views, we contacted a wide range of Yes supporting groups. These included local Yes groups still in existence such as Yes Edinburgh North and Leith and sectorial groups such as Youth and Students for Yes. Local SNP, Scottish Green and Scottish Socialist Party groups, the Radical Independence Campaign, Women For Independence and Business for Scotland also distributed the survey link for us. A special thank you goes to Bella Caledonia, Wings Over Scotland and Common Weal for distributing this via their blogs and websites. In short we tried very hard to get the views of the full range of supporters all marching under the Yes banner, we also tried very hard to ensure that only the data from those who did take part are included. With 64 questions, many using long scales, we can only report on a broad overview of the results.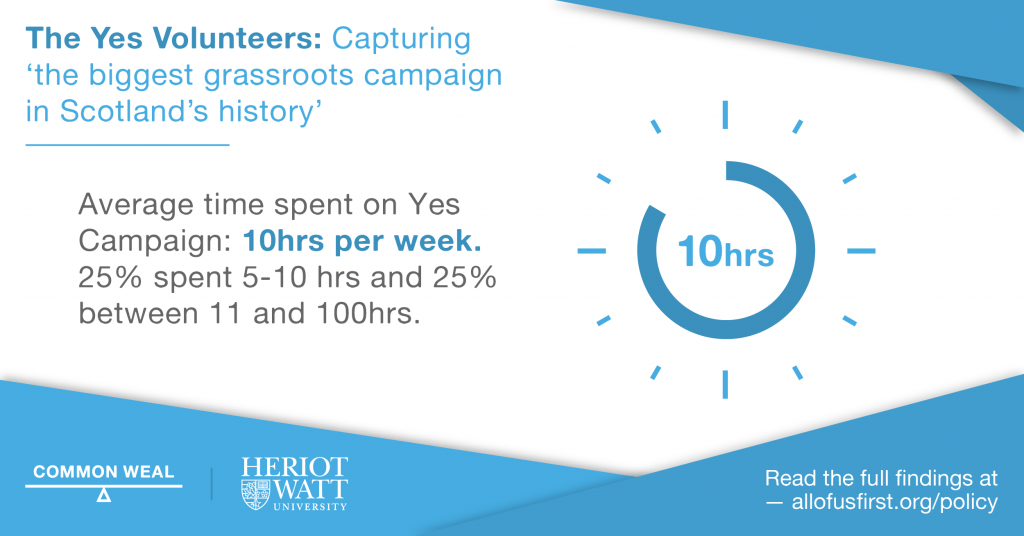 So what did the Yes campaign look like, do, believe and feel? Well, overall the analysis tells a story of heterogeneity amongst those who took part and a remarkable homogeneity in what they thought of the campaign, what their experiences were and whether they intend to stay involved. In other words, many different types of people took part but all reflected on a very positive empowering experience and intend to stay involved to achieve their goal of an independent Scotland.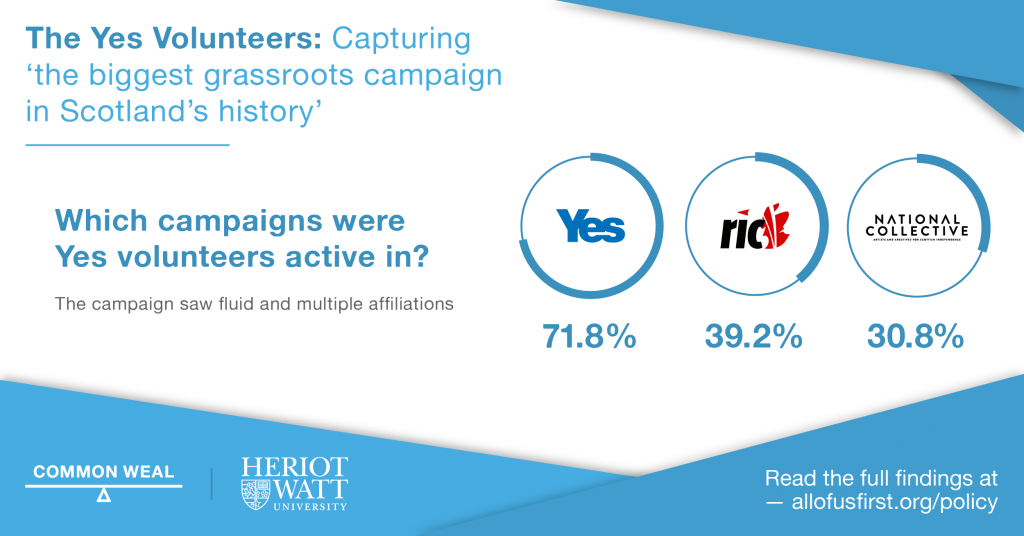 Overall, these results present a broad based campaign, though older (mean age 51, ranging from 17 to 88), more likely to be male (57.5% vs 39.6% female) and with a significantly higher proportions of those identifying as homosexual or bisexual (7.3%) than in the general population. A significant proportion hold an undergraduate degree (29.7%) and 26.6% hold postgraduate degree. Though a majority saw themselves as Scottish not British (69.7%), 30% feel they have a British or other national identity. Those who started in the campaign relatively early, before May 2012, tended to have been long term supporters of Independence though they were joined, right up until the last month by new volunteers who were more likely to be female. If they weren't members already, they went on to join the SNP (65.9%), the Greens (8.5%) or the (SSP 2.9%), 14.3% had been members of the Labour, only 0.3% were when the data was collected. The volunteers are closer (mean= 3.19) to the Greens (mean= 3.35) than the SNP (mean= 4.31) or the SSP (mean= 1.86) in their left-right political outlook on a 1-11 scale. Perhaps campaigning with these parties required or moved the respondents in to a position where they were political close to all of them?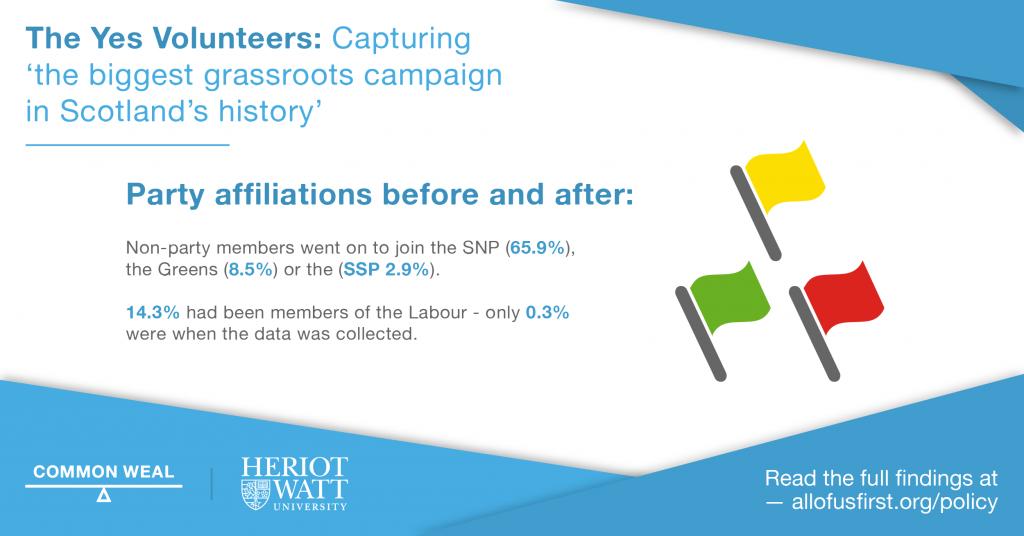 Volunteers were typically members of more than one Yes group including local Yes (71.8%) and special interest groups and affiliated organizations. For example 2/3rds of female respondents said they were active in Women for Independence, 39.2% with the Radical Independence Campaign and 30.8% with the National Collective. Therefore, whilst all operating under the same yes umbrella, this campaign saw fluid and multiple affiliations where groups were felt to be close enough in perspective and ideas that it was possible to be part of a number of them.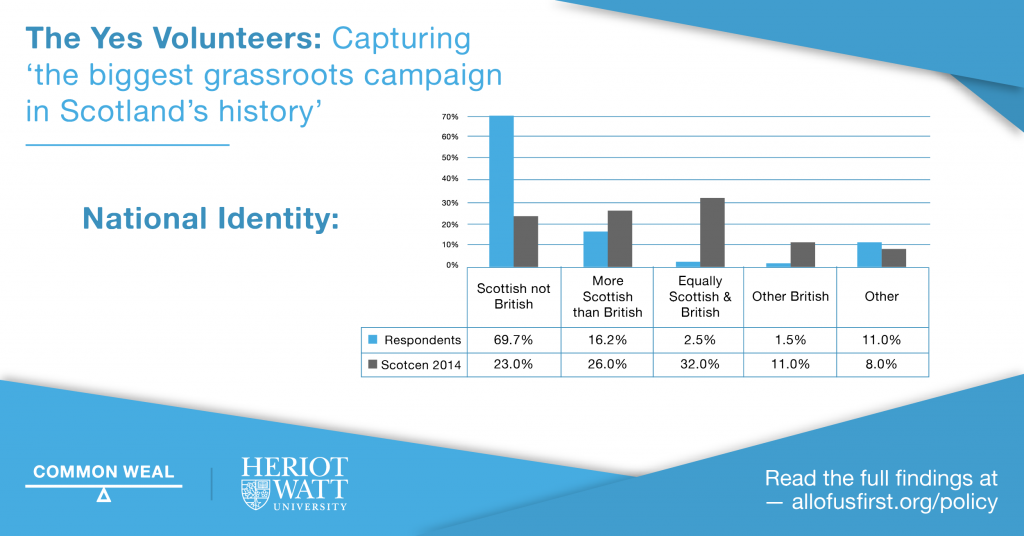 The volunteers spent an average of 10hrs a week, with just under 50% spent 1-5 hrs, 25% spent 5-10 and the remainder working between 11 and 100hrs a week. They performed a very broad range of tasks but were united in undertaking a core set of similar activities where in particular they discussed Independence. 99.5% of volunteers had conversations with family/friends and 98.3% had them with strangers, indeed in the virtual world where the corresponding figures are 85.1% and 81.87%. They showed their allegiances and normalized Yes with badges worn and window posters displayed. Very high percentages of volunteers demonstrated their support visually for the campaign. 96.7% said they displayed posters (90.1% doing this frequently or very frequently) and 95% wore Yes branded merchandise with 77.3% doing so frequently or very frequently. A quarter of them built things, designed things and put their creative energy into the campaign. It was these sorts of activities that suggest that the referendum campaigning was different to more traditional election campaigning, though they still canvassed (42.7%) and delivered leaflets (63.2%), frequently or very frequently. 27.8% felt confident enough to have spoken at a public meeting.
So why did they take part and do all this work? We asked this in two ways, in the first, they were asked to rate a series of potential motives and we found that they were motivated to take part for a number of positive, hopeful and negative reasons. The most common categories were A belief in independence for Scotland (mean = 4.79 out of 5 on a scale ranging from 1, Not at all important to 5, Very important) and a belief in Independence being a route to a more equal, socially just society (mean = 4.67) were very important reasons for them taking part. A belief in a greener country (3.94) still important but less so. Disillusionment with Westminster politics (4.59%) also acted as a powerful motivator.
In the second way this question was asked, respondents were free to write what they wanted. When categorized (each respondent could be motivated by more than one reason) 34.5% mentioned the importance of seizing the opportunity or avoiding the regret of not having got involved, 24.5% said they were took part because long term supporters suggesting many new converts got involved. The themes, oft repeated by the Yes campaign and in their marketing materials resonated with the volunteer, where 28% said they were motivated by being against the Westminster system and the UK, 19.6% by democracy, 12.4% by socially justice and 10% because of fairness (10%). The type of campaigning also had an effect with 11.8% being motivated to take part because of No campaigns negativity and media bias with 4.3% specifically mentioned BBC bias acted as their recruiting sergeant. A very similar 11.4% joined because of the inclusivity and exciting nature of the campaign. Whereas there are differences between when people joined a political party, between different ages and between those with and without a British identity, the variations whilst statistically significant in no instances are they dramatic, for example the mean score for women when asked to rate how important To be part of the democratic process was in becoming involved, the average score for women was 4.37% and 4.17% for men. Instances where any one group might score high and the other low, were not found- hence the earlier conclusion about the remarkable homogeneity or similarly of the Yes volunteers.
Irrespective of when they started, or who they are, respondents assessed the local and central Yes campaigns very positively (local mean of 4.57 and national mean = 4.59) on 1-5 scale where 5 is strongly agree, and assessed the No campaign very negatively (mean = 1.15) The local Yes groups as having been run in a welcoming (Mean= 4.50) and effective manner (mean= 4.15). Again, whist differences were found, they represent variation only around how strongly different volunteers felt that they had experienced a very positive, very exciting, and enjoyable campaign that left them feeling empowered and intending to continue their involvement in Scottish politics. At a national level, the figures are positive but less so, with them seen as encouraging people to get involved in (mean = 4.21) and effective (mean= 3.66). Crucially for its status as a grassroots campaign, volunteers saw the local groups as having had some effect on the outcome (mean = 3.49 on a scale where 1= No Influence, 7 =Complete Influence), compared to 4.59% for the national campaign.
Finally, we cannot say whether this was the largest grassroots campaign in Scotland's history, but 97.4% believed it to be. Though they were very unhappy with the outcome of the referendum, and experienced a strong sense of loss as a the result, 77% went on to be part of the 2015 Westminster campaign and 95% intend to stay involved with the campaign for Scottish Independence.
So in many ways we provide additional evidence to the understanding that many commentators and activists hold. Those who took part The Yes campaign was something that the organisers and the volunteers can (and were) be proud of. New people were brought to politics and democratic campaigning, it was exciting, it was social and it was positive and it will continue.
If you will allow us to finish by highlighting what we think are some of the most important findings: It was enjoyable, liberating and social experience and people tend to want to repeat such things or join in next time, if they missed out first time round. Also the bonds formed during such periods are likely to survive arguments about speed or change or priorities as long as the inclusivity, openness and respect remain. This remains an obligation on the Yes supporting political parties, whose loyalty must be independence, not power, as this is where the volunteers loyalties lie.
The volunteers see themselves as closest to the Greens in their left-right political leanings but were also close to the SNP and the SSP and that significant numbers of ex labour members took part. It strikes us that you don't need a particularly large political umbrella to cover these groups and cover the majority of political beliefs feeling in Scotland. We see strong evidence in these results that the uniformity of beliefs about what Scotland can be, the shared experiences that brought people together and the passion of the cause built before and during the first referendum will provide an extremely strong foundation for indy ref 2. Was it the biggest campaign in Scotland's history- we don't know but the results of this survey strongly suggest that when the starting gun is sounded, the next grassroots campaign will contain a formidable range of experienced, knowledgeable passionate campaigners who know how to run local groups, know how to run local campaigns and know how to persuade friends, families and strangers alike. We were unable to discover if this is the case for No.
Footnote: We would welcome request for the data and collaborations. Email Dr. Iain R. Black at [email protected]. The authors would like to thank Prof. James Mitchell and Dr Lynn Bennie for their assistance in developing the survey instrument.