May Day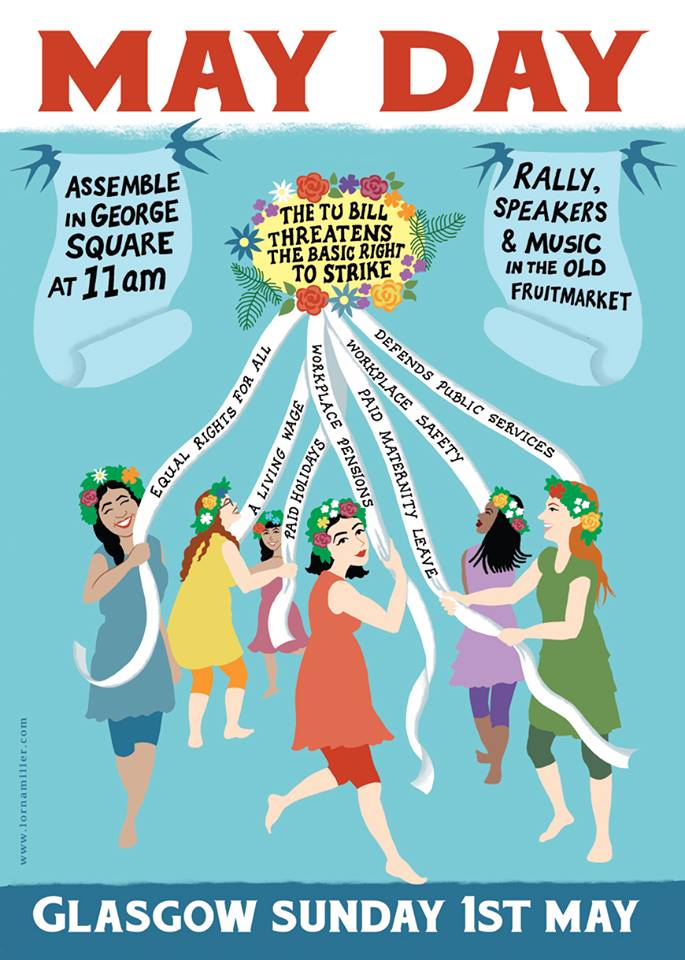 There's a beautiful poster design by Lorna Miller and some background info for the inspiration behind the poster…
"This year's poster is my up to date interpretation of "The Worker's May-Pole" 1894: children's illustrations for the socialist cause by Walter Crane. "The Worker's May-Pole makes use of classic socialist aesthetic concepts. The1894 cartoon depicts labourers frolicking, bare-footed in an idyllic countryside, dressed in classicised tunics and shifts and apparently ready for work that is challenging and rewarding without being demoralising or exhausting.
They hold the ends of ribbons that flutter down from a personified May-Pole. The ribbons – a convention of political cartoons – declare the ideals of a socialist lifestyle. "Eight hours," "Leisure for all," and "No Starving Children in the board Schools" in 1894; "The Plough is a Better Backbone than the factory." and "The Land of the People. Crane's work distinguished itself by it's relation to his children's books and I too have worked for many years making this sort of digital art for Thomas the Tank Engine, Moshi Monsters and just this weekend: 18 illustrations for Powerpuff Girls. "The May-Pole is both an allegorical figure symbolising the socialist movement and a referent to the children's game.
Dancing around the May-Pole, an image symbolic of socialist belief, is in Crane's joyful rendition a children's game with political connotations." Crane saw it as his duty to highlight the terrible affect the industrial revolution had on children: struggling children, orphaned or forced into labour by their families poverty, chimney sweeps, child prostitution, working long hours in dangerous factories.
It is so distressing to see that so many children are still experiencing the life curtailing affects of poverty, so many young people are facing the soul destroying prospect of dead end, low paid jobs and bosses that don't value them, in lifeless environments cut off from nature. In my poster I have included two young women who had been politically active from a young age and continue to do so: Stella Rooney who is involved with the Better Than Zero Campaign and Roza Salih who has been campaigning for people to be respected and treated as human beings before all else.
I feel it is really important to acknowledge the hard work that is being done and positive gains being made in these times when so much is being taken away from us. As always it is an honour for me to follow in the traditions of previous artists who have been committed to supporting the causes of Socialism.
All quotes are from here: http://brbl-archive.library.yale.edu/…/08-09crane.html