When Friday Comes #3 – Football As Never Before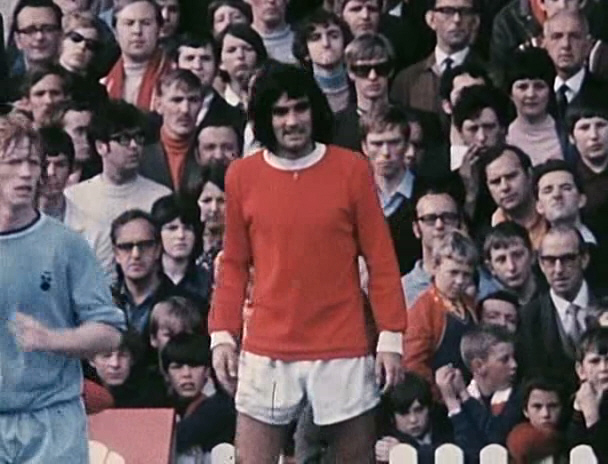 George Best was 24 years old, and at height of his fame, if not his football career, when avante garde German film director, Hellmuth Costard, rolled up at Old Trafford in the autumn of 1970. Costard, known in his home country as a political artist and leftfield provocateur, achieved a certain notoriety in 1968 when his short film Particularly Valuable was forcibly withdrawn from the Oberhausen International Short Film Festival. Der city fathers were unhappy at Costard's work which, among other things, featured a close up of a talking penis – you'll need to use your imagination – spraffing about censorship. There was a brooha at the time which saw almost all of the other German film directors walking out of the festival in solidarity.
Why Hellmuth Costard, with this background, whose political work utilised sex and pornography, took an artistic interest in George Best is anyone's guess. But on 12 September 1970 he arrived at Old Trafford and placed eight 16mm cameras (with different lenses) around the pitch at strategic vantage points to capture the action. In the editing suite he created one of the most remarkable football films ever made.
Costard chose to direct an unflinching relentless gaze at the mercurial Irishman going about his job. None of the cameras strayed from Best. In the finished movie Bests remains centre stage, always in focus, and in close up, for the full 90 minutes. The other players drift in and out of the frame. (This was 36 years before Zidane was on the end of similar treatment. Costard did it first.)
In Costard's film, Football As Never Before, Best shimmers on the screen, iconic, every inch the superstar he undoubtedly was. Long sideburns, a dark sheen to his shoulder length hair, the classic Man Utd strip. Physically, he looks in great shape, with the world at his feet. The match finishes 2-0 to Man Utd. Bests scores one goal and sets the other up for Bobby Charlton.
As an artist Costard was highly attuned to the fact that surface appearances are always deceptive. Subject anyone to 90 minutes intense scrutiny and the image will crack. On the surface it's not a particularly memorable match. Best strolls through the game. He conserves his energy on the pitch in a way that no modern manager would ever tolerate. Then he explodes into action to devastating effect. What struck me was how little Best spoke to anyone else on the field. A few words to the referee. Not much else. There didn't seem to be any joy on his face either. Not much sparkle in his famously sparkling eyes. He does a thing with his thumb and fingers, holding them together, as if they're fixed in a permanent nervous click. The impression is one which contradicts the gregarious persona.
The film has its idiosyncratic moments. There has no imposed soundtrack or commentary only the muted noise of the crowd. But then, every fifteen minutes, we get a short burst of what sounds like 70s German porn music (I'm guessing), for no apparent reason. At half-time Best is filmed with a full beard – obviously filmed on a separate day – staring silently, intensely, into a two-way mirror.
The colours are saturated and gorgeous. The red shirts of Man Utd and the sky blue of Coventry City against the lush green turf of Old Trafford. Costard uses a deep focus 16mm camera for some of the shots (see photo) where you can make out the faces in the crowd.
I love this film. It's an inspired work of experimental art. Over the last five years I've screened extracts of it – at our Neu! Reekie! events – behind bands such as Teencanteen and Eyes of Others. Yet it's rarely been seen in full even by the most arty-farty of football fans. I first came across it about ten years ago when it was screened as part of a football season at Edinburgh's Filmhouse. I was mesmerised. Then I spent years trying to track down a copy.
Last year an Irish musician, Matthew Nolan, composed music for the film, presumably to enhance the viewing experience. Fair enough. But in my opinion, although it works well as a backdrop to bands, music would diminish the contemplative experience of what is in essence a cinematic meditation. It is what it is. The silence, bar the background noise of the supporters, adds poignancy and a gentleness. Even a melancholic edge. With hindsight we know that Best would go rapidly downhill from this point in his life. The good times on the pitch would be increasingly pushed aside for good times in the pub. Costard's document is a fascinating portrait of a much-loved sporting legend, for many fans a footballing god, staring into the abyss, about to cross his personal Rubicon. What came next is well documented.
I'm currently using Football As Never Before as a motivational film in my own painful efforts to make a footballing comeback. Drawing inspiration from Costard and Best's genius, as well as De Niro in Taxi Driver, and Arnie in Pumping Iron. Barry movies all. Each to their own. I'm getting there slowly.