Where You're Meant to Be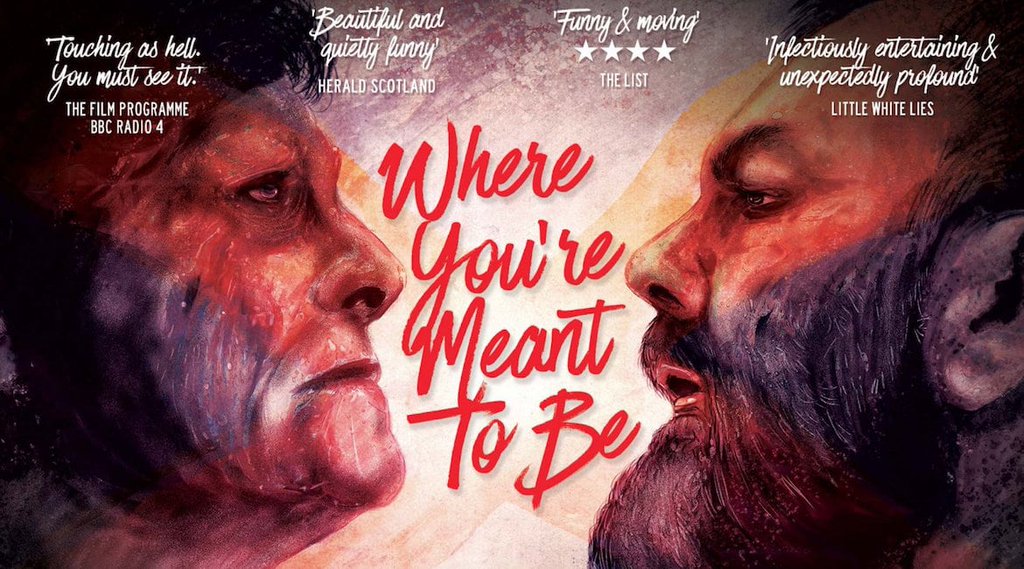 Aidan Moffat and Paul Fegan's documentary about tradition and popular music Where You're Meant to Be launches in cinemas next month with Q&A and live performance. It follows the former Arab Strap frontman Aidan Moffat as he tours Scotland in 2014, performing his modern re-interpretations of old folk songs and his difficult relationship with the renowned ballad singer, Sheila Stewart. It proves to be another piece of the creative blurring, edgy dislocation of cultures, and messy misunderstanding that's been going on for a while. Think Play Me Something, the morphing trad revival and the forthcoming Hamish the Movie, for example. You may recognise Stewart's mesmerising voice from Martyn Bennett's album Grit.
The road trip includes performances by James Graham of The Twilight Sad, Jenny Reeves of Bdy_Prts, Stevie Jones  of Sound of Yell, and traditional bothy ballad singers Joe Aitken, Geordie Murison & Danny Couper.
But the heart of the film is the relationship between Moffat and Stewart, the last in line of a celebrated family of gypsy travellers, the Stewarts of Blair.
Sheila was born in a Blairgowrie stable in July 1935 and was brought up in a traditional travelling lifestyle; moving between Perthshire, Argyll and the Highlands throughout the year; finding work at farms, making and selling goods, renting fields to grow and pick berries. The songs and musical traditions she grew up with were integral to her life. Her mum, Belle was a great singer and story teller and her dad Alec, a piper. Although her mother's influence as family matriarch was immeasurable, it was from Sheila's Uncle Donald MacGregor (Belle's brother) that she learned not only the wealth of traditional material she shared, but also her unmistakeable passion and pride in the songs and stories.
She wrote her mother Belle's biography, Queen Amang the Heather, Pilgrims of the Mist, a collection of travellers' tales and her own autobiography, A Traveller's Life, published in 2011. Below is a short film from 2006, directed by Dylan Drummond and Blair Scott, Last In The Line about her life where she explains how she feels she has never been accepted in her own home town and how she faced persecution:
Where You're Mean to Be walks the line between chaos and retrieval, loss and memory, the sacred and the profane. It's a half-and-half of piss-up and portrait.
See Sheila here performing the classic Jock Stewart (here from 2011) which you might have heard as I'm a Man You Don't Meet Every Day sang by bass player Cait O'Riordan on the Pogues classic Rum, Sodomy and the Lash (1985).
The film is an enlightening road-movie come car crash as two of Scotland's most vital voices collide. Moffat believes Scotland's oldest songs are ripe for re-working against a contemporary urban backdrop. Stewart does not. Is it sad or brilliant? Is Stewart being romantic or Moffat disrespectful? It's not entirely clear.
****
The event tour that follows will take the film to 18 cities and towns throughout the UK where screenings will be followed by a Q&A with director and producer Paul Fegan and a solo performance by Aidan Moffat.
WHERE YOU'RE MEANT TO BE will be screening in 40 cinemas from 17 June, for full listings go to whereyouremeanttobe.com. 
****
*** PLEASE GO HERE TO SUPPORT US – DONATE and SHARE. ***