Settling: Theresa Muñoz
Theresa Muñoz is a poet and critic whose debut collection 'Settle', published last month by Vagabond Voices, explores themes of national identity, immigration, racism and social media. We approached Theresa to write about her collection and the background to her work.
I was born and raised in Vancouver, Canada, moved to Glasgow and now make my home in Edinburgh. I have always lived on coasts; first west, now east. I am soon to be sworn in as a citizen of the United Kingdom but will also keep my Canadian citizenship, a small detail that makes me happy.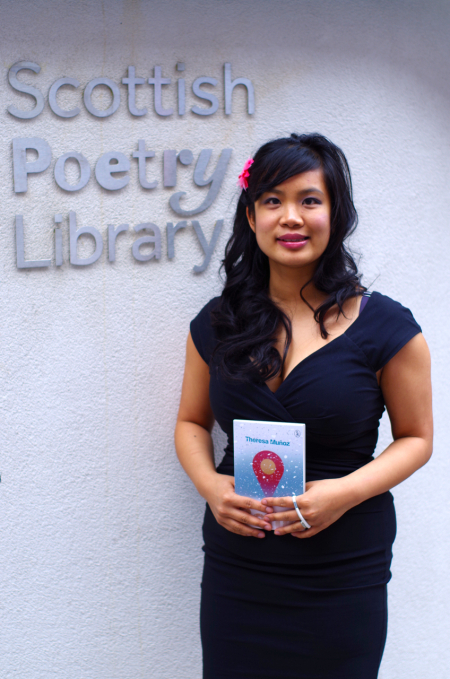 This road to naturalisation took ten years to travel and included a student visa, post-study work visa, temporary partner visa, permanent residence permit and, finally, UK citizenship. During all that time, I wrote poems about my experiences and they are now published in my debut collection Settle (Vagabond Voices, 2016).
One theme of Settle is immigration and how it changes one's identity over time; first the tense feeling of living outside of a culture, and then that ordinary, even relaxed moment when you realise you feel at home. In these poems I concentrate on how my journey from Canada to Scotland echoed my parents' migration from the Philippines to Canada. My parents travelled to Canada separately, but met in the stationary aisle of a downtown Toronto shop. Dad was looking for paper clips, Mom needed a fountain pen. I imagined how they met in 'Simpsons Department Store, Toronto':
I tell their story to feel less lonely.
The sweet rush
of one leaving first, then the other
beyond the store's bold signs
and frosted steps,
into Toronto's starry expanse
as if this was how you came in,
came over,
twin dark heads in the snow.
I also explore my own migration journey though sometimes it's the tedious, administrative tasks I describe; for example, the process of collecting phone bills, rental documents and other proofs of existence in the title poem "Settle". Or I talk about the "Life in the UK" test, an onerous multiple choice examination of "British Life" and English language that each prospective immigrant must pass. In these poems I wanted to convey how helpless and desperate these tasks can make you feel; how much time and energy goes into getting it right. Not to mention the wait to hear. I sat for what seemed like an eternity in the intimidating Home Office building in Brand Street, Govan, waiting to find out if I had acquired the latest visa or would have to leave my friends and new life in Scotland. My poem "Brand Street" describes sitting with the other applicants and the way the blank walls mirrored how we felt:
And when the guard says come in,
the whole day feels torn from them,
their mind's dull hum
replaced by crackling microphone sighs.
For hours it's the moon-textured walls.
White chairs melt into a white floor.
Another theme in my poems is racism. I describe some of the occasions when my appearance triggered some unexpected and unwelcome reactions. These occurred in the early days of living in Glasgow, when the basement pubs, tree-lined streets and rough and ready culture felt new and exciting, but I wasn't prepared for some of the attention I attracted. My poem "Skin" describes a comment made to me by a man hanging outside a pub one warm June afternoon:
Nice tan said a man
leaning outside
The Captain's Rest.
Thanks I said
and kept on running,
already late meeting you
in Kelvingrove Park
where boys and girls sit
in half circles
on the clipped lawn
and old men wander
in dreamy lines
under the sun.
Another poem "Ashton Lane" describes a fight between my partner and a man who asked where he"bought" me. In a recent interview with a national newspaper, I spoke honestly about these encounters, and was saddened by the online comments I received. One said "Well, where did he buy her?" I was told to go back to the "Filo-pines" and several people argued that when someone yells "nice tan" to a non-white person in Scotland (and all his pals guffaw) it's actually a term of endearment. Some comments referred to my appearance and ethnicity and are too degrading to repeat here. I sat in my Edinburgh flat in tears wondering what I had done to deserve this and whether I had made a mistake by speaking up in the first place.
It's ironic, then, that the other theme in my collection is social media. The second sequence is called "Digital Life" and includes poems about Facebook, Google, texting and other forms of digital communication. This theme is important to me. I am fascinated by how much we should reveal about ourselves and how we brand our online image. For instance, my poem "Googling the Other Theresas" is about women in hyperspace who share the name Theresa Muñoz.
I'll end with this poem as I hope it conveys our mutable sense of identity in today's digital era:
If I could be one of them,
I'd paint in watercolours, deserts with low suns
in my life's last month
or I'd be an athlete, chasing the cork path
my chin level
till I crossed, sweat lacing my neck
or I'd be a surgeon in blue scrubs
mending others with precise cuts
and their grateful eyes after
would be enough, or high on heroin
I'd rob a corner store
and plunge a steak knife
into a man's apple heart,
and before my damning mugshot
before the camera clicked twice,
it would all become real.
And I could become real.
Theresa Muñoz's debut collection Settle is available now from Vagabond Voices, £8.95.