When Friday Comes #4 – The Day The Universe Changed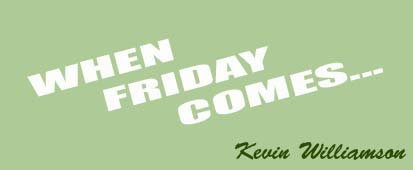 This time last week the world was a different place. I was sat here in my man cave, typing up a Bella column about alcohol and Scotland. At the time of writing I'd gone eight weeks without a drink ("a drink" is a Scottish term for a liquid which has booze in it). I was feeling as fit as a corporate fiddle. My training schedule for a last throw of the dice comeback match at the end of June was on target. Push ups, core strength exercises, jogging, swimming, stretches: all factored into my daily routine. I'd even packed in the smokes and injecting coffee. None of which, it has to be said, made me an oasis of peace and tranquillity for the first few weeks, but needs must. Everything was hunky dory. Then the whole damned universe changed and this is how it happened.
Last Friday I was busy preparing for a show at Edinburgh's Filmhouse. It was a collaborative effort – inspired by Mark Cousins' stunning movie I Am Belfast – called We Are Edinburgh which my arts production company Neu! Reekie! had helped conceptualise and orchestrate.
Our show on Friday evening was sold out. It featured live music from Finitribe and Eyes of Others, live spoken word from poets Don Paterson and Jenni Fagan, alongside archive film footage of Edinburgh curated by Shona Thomson. It went okay. Kenny Farquharson, writing in The Times, called it "nothing short of magical" and "quite simply, a triumph." Kenny also said some very nice things about me, which was a first for both Kenny and The Times. And something I sincerely hope they don't make a habit of.
The point of this high profile cultural happening was an elaborate plan involving hundreds of Edinburgh citizens to take my mind of the Scottish Cup final the next day. It worked beautifully. I got home at midnight and managed to stay asleep until 2am. Then I woke for three hours wrestling with the team lineup, since, like all football fans, I expect the manager to consult me first before announcing the team to the players and press.
As Tam o' Shanter famously noted, the night drove on. By 7am I was up, showered, shaved, porridge scranned, and dressed from head to toe in blue and white. This was another ruse to confuse the gods of chance. But to avoid too much confusion I donned a luminous green jacket plus green and white scarf. Everything has its limits.
By 9.30am I was outside Edinburgh's Playhouse with around 35 Hibees I've known for many years. Wild-eyed naïve optimism has long since been battered out of them. They had the battle-hardened psychology of Win, Lose or Draw, we drink and blaw. We set off down the M8 on a hired bus, with hope in our hearts, and no little trepidation. But with the actual Hearts in their beds, beneath duvets, in case their worst nightmare came true.
We arrived at Montford's Bar near Hampden just before midday. There was time on our hands – cue the devil – and I took a strategic decision. I'd have a wee beer just to loosen the whistle, settle the nerves. Reader, this is where everything went wrong and everything went right. Nine hours later I was standing in the middle of Leith Walk, bottle of Buckfast in one hand, singing my wee heart out. Emotions were swirling around in every direction like renegade tornados intent only on wreaking joy.
My mates had the foresight to get all our seats together, in three consecutive rows behind the goals. When David Gray rose high above the Rangers defence to bullet home that famous winner we were collectively shocked. For a nanosecond. Then there was jumping. And hugging. And kissing and dancing and singing and other manly things. These were same guys I've sat slumped on the bus back home Hampden with, on many occasions, defiant but internally crushed. But Jesus H Christ. When that winning goal went in, and the final whistle blew, I cannot deny that we went radio fucking rental.
It was the best feeling in the world. Being at one with your mates and with 20,000 fellow Hibees inside Hampden, sharing an unbelievable experience, a fairy tale, that most had only dreamed about. And to do it against THEM. In the last minute. Football doesn't get any better than that. Some of us even wept. The trip back to Edinburgh, oh boy, what a journey. And the partying back in Leith…
Football can be life in microcosm. You take the knocks. You try and get back up on your feet. Sometimes it works out just fine. Sometimes it doesn't. Sometimes there's bitter and sweet together. For myself, like for many of my family and friends, the celebrations were abruptly curtailed on the Sunday for reasons I won't go into here. Life has so much potential for happiness and joy. Life can be so incredibly beautiful. But it can also be so fucking unfair.
But it can't be denied that 21st of May 2016 was the day the universe changed for the good people of Leith. It was as if the old port had been given a collective shiatsu massage. Necks unstiffened. Shoulders loosened up. Limbs felt freer. On the Sunday afternoon, 150,000 people celebrated on the streets of Edinburgh as the Scottish Cup came down Leith Walk on an open-top bus. I've never experienced anything like it. Probably won't again.
It wasn't just about the team, legends as they are now, it was about all of us. Even writing this five days later seems strange. It did actually happen and a community came together in a way that will be remembered for as long as we live. Thousands of wee kids were there too, mine included, faces painted green and white, waving their flags, smiling and laughing. It will be etched into their memories forever. That's the thing. Enjoy the good times while you can, if you can.
I'm back on the wagon again. Back in training. But it feels different now.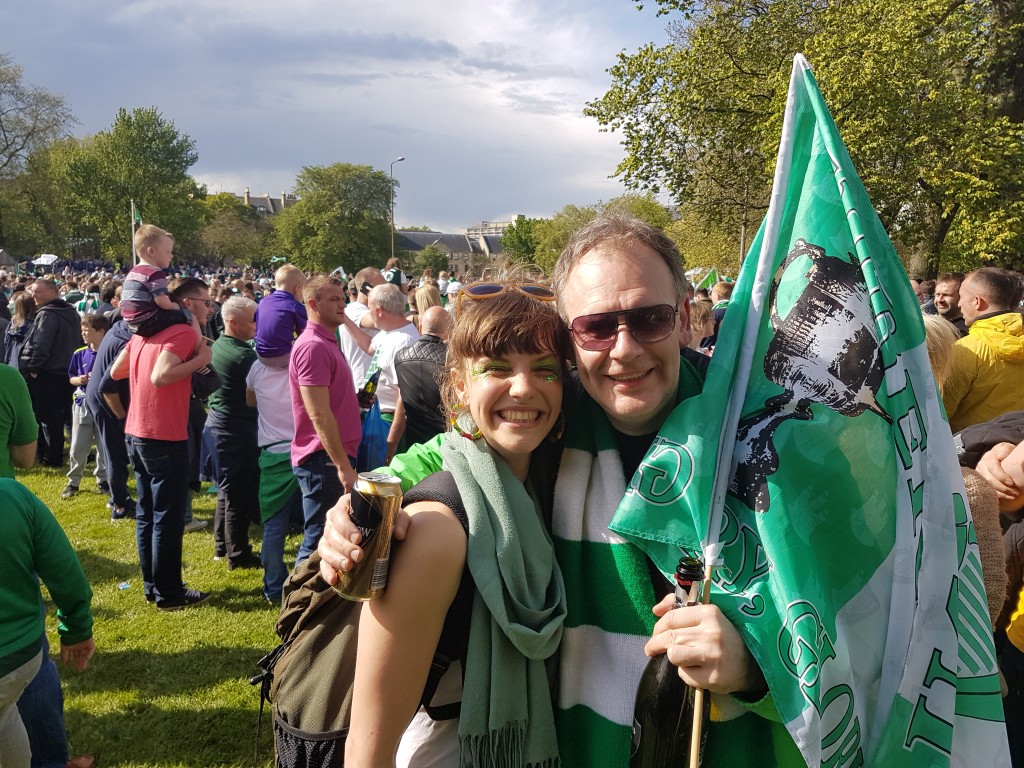 *** PLEASE GO HERE TO SUPPORT US – DONATE and SHARE. ***