Breaking Point?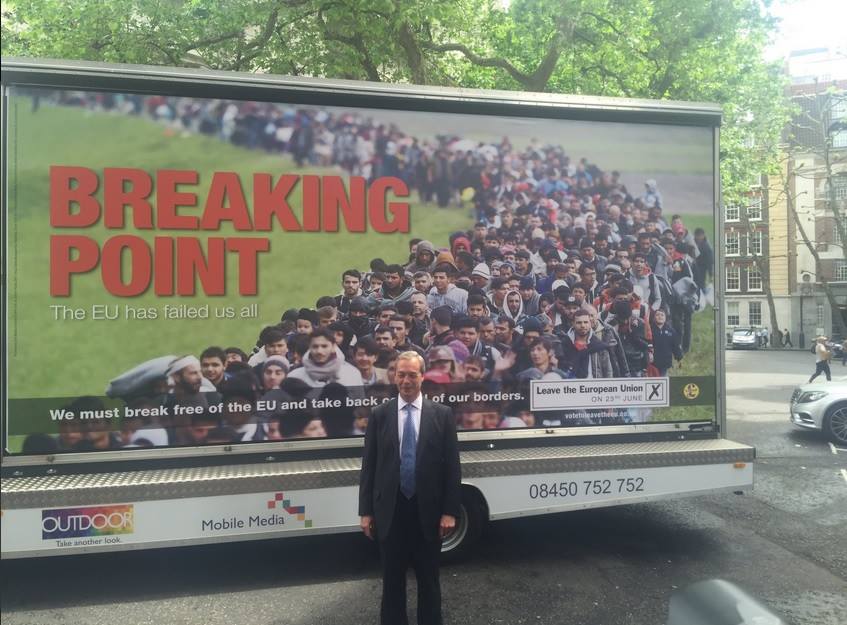 Visual imagery is everything. This poster is what Jonathan Jones has called the visual equivalent of Enoch Powell's river of blood speech. The slogan 'the EU has failed us all" only makes sense if it relates to the refugees in the photograph. Sunny Hundal reports on fear and loathing fuelling Brexit.
A few weeks ago, I was still undecided on whether we leave the EU or not. But now I am angry… actually furious at the LIES peddled by those who want to leave the EU.
This morning, Nigel Farage unveiled this nasty poster saying Europe was at "breaking point"… it is a picture of Syrian refugees escaping ISIS reaching the Croatian border from Slovenia. We already have border control, but this is not a campaign that cares about the facts.
There are some good reasons to Leave the EU and better reasons to Remain, in my view. And I know plenty of well-meaning people who want to Leave the EU. But I want to make this point.
This is no longer about whether we 'get our democracy back from unelected lawmakers' – if you want that, campaign to abolish the House of Lords first.
This is no longer about the money we send – because we get far more return on investment back.
This has become about immigration and the fear of brown people. These posters are no different to what the Nazis said about Jewish refugees in the 40s, or what was said about Ugandan Asians in the 70s.
Leaving Europe wouldn't shake up the system or calm people down. It would further legitimise this sort of bigotry and racism, the kind our parents faced and we thought was melting away.
If Nigel Farage and the other Tories win, then it would legitimise their scare-mongering for generations to come. When you vote next week – please don't legitimise that.
I want this to be a great, powerful, happy, tolerant country, not one diminished by the kind of racism that Nigel Farage represents.