Launching CommonSocial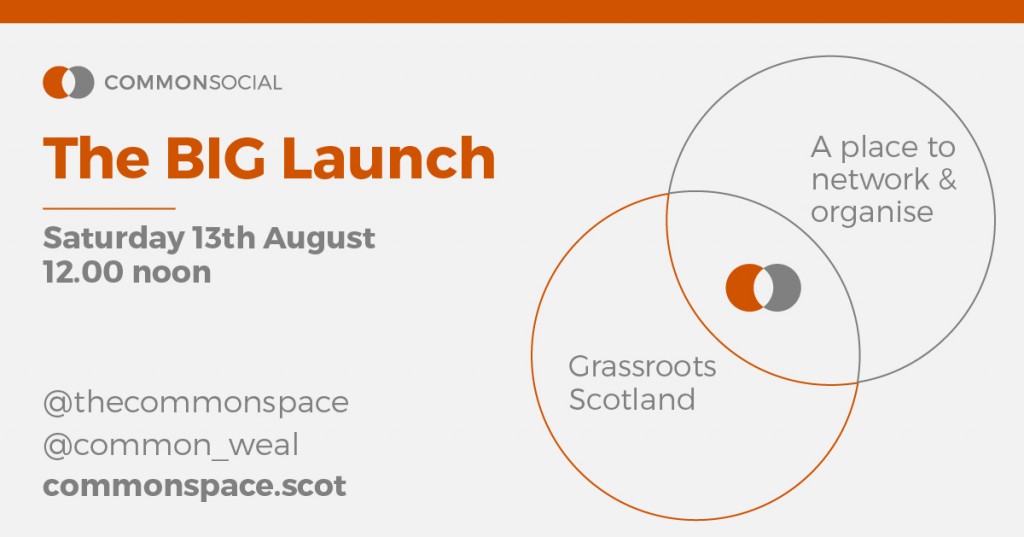 On Saturday we'll finally be launching CommonSocial, a brand new social network for Scotland created specifically to serve and nurture the explosion in political and social participation Scotland has enjoyed since the independence referendum campaign.
It's been a pretty huge project and it's taken us nearly two years to complete. Building a social network is no easy task; harder still is building a social network that works alongside a rolling news website, and launching that first.
CommonSpace, and the new CommonSocial, is funded by Common Weal, which is funded entirely by supporters, members of the public. It's totally independent and free from the influence of advertising. CommonSocial has very much been created by the people and for the people. As a media model, CommonSpace is unique in comparison to everything I've seen before. This really is something innovative for Scotland, and it's great to see new ideas coming to fruition.
The concept of CommonSpace, right from the beginning, was to have these two components working together. CommonSpace would have a full time team of journalists bringing fresh and original news, and CommonSocial would be the space to dissect the news, debate it, and, most importantly, to network and organise.
Through CommonSocial, the users – the very people who funded its creation and sustain it – have access to news, information and the tools to empower action. It can be about local communities or national issues. It can be for issues ranging from Scottish independence to fracking, TTIP or land reform. It can be about ideas, or it can be about strategy. It's whatever you want it to be.
Much like Facebook and Twitter, CommonSocial will provide the usual newsfeed elements, but some of its strongest features are in the 'spaces' and 'events' sections. Users join 'spaces' on CommonSocial related to their interests; groups, essentially, where they can meet others with a shared focus.
Not only are 'spaces' a great way to find other people interested in the same issues as you, but they're the perfect tool for different local groups to use to network with one another and maintain communication, something that, according to the feedback we've been getting, hasn't been easy with the current tools available digitally. Something else was needed, and CommonSocial provides it.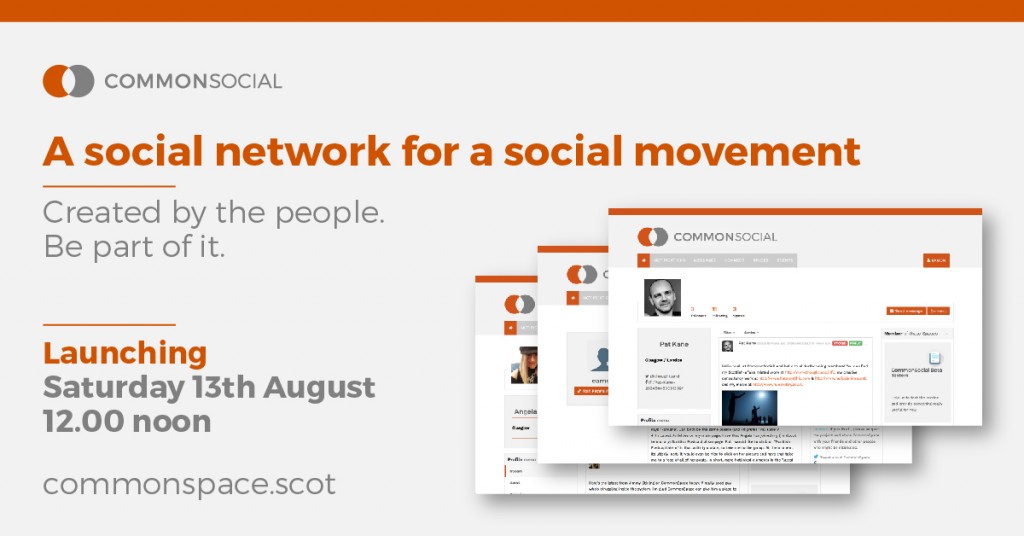 Through our events function – something I'm particularly excited about – users can post their own events to their calendars, as well as view all the other events that they might be interested in based on their stated interests.
The key to this is how visual and easy it all is. For me, this is like trying to explain the concept of Facebook to my 76-year-old dad: the truth is, unless you're on there and see it in action, it's near impossible to understand why anyone would use it. I'd say the same about the events tab; I might not be doing it justice in my description here, but believe me, when you see it, you'll get it.
CommonSocial opens fully to the public on Saturday 13 August at 12noon, but you can register on the CommonSpace news site right now to make sure your account is set up and ready to use when it all goes live.
Needless to say, the more people who use the full functionality of CommonSpace and CommonSocial, the more useful it will be for us all, so I really hope you'll jump aboard on Saturday and see what it's all about it.
This has been created with the needs of users entirely at its heart, and we imagine it will be in a permanent state of development; we'll continue tweaking it and changing it depending on what users want and need from it.
Together we can build it, and together we can build a better Scotland.