A Evening for Alasdair Gray at the Oran Mor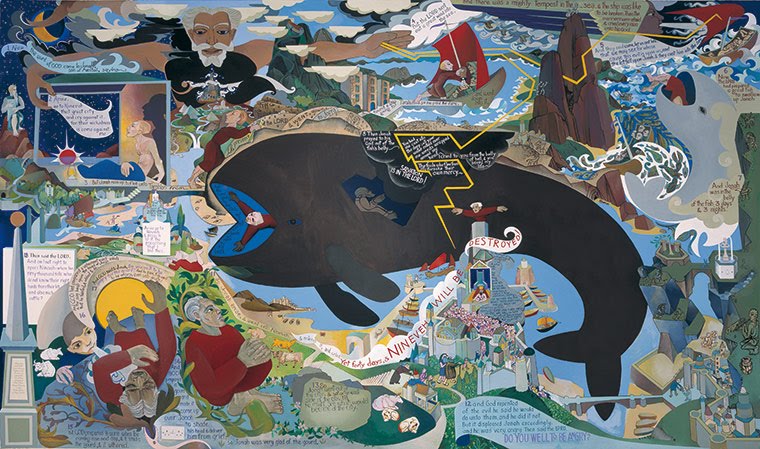 On November 29th at 7 PM, Songs for Scotland will stage An Evening for Alasdair Gray in the auditorium at the Oran Mor. First and foremost, the event will be a celebration of Alasdair's accomplishments in art, literature and other fields. The evening will also serve to launch the Alasdair Gray Musical Scholarship Trust (a £500 scholarship will be awarded on the night); and to debut a downloadable compilation album, Native Musicians: Songs for Scotland 2. The album has been dedicated to Alasdair and is themed for his dictum, 'Work as if you live in the early days of a better nation.' Go here to book your tickets.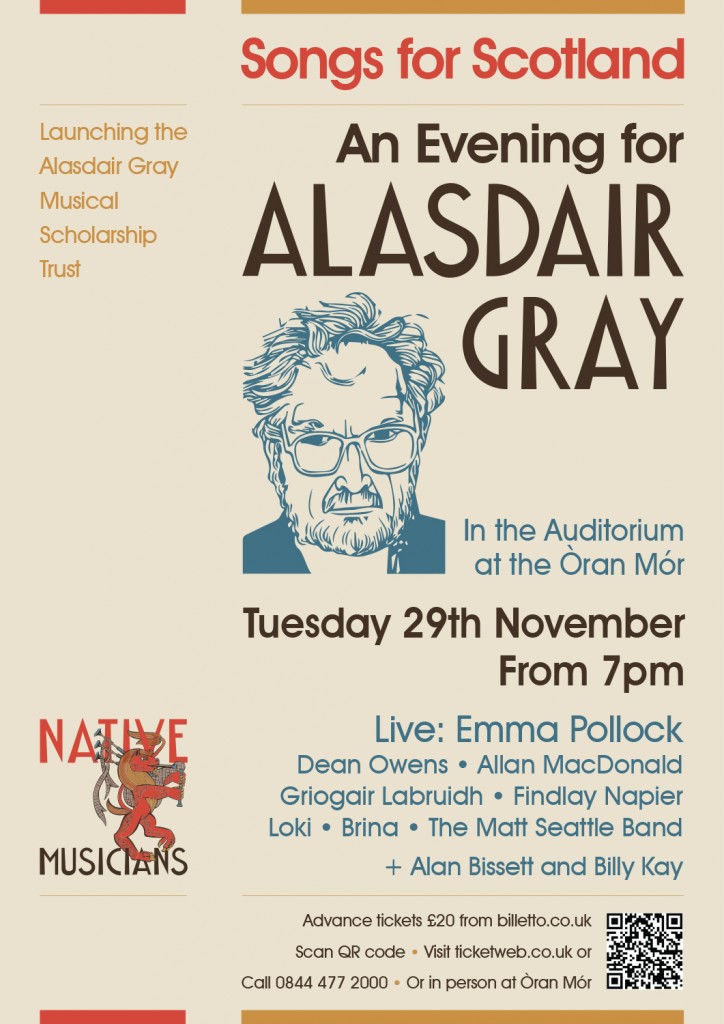 Scottish musical greats from across the board have contributed songs to the album: genres include Hip hop, Folk/trad, Americana, Reggae, Afrobeat, spoken word and more. Dick Gaughan, Karen Matheson, Kathleen MacInnes, Dean Owens, Stanley Odd, and Emily Smith, are included on the compilation, and others.
An Evening for Alasdair Gray will also be a celebration of Scottish musical genius. Artists performing on the night will include Emma Pollock (ex The Delgados), Dean Owens, Allan MacDonald, Griogair Labruidh, Brina, Loki, Findlay Napier, the Matt Seattle Band and more. Songs will be performed in the Scots, Gaelic, and English languages; and in the Pop, Folk/Trad, Hip-hop and other idioms. Well chosen words will also be spoken in oor mither leid by Billy Kay; and writer Alan Bissett will compere a beautiful evening out.
A percentage of ticket sales will go to fund the Alasdair Gray Musical Scholarship Trust; and all tickets will include a free download of Native Musicians: Songs for Scotland 2.
Join us on November 29th, on the eve of St Andrew's Day, for a brilliant evening featuring the finest in Scottish culture.
A signed Alasdair Gray art print will be awarded as a door prize on the night. Tickets are available from the Oran Mor, or on ticketweb.co.uk or at this link.
.