Borrowed Time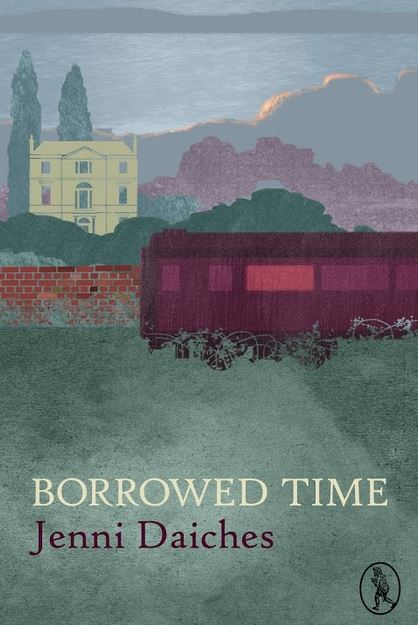 'You can't draw a line in the water… and yet the difference on either side is so clear. But it must shift with wind and weather and tide. A definable border, but unstable. I guess most borders are like that'. Jenni Daiches, in 'Borrowed Time', muses over the borders between youth and age, family and loss, Scotland and England.
Borrowed Time is a sensitive portrayal of Sonia Billings' journey from wife and mother to the eccentric, white-haired woman who lives in a railway carriage at the bottom of the garden in the Scottish Highlands. Far from being a meditation on loss and loneliness – although both are at the heart of the novel – Borrowed Time instead becomes a rich tapestry of one woman's life.
Sweeping through Sonia's life, the narrative strays far and wide from its present day point in 2014, following the months running up to the Scottish Independence Referendum. There is no point of 'beginning' in Sonia's story; instead her childhood fluidly entwines itself within her adulthood, and her times of loss feel almost simultaneous with times of contentment. Sonia's voice weaves in and out of time, sometimes dwelling in the past, with a not-quite-melancholic sense of remembrance, and sometimes meandering through present months, living with a sense of renewed optimism and hopeful future.
What you will love most dearly about Borrowed Time is Daiches ability to render any moment full of any emotion she chooses: the first moment when Sonia sees her future husband, you will feet that sense of hesitant attraction too. When she stops teaching when her fourth child is born, you will feel her resentment and anger and confused love for her family too. And when she finds her new home, cleans and settles and finds herself a new community, you will feel calm and settled too, ready with a clear gaze into the future and with melancholic optimism readying you for the future.
On the subject of an independent Scotland, the reader does not discover which way Sonia decides to vote. 'I wonder if there isn't also something anachronistic about the idea of independence. It belongs, perhaps, to a different world, a world left behind, or a world that should have been left behind'. Perhaps Sonia envisions scenes from Braveheart, unable to release these notions of kilt clad Highlanders brandishing their brutish swords and shouting for Freedom from the Tyranny of the English through the glens and mountainside of Scotland.
There are certain phrases Daiches adores in her writing, perhaps to the detriment of the novel. The image of Sonia as a witch living at the bottom of the garden, white-haired and solitary with her animals as company, is repeated to the extent where you may feel you are being repeatedly bashed over the skull by it. An evocative image, and lends itself well to Sonia's reinvention of herself as an eccentric old woman, but less can be more, and you may feel yourself losing empathy for her newly created persona.
We leave Sonia at her three score and ten year birthday, as she moves into borrowed time. With a strong sense of reminiscence and optimism, you will finish Sonia's story – for now – wishing her well in both the treatment of her memories and her last years of dog walking, wine drinking, and gardening.