Brownhog Day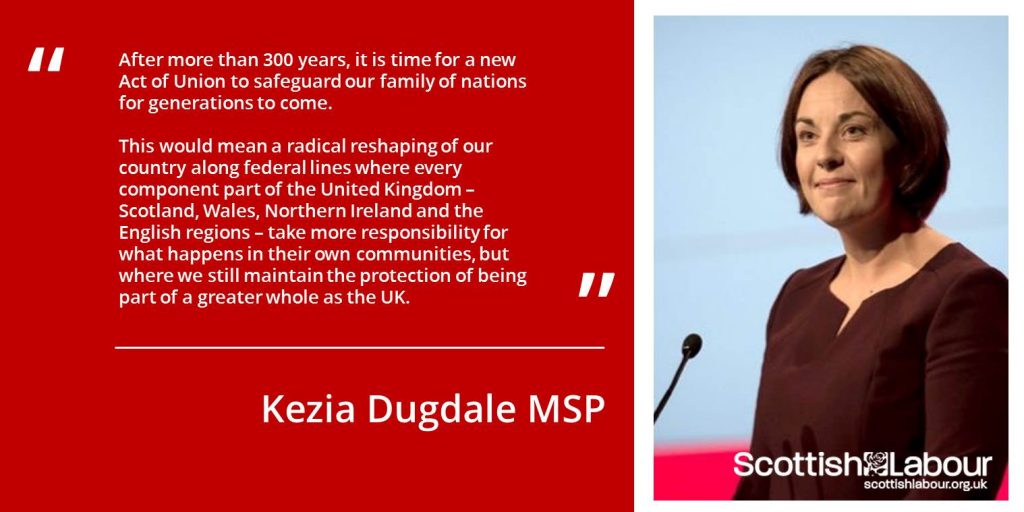 Today Kezia Dugdale tries (again) to carve out a niche in the world for her herself and her dying tribe. Yet more powers? Again?
In her speech at the IPPR think tank, Miss Dugdale said:
"The time has come for the rest of the UK to follow where Scotland led in the 1980s and 1990s and establish a People's Constitutional Convention to re-establish the UK for a new age. The convention should bring together groups to deliberate on the future of our country and propose a way forward that strengthens the UK and establishes a new political settlement for the whole of our country."
Today she argues for a "new Act of Union" to "safeguard our family of nations". Like a small child watching the water drain out of the bathtub she is left sitting in a constitutional puddle.
As the constitutional shambles of Brexit unfolds daily, and the palpable contempt of the Supreme Court ruling is revealed, it's perhaps unfortunate timing for Dugdales's Big Speech. If a political heavyweight like Gordon Brown couldn't and can't deliver his own "Vow" – then the chances of Kezia Dugdale, from a deracinated Scottish Labour Party offering anything seems slender.
As GB himself explained in 2015, the Vow was not and cannot be delivered:
"Without the changes that give the Parliamentary welfare top-up powers to Scotland, we face a perfect storm – an explosive cocktail of measures that could blow the Union apart – the Conservative Government defying the Smith proposals on welfare, the very issue where their controversial imposition of cuts hits Scotland hard.The government should avoid what would be seen as a double betrayal – breaking their promises to the poor and breaking their promise to deliver the Smith recommendations in full on the very powers that are needed to counteract welfare cuts and the austerity they bring." – Gordon Brown Holyrood Magazine
When Brown attempted to sideline and salvage the Union it failed and Dugdale attempting it again from within the hollowed-out shell of the 2016 Labour Party is doomed. Some of her speech is perplexing. What does she mean she says:
"While devolution has been positive for Scotland, Wales and Northern Ireland, we have to acknowledge that progress has been erratic and while there has been significant progress in some parts of the UK, other parts have been left behind."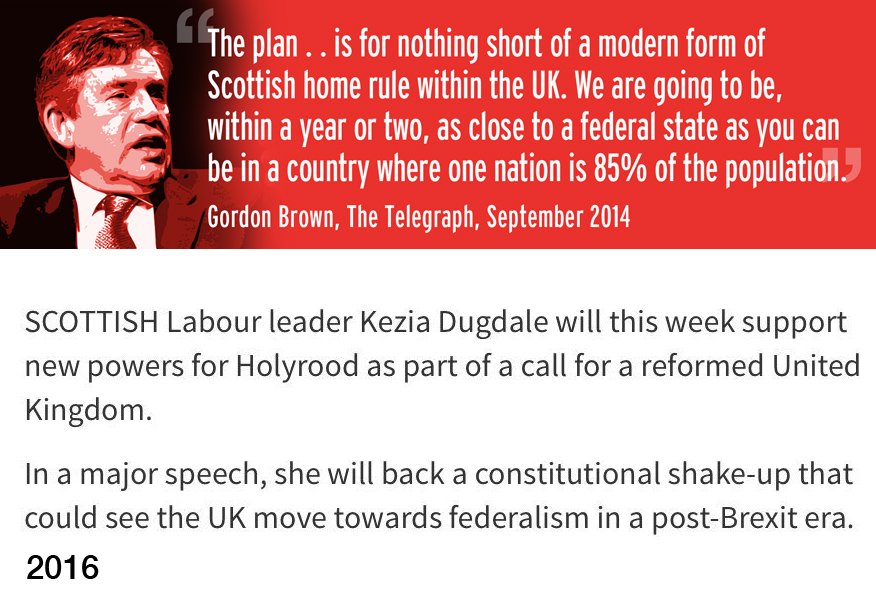 If all of this has the feeling of perpetual deja vu, it also has a lack of credibility about it. This is from a political leader who has the influence over nothing, shouting into the void with grand ambition:
"It would involve significant changes to how central government operates."
The idea of Scotland leading the rest of the UK in constitutional politics is a nice one. But it's one that fell into disrepair the day after the independence referendum, when David Cameron re-framed the constitutional question as about EVEL, an issue stoked by an entirely fictitious sense of misplaced grievance and false victimhood and confirmed again yesterday when the Supreme Court ruled that devolution was a passing whim of little relevance or legal standing.
Dugdale's latecomer grandstanding is an interesting sideshow from a broken and barren political corner playing catch-up with a dysfunctional constitutional polity. The reality is that her party's incoherence has left us with an accelerated democratic deficit in Scotland for which they have no answer. Simply digging up their perpetual cry for federalism every few months is a sign of desperation and futility. The harsh reality is that we are now led by an unelected leader who actually said this…
I still can't quite believe she said this on camera. pic.twitter.com/6JQCmkR98w

— Adam Bienkov (@AdamBienkov) December 6, 2016
This is Kezia's Brownhog Day. She has written a letter to Theresa May outlining her plans.