Print Your Own Labels
Every six months or so I meet my friend's son for a catch up. He's twenty-one and has left home in the highlands for uni in Edinburgh. The last time we met he took his new girlfriend and the three of us went for coffee and a wander at the meadows. I asked his girlfriend if she'd joined any feminist organisations through her uni and, before she could answer, her boyfriend snorted loudly and interjected a loud, 'AS IF!'
We stood then, each of us a corner in a triangle of confusion, pointing angles at one another. I looked at her, shocked at what I'd heard from him. She looked at him, shocked at her hitherto perfect boyfriend. He looked from her to me and back again, shocked that what I'd asked wasn't a sneer and was something his girlfriend was clearly waiting to answer in the affirmative.
'Aren't you a feminist?', I asked him, breaking the dissonant, triangular stunned silence.
'Hardly!', he replied, still half laughing, head still flicking from side to side, brain trying to compute how the right answers could be being received as the wrong answers.
His girlfriend's easy smile headed south at a rate of turbo injected knots, 'you're not a feminist? You don't believe I'm equal to you?'
My turn to head flick.
He reddened immediately. He said he absolutely knew she was equal to him – cleverer, in fact.
'So why aren't you saying you're a feminist?', she asked, consternation written all over her brow.
His thoughts pin-balled then spilled over, 'because feminists are, like, mad. And they hate stuff, like, irrationally'.
Sometimes silence is the golden thing, isn't it? A penny dropped for my friend's son that day. We started walking again and I asked if he remembered his Mum was a feminist – and his Dad. He didn't. A label proudly identified with at home had somehow passed him by. Perhaps it had become so normal in his family context it had stopped being acknowledged. He was more than used to living in an egalitarian household – I'd seen it with my own eyes – but he'd somehow picked up a hideously inaccurate meaning for a word that'll massively shape his generation's impact on society.
In different ways, that conversation was a wake-up cue for us all.
Last week I had a builder round to quote for replacing the warping glass lean-to at the back of our house with a structure less likely to kill people in a storm. He was a lovely guy, we chatted amiably and he asked what sort of things I wrote about. I told him and, at the mention of feminism, he sucked his teeth and shook his head.
'I'm not a feminist', he said, sudden air settling between us of halted, damp awkwardness.
Then he told me he had three daughters and a wife and that he told them constantly there was no glass ceiling for them if they were willing to work harder than everyone who'd try to push them down.
'Then you are a feminist', I said, tentatively relieved. 'You see challenges for women and girls that aren't there for men and boys and that they have to work harder to achieve stuff. That's, like, the backbone of feminism.'
He shook his head again. He couldn't wear the word.
For me, the realisation resonated as I contemplated my own dangerous glass ceiling and prayed to replace it with the luxury of a roof and a Velux window; holy shit, I thought. A bone-fide innocent word has been well and truly hijacked by hate.
I have a proposal, to help us all claim it back and sort out the confusion. It goes like this;
Print the definition of feminist and stick it to your noticeboard at home or at work (preferably both) and thoroughly acquaint yourself with smiling at its meaning. Behold the definition, for it is simple and glorious.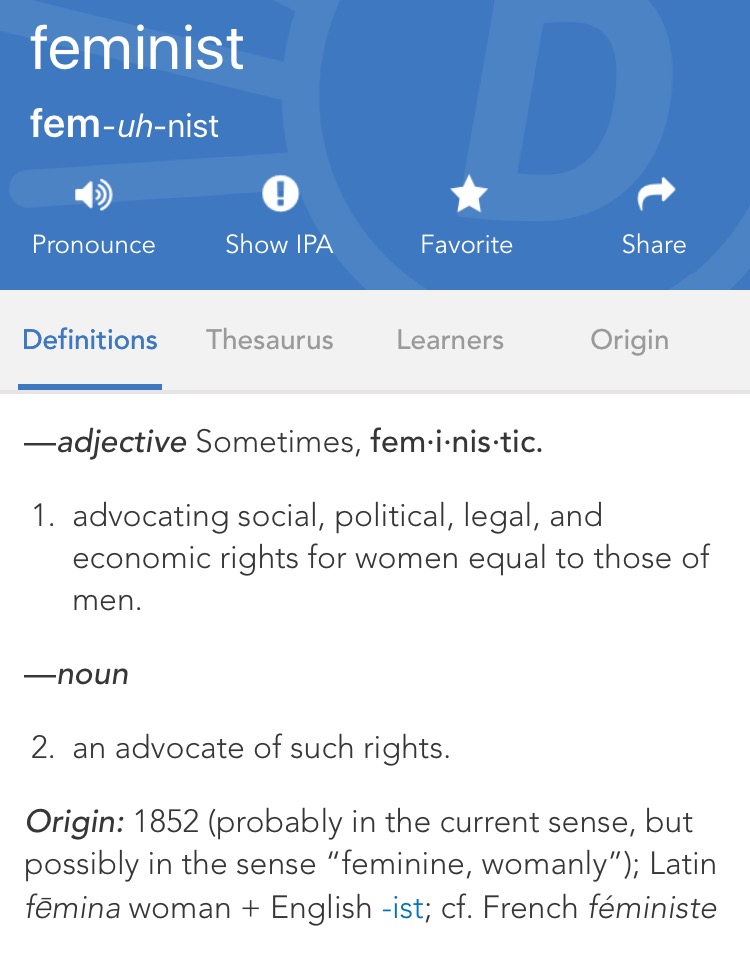 Release the stereotypes and hijacking of a word that made it scary. Nothing to fear there, is there? Now, let other people notice the definition. Many will be confused. In most cases, it's not their fault, so bear with them. Respond calmly to confusion and any offensive, shameful utterings about feminazis. With a supporting hand on an arm when appropriate, help lost word souls through the moments of realising there is nothing in the definition that says the following;
feminists hate men
feminists are unhappy
feminists rant incoherently and sporadically spew bile at a cruel world.
At this point, perhaps offer a chair and a cup of tea to people seeing the definition who might be Daily Mail readers. Facts rather than propaganda will be especially hard for them and in moments of shock a seat, a kind transitional partner and a hot drink can be comforting. Stay with them as their foot hits the bridge and finds it's their own leg that's shaky rather than the structure they're standing on.
Breathe.
There. No capes involved and lives were changed. It's useful to have a fellow libertarian on hand afterwards, to help you decompress from the trauma of front-lining an intervention to hate and misinformation.
Lastly, despite the difficulties, there's always light. I overheard a conversation on a bus at the weekend and it made my month. Two teen girls sat in front of me and one said to the other, 'Jack T says he's not a feminist, did you hear that?' Her friend screwed up her face and had the most perfect response I think I've ever heard; 'what even is he then? A greasy sexist? Gads.'
I almost called the builder. Then I thought how perfect it would be if one of these girls turned out to be his daughter. It's a small world after all.
It's time to turn the tables on making folk feel odd for being happy to wear a label stating women and men are equal. It's time to start othering people who aren't feminist. Because, as the smart youth so aptly nailed, if you're not a dictionary definition feminist, what even are you?