Songs of Protest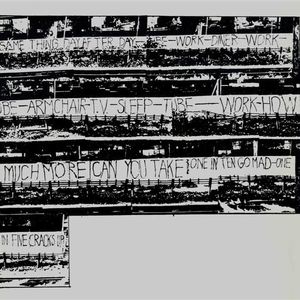 Here's the second of our new weekly mix-taped playlists [see Keep Those Dreams Burning]. This is from  Leo Condie,(who is the frontman for WHITE  & can be found at @leomiklasz.)  Tracklist and notes below – please share..
"I wanted to make a playlist of political songs, protest songs, freedom songs but with a difference – songs that aren't necessarily the obvious guitar-wielding Dylanite, though there's a bit of that too. I wanted a playlist that shows that there are politics in all genres, in all music, that sometimes simply the act of singing can be political. Some of these songs are candles in the darkness, others may well snuff out any candles, but they are all vital, now more than ever."
Caetano Veloso – Irene
Veloso & fellow singer-songwriter Gilberto Gil were jailed for 7 months, then exiled to Britain, in 1969 – for the daring to speak out against Brazil's heavily conservative military dictatorship and, even more shockingly, for writing exciting, strange pop music. This song & album were recorded while Veloso was behind bars, a simple guitar & vocal recording to a metronome which was taken to the studio and given a berserk, genre-bending psychedelic arrangement. It's a simple pining for his family, for the world beyond his cell, and a reminder that even pop music can find itself at the front lines of a revolution.
Jacques Brel – Jaurès
"Pourquoi ont-ils tué Jaurès?/Why did they kill Jaurès?"
French socialist Jean Jaurès, a committed antimilitarist, spent 1913-14 desperately trying to stop the Great War through diplomatic means. He was shot dead at a restaurant in Montmartre in July 1914. Brel's furious, elegiac song laments the life of his grandparents' working-class generation – "worn out at fifteen", "old before being born", who survived only to be sent to die in terror on battlefields, and instructs you to ask yourself – why was Jaurès killed?
Sylvia Anders – Ballad of Marie Sanders
"if men only used their ears, they would know who does what and to whom"
Bertolt Brecht's ballad in response to the Nuremberg Laws, which forbade German women from making contact with Jewish men, tells of Marie Sanders, who, disbelieving of the severity of the law, breaks it to meet her lover & is publicly humiliated, her head shaven, a board around her neck. But buried deep within the song are hints of a fightback – "her eyes, cold".
Phil Ochs – Love Me, I'm A Liberal
It may be from 1966 but this song has aged exactly zero years:
"I cried when they shot Medgar Evers
Tears ran down my spine
I cried when they shot Mr. Kennedy
As though I'd lost a father of mine
But Malcolm X got what was coming
He got what he asked for this time
So love me, love me, love me, I'm a liberal"
Shirley Verrett – Oh Freedom
Mezzo-Soprano Shirley Verrett had an incredible career singing Wagner, Britten and more, but also endured years of racism as an African-American opera singer in 50s/60s America – at one point banned from singing with the Houston Symphony Orchestra despite a personal invitation from the conductor. In 1966 she turned the incredible power of her voice to spirituals, protest songs and Brecht/Weill on the album Singin' In The Storm. Her upper register on Oh Freedom just catches fire.
Cristina – What's A Girl To Do
A perfect riposte to gender roles, New Yorker Cristina – a no-wave, Brecht-singing parallel universe Madonna – hammers thru this manifesto-song, targeting the stereotypes women are forced to live up to with unerring precision.
"Well, some girls have a mission
And some girls have their work
Some marry with precision
And some just dish the dirt
And once I had a lover
And I once had a profession
And once I laughed at nothing and they called it a depression"
Fela Kuti – Zombie
the brilliant, brutal take-down of the Nigerian army portrayed them as subservient zombies – "Zombie no go think unless you tell am to think" – became a hit in the country & provoked hundreds of soldiers to attack the Kalakuta Republic, Fela Kuti's compound in Lagos.
Peter Nardini – Why Sink The Belgrano?
"Opinion polls were getting lower/made her popularity soar/that's what we were fighting for". Wishaw singer Nardini's angry wail in the tradition of Ochs, Dylan takes no prisoners in chronicling the utter failure of anyone in Britain to take responsibility for the murder of hundreds with the sinking of the Belgrano.
PJ Harvey – The Glorious Land
A timeless anti-war song from PJ Harvey's Let England Shake throws British pride & patriotism to the dirt with chilling simplicity – "How is our glorious country ploughed? Not by iron ploughs – our land is ploughed by tanks and feet marching" – and a horrific pay-off in the last line. The whole album is an incredible, potent & necessary document of the horrors of war – from 100 years ago and more to Afghanistan & Iraq. Also worth seeking out on Youtube is Harvey playing the title track armed with only an autoharp and a sampler to a bemused Gordon Brown…
Bertolt Brecht/Hanns Eisler – Keiner Oder Alle
Turn up the volume for this one…
Scott Walker – Clara
One of the most terrifying pieces of music I've ever heard – Walker relayed that the mental image of the dead bodies of Benito Mussolini and his mistress, Clara Petacci, hanging upside down in the Piazzale Loreto, had stayed in mind since he had come across it as a child. There's so much depth & strangeness in the song, in 12 minutes it lays out the full sum of human madness & misery, a mysterious sprawl nailed to the floor by gut-wrenching strings & percussion, infamously, created by punching a dead pig.
And if you made it this far, you probably deserve a medal, but the last track will have to do…it's worth it.