Blair McDougall – In remembrance of times past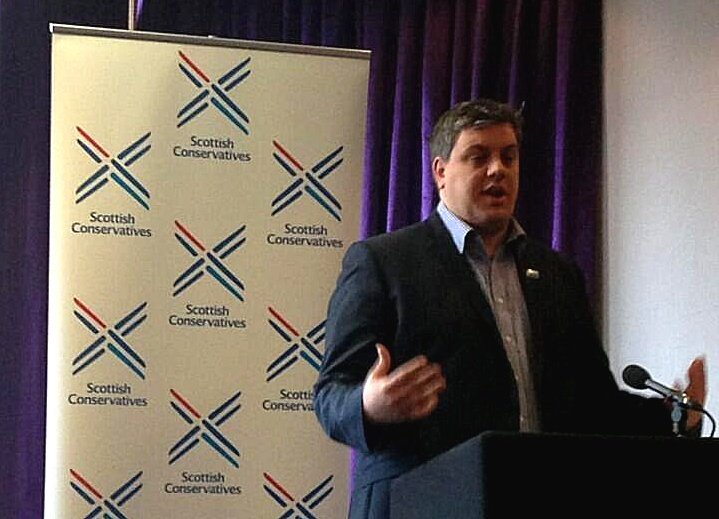 Reading Blair McDougall's reminiscences on 1997 got me thinking too. I'm a politics nerd. I became interested in politics through visiting my brother Paddy in Anniesland amidst the earthquake that was Roy Jenkins' victory in the Hillhead by -election of 1982. It seemed that summer that as we walked from Anniesland through Byres Road and Partick, that there were TV cameras everywhere. This political carnival certainly made an impression.
I remember being struck by the simple geography of the Falklands War being fought as far away as it was. To me, a teenage schoolboy, it was baffling. I remember asking my lefty Maths teacher about the conflict, particularly why we were fighting in a far away place about which I knew little.
The miners' strike was much more immediate: fought out on ITN and the BBC news. I became used to seeing Scargill and McGahey, pitched battles between police and striking miners, Ian McGregor, the UDM. I remember hunger strikes and bombs going off- the Shankhill and Falls Road. My mum was Irish, how could I not be aware? That was my teenage introduction to politics, but I never became politically active outside of arguing with friends and adolescent ideological posing.
I remember casting my first vote for Labour in the 1987 election and the devastation of that defeat.
Working for Glasgow City Council was the beginning of my real political education in the late 80s and through the 90s. I was always a Labour voter. May Day, the GMB, the poll tax. To vote for anyone other than Labour in Glasgow was simply unthinkable. Then in the late 90s, I studied Politics and English at Glasgow Uni. I loved Adam Smith and the Scottish Enlightenment, the study of Machiavelli and Locke. I loved the theory, but I also loved the study of institutions: the EU, the politics of the US, Mexico and China. I remember a Labour activist student acquaintance passing me a note in a lecture theatre in 1997 . I had "twenty four hours to save the NHS." by voting Labour. He was leaning against an open door, but I, like so many, was still suspicious of Tony Blair.
I remember my then girlfriend, now my wife, insisting I go to bed before I got to see Portillo.
I remember how sweet that victory was.
I remember the good Labour did in those years.
In contrast to most of my peers, particularly my friends who were old style lefties, veterans of the internecine battles of municipal socialism, the Iraq war- while a political and humanitarian disaster – was not the simple black or white moral issue for me it remains for so many of my friends: Blair as the irredeemably evil bastard who lied the UK into an unjust war. I thought Saddam was loathsome, but I sought an alternative route than simply launching military action. I still marched against the war on that cold clear day in 2003 when millions of others did.
I have ever enjoyed the spectacle, the passion and the controversy of politics: from the spectacle of Paul Boateng discussing "sucking off" on Question Time before a squirming panel and audience at the height of the AIDS epidemic- to the high drama of Kinnock confronting Militant over redundancy notices being delivered by taxi in Hatton's Liverpool.
It was during the Glasgow East by-election of 2008, the first harbinger of New Labour's eventual destruction that, as a constituent, a parent and a teacher, I became more engaged. It was like Hillhead all over again! In one week, in my garden, I had Alex Salmond and Elaine C Smith chatting. A day later, Annabel Goldie appeared at my door delivering leaflets. I remember joking with the Scottish Tory leader that things must be tough as she was reduced to delivering her own leaflets and we laughed.
On the other hand, Margaret Curran's representative was told my local MP was not welcome at my door. Why? James Purnell had been reported as talking about the unemployed working for benefits or Workfare as it was called. This issue being raised in one of the poorest constituencies in Scotland and indeed the UK, struck me as egregiously insensitive, politically inept and downright suicidal. I knew Mrs Curran was going to lose. I felt then, as did many friends and neighbours, that Labour were losing their way, losing their core vote – losing us!
So confident was I that a political earthquake was on the cards, that I waited outside the count at Tollcross Leisure Centre for the annihilation that I knew awaited Labour in Glasgow East. For the first time in my life, I voted for a party other than Labour. I and many of my fellow voters in Glasgow East wanted to let Labour know that working class constituencies could not be taken for granted. I voted SSP. Most in Glasgow East voted SNP. For the first time in my experience, the BNP campaigned (despicably using children to deliver leaflets) in my constituency. These were straws in the wind for the political storms approaching.
Fast forward to the Indyref. I was and remain deeply suspicious of nationalism. I, and my fellow Scots engaged passionately in the arguments. The campaign was fought in communities, in pubs, in schools, in workplaces, in halls. It was indeed a joyous, tumultuous and, yes, divisive exercise in participatory politics. I loved it. I attended several Yes organised events including a huge event in the Radisson hotel in Glasgow and smaller events in Shettleston and Barrowfield. However, despite my efforts, I could not find any Better Together events to attend, simply because BT, by design, did not hold open hustings events in communities.
I remember phoning the Better Together offices and speaking to a BT activist, Rob Murray. I wanted to attend a meeting to discuss what voting no meant for the future of my country. Young Rob told me BT preferred 'street events' where I could discuss the future of my country alfresco. BT didn't do platforms, draughty halls and jugs of water on shoogly tables. Instead, Rob informed me, I could discuss Scotland's future in the street at pop up stalls!
I remember my wife getting hacked off with me as I continually sought to catch up with Scottish Labour's Jim Murphy at one of his Irn Bru crate events. I wanted to ask if I could discuss Scotland's future (indoors!) with other undecided, but politically engaged people. I never did catch up with Mr Murphy.
I remember consistently tweeting Blair McDougall, the mastermind of the No campaign, asking him what value a campaign designed to exclude genuine voter participation had in terms of democratic legitimacy. He did not respond.
I remember Duncan Hothershall telling me that Better Together held literally hundreds of events and accusing me of being untruthful when I said that I had not managed to attend any such events.
I remember Duncan Hothershall telling me it was right that I did not get to attend such events as I only wanted to harangue the platform.
I remember Duncan Hothershall telling me that I would not have to back up my assertion (on Twitter) that the Better Together campaign would be the death of the Labour Party in Scotland.
I remember the school in which I work being a hotbed of political discussion in which newly enfranchised Yes pupils argued knowledgeably and passionately with equally enthusiastic No pupils at break time and lunch.
I remember attending the Big Debate where George Galloway represented the No side. Gorgeous George by turns baffled, infuriated and amused the thousands of young people who attended the Hydro, most wondering who the old guy with the hat was!
The only BT event I managed to attend was held behind closed doors to an invited audience in a location disclosed the night before via email. This was the kind of event organised by Better Together then, favoured by Theresa May now. I only managed to acquire an invitation because an acquaintance in the school in which I work called in a favour from a personal friend of hers within the Labour hierarchy.
As a result, I got to ask a genuine question about the democratic legitimacy of the closed meetings in secret locations to invited audiences favoured by Better Together. The answer from Alistair Darling was depressingly inadequate as he simply did not expect anything other than a softball question.
I am reminded of the look on the face of Alistair Darling then as I watch Theresa May trapped in the headlights now.
This event in Coatbridge was hosted by Tom Clarke MP, it was addressed by sectarian celebrity, Yvonne Hama. I was a genuinely undecided undercover ordinary voter. I asked my genuine question. Yvonne Hama was applauded for reciting her prepared speech; I was verbally abused by Mr Clarke for having the audacity to attempt ruin the "Mr Darling addresses a grateful nation photo" opportunity so favoured by Blair McDougall's campaign in Mr Clarke's (until 2015) solid Labour constituency.
I remember I voted yes.
I remember Scottish Labour were duly annihilated in the great reckoning of GE 2015 and Scottish politics would never be the same again.
Fast forward to June 23rd 2016 and an unprecedentedly depressing, cynical and, unfortunately effective Leave campaign, chaired in Scotland by Zelig-like ex Labour MP, Tom Harris, The UK voted to leave a EU which, while hugely ineffective and maddeningly bureaucratic, I still feel passionately, remains a force for good in Scotland, the U.K and the world.
I enjoyed Blair McDougall's Proustian reverie on things past. It made me think of times gone by too.
I remember tweeting Blair McDougall after the Indyref and asking if he recognised the irony that through the conduct of the No campaign, he had helped destroy the party founded by Kier Hardie in its Scottish heartland.
I remember voting Labour in 2015, hoping against hope, Miliband might win.
I remember the bitter taste of defeat.
I won't forget Blair McDougall's role in masterminding a campaign which prized photo opportunities over engagement; a campaign which excluded undecideds; a campaign which demonstrated the worst excesses of municipal crony socialism; a campaign which managed to be an elitist stitch up, while simultaneously offering ersatz engagement at pop up stalls and whirlwind Irn Bru crate events.
I will vote Labour in June in Glasgow East. I will vote Labour in May in the council elections. I will vote for the party of my youth which represents the principles I swear by and the only real hope for the representation of working people across this United Kingdom- a party that stands on the brink of extinction in Scotland.
I will attend hustings. I will investigate the issues, I will debate. I will dog the heels of Tory candidates over the benefits cap, the rape clause and foodbanks.
I will vote for Labour knowing they will lose. I could never vote for another party when a Conservative government looks to be a certainty. I will vote Labour as my recently deceased mother did all her days.
I will regret that Yvette Cooper lost and I will forever rue the day Jeremy Corbyn won the leadership battle and gave power away for a generation.
I will never forget Blair McDougall's part in the demise in Scotland of the party he loves.
If only the battle for Scotland's future mattered as much to Blair McDougall as the victory, we might not be where we are now. If only Better Together had taken a leaf from the Yes campaign's book and genuinely campaigned in communities and hustings, in halls and clubs, where all were welcome, perhaps Labour in Scotland wouldn't be where we are now- on the verge of extinction.
Perhaps Theresa May wouldn't be running the same AstroTurf campaign that will work as well for her as Better Together's campaign did for Blair McDougall. The campaign may well succeed, but democracy will be the loser.