The Principle of Consent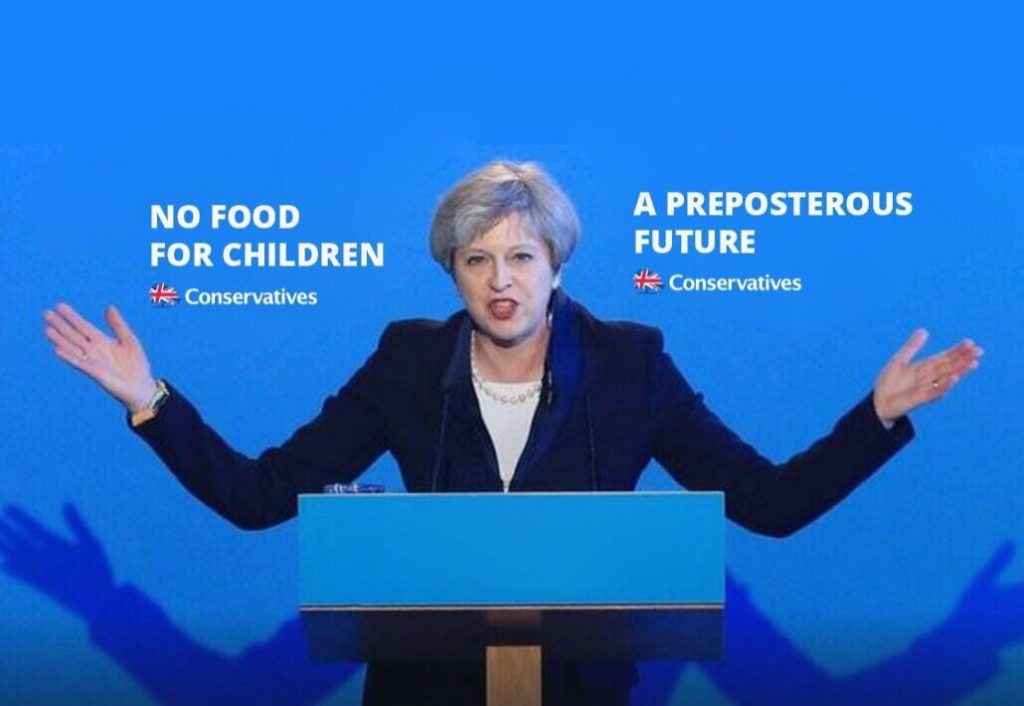 Theresa May's extraordinary manifesto launch, in which she appeared as equal parts Shiva, Inspector Gadget, and badly regurgitated Thatcher, has been poured over by faithful stenographers and scribes for signs of 'vision'. They may be disappointed. The story of the Conservative's un-costed manifesto has three distinct elements: the first is it's almost lupine aggression against the most vulnerable in society; the second its poorly disguised and botched attempt at 'populism'; and the third its incredible redefinition and attack of democratic principles and constitutional settlement.
Bad Wolf
For a party that is propped-up by pensioners – and who won the 2014 indyref by conning that same group, the news that not just the triple-lock would be abolished but that upwards of 10 million pensioners would lose winter fuel payments, must surely be a sign of supreme confidence. Of course these age-demographics are always a one-dimensional slice at things. There's pensioners and there's pensioners. Nobody can be under any illusions this is an attack on the poor. John McDonnell said the Conservatives' plan to means-test winter fuel payments was "absolutely sick and sneaky. They know that a third of people who qualify for pensioner credits don't claim. They also know that we've got 1.7 million pensioners living in poverty. They also know a million of them are in fuel poverty. As soon as you start means-testing, large numbers don't claim even though they need it, because it is so complicated." The other elements are now well-known:
Scrapping the £9 per hour wage promise
Creating a 'death tax' to pay for social care
Free school lunches for the first three years will be scrapped for all but children from the lowest-income families
An unprecedented proposed charge of two-thousand pounds to companies employing foreign workers
The government will continue to exert pressure on non-EU migration by increasing earnings thresholds for family migration, introducing tougher visa rules for people coming to study, by doubling the immigration skills charge to £2,000 a year for each skilled worker recruited, and by increasing the NHS charges they pay.
But other elements are not being focused on. In future elections voters must produce ID. As Jonathan Shafi has pointed out: "This works to the disadvantage of raising voter turnout and acts as a suppressant. Look to the US for examples. Should the Tories win, the British State is likely to become more repressive and less democratic as the crisis develops. This measure comes alongside boundary reforms that benefit them plus the usual swathe of surveillance, oppressive policing and increasing pressure to fall behind British nationalism." The Independent reports that: "The law would stop an estimated 3.5 million people, or 7.5 per cent of the electorate, from voting, according to the Electoral Commission. "
There's also an attack on internet freedom. As if the Investigatory Powers Bill ws not draconian enough, the "government intends to introduce huge restrictions on what people can post, share and publish online."
Who cares? It's all detail in the white noise as the banshee shrieks: 'Strong and stable" and the media smear Corbyn and anyone guilty of political thought crime beyond the prescribed and accepted norms.
Populist Posturing
It's hard to discern the groups for the commentariat declaring that this is a 'tack to the left' or a 'populist voice' beyond the empty rhetoric from the PM mouthed from behind the podium to hand-picked audiences. As Paul Mason has pointed out, there's nothing left:
"There's nothing left to privatise so it's hard to be as right wing as Thatcher" – @paulmasonnews verdict on the Tory manifesto #newsnight pic.twitter.com/S6qm589829

— BBC Newsnight (@BBCNewsnight) May 18, 2017
Our Precious
But beyond the putrid social policy outpourings of the Conservative party are an explicit attempt to block the democratic will of the elected Scottish Parliament. Operating in naked class interest is nothing new, but this is.  Under a section headed "Our precious Union," the UK party's programme for power (with the sacred words 'Conservative and Union' embossed on every page)  says: "The United Kingdom has voted to leave the European Union but some would disrupt our attempts to get the best deal for Scotland and the United Kingdom with calls for a divisive referendum that the people of Scotland do not want. We have been very clear that now is not the time for another referendum on independence. In order for a referendum to be fair, legal and decisive, it cannot take place until the Brexit process has played out and it should not take place unless there is public consent for it to happen." This effectively rules out a referendum until 2022 and overrides the Scottish Parliament. It is democracy trumped by vagueness. The Tories are going for gold. What on earth is "public consent". Is it 55 out of 59 MPs? Apparently not a mandate. Is it a democratic vote in the (proportionately) elected Holyrood parliament? Apparently not. This is a proto-colonial approach to rule.
This is becoming the accepted norm in political debate, partly because (as the UK Constitutional Law Association has noted) Laura Kuenssberg and Sarah Smith say so. "On the 9th of March, writing for the BBC, Laura Kuenssberg, the political editor of the BBC said "it's up to the Westminster government to permit another [Scottish] referendum." Six days earlier, Sarah Smith, the Scotland editor of the BBC said:
"The Prime Minister knows she could easily prevent another referendum by simply refusing to allow it.  The Scottish government has to ask the UK government to devolve the power to hold another vote before it can go ahead. That's how it worked in 2014 and how it would have to work again."
But as Ewan Smith and Alison Young point out, our constitution may be dangerously fluid, but it's not quite at the point where they get to frame this reality. It's at best a contested area. In fact as (Ewan) Smith and Young conclude: "…the Scottish Parliament and the Scottish government may have the power to call a referendum." This is a reality regardless of – above and beyond – any General Election result. They conclude, and this is important:
"Like Northern Ireland, Scotland is part of the United Kingdom because a majority of its people consent to be. The same is also true for England and Wales. Even if the legal power to grant independence lies with Westminster, it does not follow that Westminster is best placed to establish what Scottish people think about the Union. By any account of subsidiarity, the exercise of consulting people should be made as close to the people as possible. If both governments cannot reach consensus on how to manage a future referendum, the power of the Scottish Parliament and the Scottish government to consult Scottish people, as devolved by the Scotland Act, is undisturbed by the Edinburgh Agreement, and undiminished by its newfound importance." (1)
While we get caught-up in the perceived (and real) accusations of media bias, it's important not to lose sight of the more insidious ways in which the media are allowed to frame and re-calibrate the constitutional discussion in the heat of an election campaign.
*
(1) Ewan Smith, Lecturer, Hertford College, Oxford, Alison L. Young, Professor of Public Law, Hertford College, University of Oxford: E. Smith and A. Young, "That's how it worked in 2014, and how it would have to work again" U.K. Const. L. Blog (15th Mar 2017) (available at https://ukconstitutionallaw.org/)