24 to 5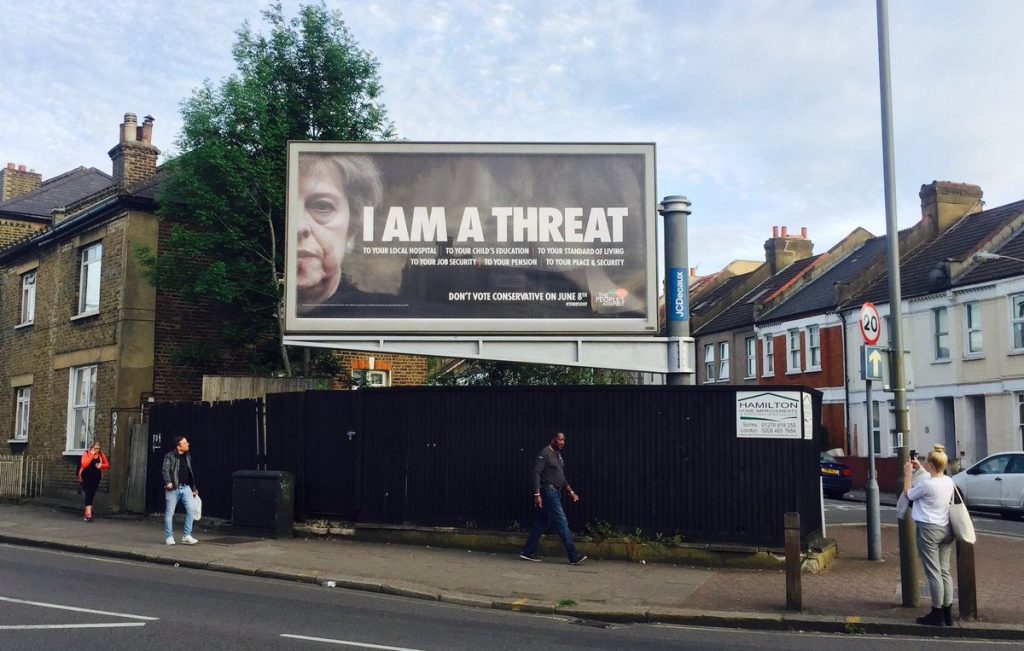 "Our involvement in Iraq, for want of a better word, radicalised a whole generation of young people, some of them British citizens who saw our involvement in Iraq, on top of our involvement in Afghanistan, as being an attack on Islam, not a whole generation, a few among a generation".
Who said this? Jeremy Corbyn?
No, it was Baroness Manningham-Buller, head of the domestic intelligence service between 2002 and 2007, speaking to the Iraq Inquiry.
Read Jeremy Corbyn's full speech here.
Today the Tory lead is cut to its lowest lead of 5% with YouGov:
Con 43% -1
Lab 38 +3
LD 10 +1
UKIP 4 +1
When Theresa May called the election Tories had a 24 point lead. Today it's just 5. A combination of over-confidence, belief in a pliant dullard media and the hubris conceived of being locked in the chocolate box of Westminster with braying Tory MPs laughing at Jeremy Corbyn has resulted in this collapse.
While this campaign will be seen as a humiliating defeat for May and her advisors, it's the fellow-travellers within the Labour Party who have knifed their leader at every opportunity that we should really be laughing at.
We can now expect the smear campaign to go in to hyper-drive.
The essence will be 'Get Jeremy".
But what Corbyn is saying, is not just commonplace commonsense, it's been said over and over again by the British establishment.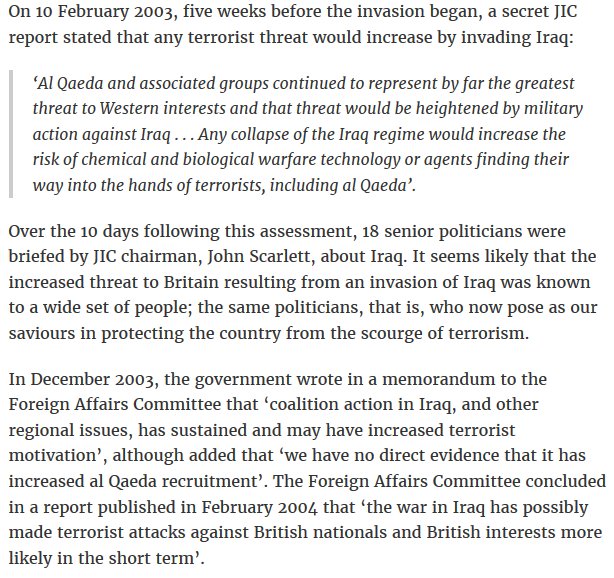 Whether opposition parties can speak truth to power and state plainly what security chiefs and the JIC have already said publicly without getting crucified in the media remains to be seen.
If Corbyn's Labour survives or even triumphs it will be from a  combination of the Tories alienating their core pensioner vote, a late surge in youth voter registration, a personally disastrous campaign for the Prime Minister and a Labour manifesto that defied ridicule to embrace popular left policies.
Hit the North
North of the border any success is less likely to be visible.
Yesterday, inexplicably, the Scottish Labour Party decided to ditch its opposition to Trident renewal.
The 2016 manifesto had read: "Following a vote at Scottish Labour Party Conference, we will make a submission to the UK Party's National Defence Review opposing the renewal of Trident, subject to a Defence Diversification Agency guaranteeing the retention of all existing jobs."
The newly released 2017 manifesto reads: "Defence is a reserved issue and UK Labour continues to support the renewal of the Trident nuclear deterrent."
A Labour spokesman said that this was "due to the devolved nature of defence".
Morality devolved is morality retained it seems.
The inability of Jeremy Corbyn and his advisors to see the opportunity for cross-party working and their continued inability to grapple with 'the national question' is a fatal flaw. But on June 9th it may be Corybn that is still leader and Kezia Dugdale that is not. Either way, a minority Labour government requiring SNP and Green support, or a Labour Party that could have won were it not for another Scottish collapse will raise questions that are impossible to ignore.
It's impossible for Corbyn's Labour to hold their position on self-determination around the world but not for Scotland, just as it's impossible for them to hold the position that Britain's disastrous foreign policy misadventures have led to chaos and instability, but that Trident is a force for peace and stability.