Welcome to Anti Democracy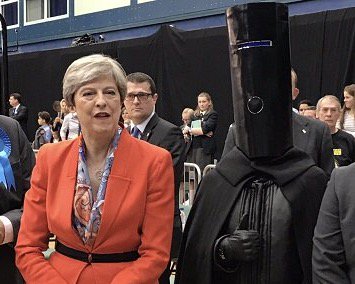 This result just deepens the democratic deficit, once again delivering a Tory government that Scotland has voted massively against. But there's two new elements to the deficit.
First it's been a campaign with the unionist parties clambering over themselves to ram home one simple message: we'll stop you having another say on managing your own affairs for as long as is possible. This is a great new dimension to democracy: parties dedicated solely to excluding you from participating in democracy. The unionist parties have collectively given up on arguing why being part of Britain is good, they just argue that we shouldn't be allowed to vote on it. To compound this they have now explained that even getting more than 50% of the vote in a general election wouldn't give the SNP a mandate to pursue their manifesto policies.
Second, they have attempted to re-write the concept of 'winning'. Now a massive flopping failure is re-cast as a historic victory and vindication. By this reckoning the English won Bannockburn and France were triumphant at Waterloo. The SNP with a huge 35 seats – a result that would have been considered historic and unprecedented just a few years ago is now being framed as catastrophe. The Scottish Conservatives gather a handful of seats and are portrayed as triumphant victors with Ruth Davidson as Joan d'Arc.
So now you reject the Tories across the country – then the cheeky bastards turn around and say 'Hurrah we won!'
Winners and Losers
Everybody lost and everybody won.
The country is full of winners and losers and losers that are really winners. UKIP disappeared like yellow snow off the dyke, morphing effortlessly into a Bigger Tory Vote (and feeding Labour). Labour won the campaign but lost the election motivating thousands of people and presenting a manifesto that over-turned decades of accepted wisdom and cementing Corbyns position as leader for several years, even as the Guardian and other scribes scrabbled to find a new leader, including Angela Rayner (yeah me neither), Sir Keir Starmer and Chuka Umunna. The Corbyn Labour 10% rise is the largest ever by the party: more than 1945 or 1997, yet they still lost.
Theresa May is damaged goods, hopelessly exposed and weakened as she now enters what will be brutal and indefensible Brexit negotiations in ten days time – negotiations for which she has been revealed as being woefully personally suited to managing. By her side is the bizarre Boris and the ineffectual David Davis.
For Ruth Davidson the sun continues to shine, but again she is a winner who lost. For how long can she really just continue to say the same lines over and over? If her entire raison d'etre is to 'stop the SNP' won't this, eventually tire her and her followers out? Won't this just become exhaustingly dull? What else do they have to say other than distance themselves from the toxic policies emanating from their colleagues down south?
The Scottish Tories meagre gains will be drooled over by an expectant press who have lapped up the pre-result framing and are more than willing to ascribe a pathetic loss as a historic victory. All this does is cement a remarkably limited leader in place. And just repeating on a loop 'you will not have your say again' may play well to the harcore unionist bloc but I'm not sure where it takes them. How do you expand or develop a politics that is essentially saying we don't want to hear your views?
As a new poll suggests support for Scottish independence would soar if Theresa May wins today's General Election, it adds poison to Ruth's chalice. The Tories are now stuck with an unlikable and damaged leader in London, and a leader in Edinburgh who everyone loves but has little to say. Theresa May will now face internal recriminations after one of the worst general election campaigns in post-war history just as she enters the Brexit process.
But there are other deeper shifts that this election has revealed.
Death of Blatcherism
Scathing……….. 71 seconds you really do not want to miss. Many of you have waited your whole life for this. pic.twitter.com/b3Jg5RkBUh

— Tory Fibs (@ToryFibs) June 7, 2017
Corbyn's team have re-written British politics in the face of relentless hostility.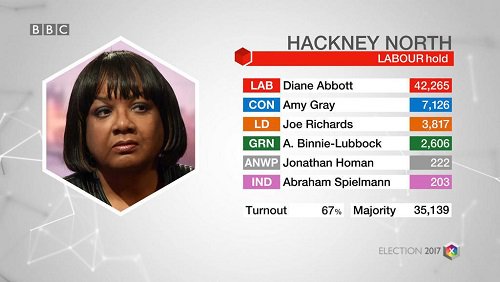 They have had a massive impact on the SNP, who ran a lacklustre campaign and have been exposed by the radicalism of Corbyn's manifesto, even if Scottish Labour as an entity is widely derided. But this leaves problems for SLAB too. As Robin McAlpine noted yesterday:
"It is by far the biggest irony of this election that Scottish Labour has seen a substantial bump in the polls derived almost entirely from a surge in public interest in a UK leadership that the Scottish leadership has done everything it can to undermine. The only Scottish messaging I've heard from Labour seems to be focused on the SNP's education record, a subject not even up for grabs in this election."
What we now have is something that has been absent for years: an alternative.
But we also have is a Game of Thrones style 'UK' electoral map with enclaves and zones of influence across the country but with little or no consensus or mandate.
London and the north of England are like different lands. Urban and rural Scotland are culturally distant. Wales oscillates incoherently between UKIPism and Labour.
ELECTION FACTOIDS

72% turnout for 18-25 yr olds.
Diane Abbott increased her majority by 11,000. : Diane Abbott's majority is as almost as big as Theresa May's entire vote.
Westminster will host the largest number of woman MPs . But in Scotland number of women MPs has DECREASED from 34% to 29% 12 SNP; 2 Lab; 2 LD; ONE Tory.
David Coburn came last and lost his deposit (again). 540 people voted for him in Kirkcaldy and Cowdenbeath.
The Corbyn Labour 10% rise is the largest ever by the party: more than 1945 or 1997, yet they still lost.
What does this mean for the SNP?
The SNP won 35 seats, 977, 568 votes and remain the UK's third largest party. The SNP won more seats than the three unionists parties combined. That is an incredible achievement for a party thats been in office for a decade. You can also argue that the unionist bloc vote united to vote tactically and still failed.
Yet this was a disappointing election with little larger vision beyond mouthing platitudes 'oppose the Tories' and 'a stronger voice for Scotland'. With big beasts like Salmond and Robertson being lost this is a massive wake-up call to the party. SNP sources say there'll be "questions" tomorrow over the Sturgeon/Murrell leadership of the party.
It will be telling to see whether the party and the wider movement is capable of the self-reflection that has been conspicuously lacking in the wake of these results. I suggest that this is unlikely but the remnants of the indy movement are now likely to divide further into 'Circle the Wagon Loyalists' and critical voices looking for new paths forward.
35 out of 59 is an astonishing result, but equally the SNP have lost control of the narrative.
The Labour victories in Scotland are not as Dugdale and her colleagues immediately claimed about their cringeworthy campaign about loyalty to the union, it is people inspired by Jeremy Corbyn's manifesto, a programme Scottish Labour hate.
Labour has just had the biggest increase in popular support during campaign by any party in British political history. This by a leader vilified by most of his own MPs and relentlessly smeared by the media.
At 10 am we have no idea who is going to be running the country, whether May can hang on and are still trying to make sense of what this election means.