Car Crash with Lozenges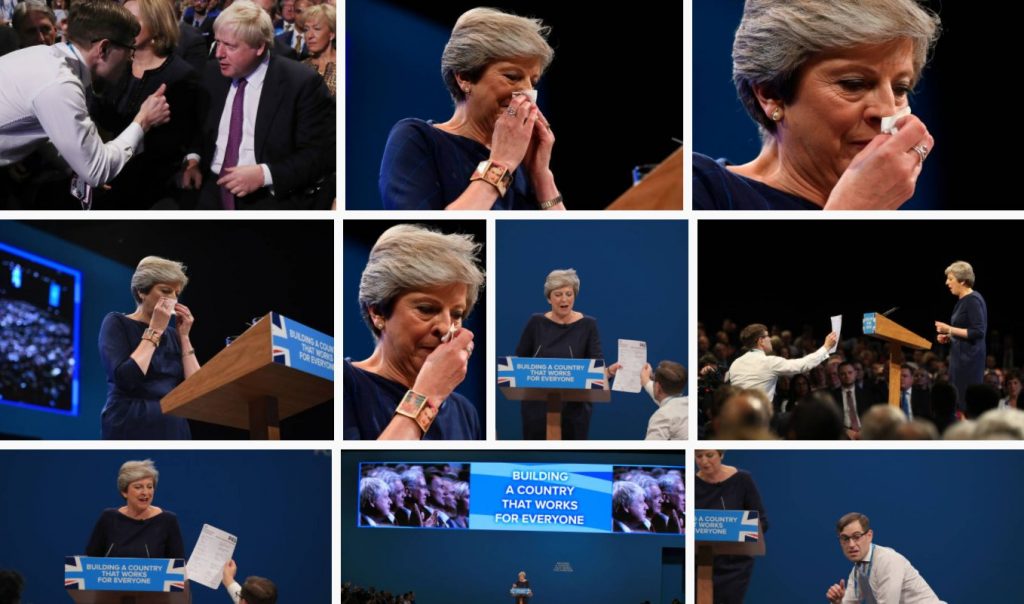 It's rare you see a speech so bad it should be career-ending. But that was what Theresa May 'delivered' today in so much as she delivered anything other a dose of phlegm and a textbook case in botched event planning.
The critics haven't been kind.
Abi Wilkinson called it: "an appropriate end to a conference that has presented the Conservatives as desperate, flailing and intellectually bankrupt."
Kate Maltby commented: "…you can't promise "a more open, global Britain", when you are still remembered as the architect of "Go Home" vans and the woman who referred to "citizens of nowhere".
Tom Peck said: "Not for anything like the first time in recent years, the satirist is reduced to transcriber."
As the set around her started falling apart you half expected the main stage to creak and the backdrop wall to fall on her like a Buster Keaton film set-piece or Boris to arrive on stage in a Clown Car. Some have been absurdly kind and continued to look at what she actually said in policy terms as she laid out her vision of the 'British Dream'.
The trouble is that's dire to.
On Housing
A post-speech briefing revealed £2bn will lead to just 25k affordable homes over five years. To put that in some perspective that's half as many as the Scottish Government is building.
Joe Beswick from NEF commented:
"This speech was trailed as the start of a new council housebuilding revolution. Instead, the Prime Minister flattered to deceive. All we got was a bit of extra cash for existing programmes which are failing to deliver the housing people need. If the Prime Minister were serious about addressing the housing crisis, she would be giving real power to local authorities and housing associations so they can work with communities to build the homes they need. That means lifting the borrowing cap on building, and allowing councils to retain right-to-buy receipts to build homes. Otherwise we are stuck in the same broken model where the homes built are unaffordable to most."
"The lack of joined-up thinking on housing is stark. While the Prime Minister promises to fix our broken housing market, her government is committed to selling the very public land which would make this possible. That has to change. The public land sale must be brought to a halt, and surplus public land used for affordable homes. Public land must be used for the public good. The expansion of Help to Buy will only inflate house prices, and will mainly benefit those who already relatively well off. [2] And £2.3billion is still allocated to build Starter Homes, which are not accessible to those on low, or even middle, incomes. This is not how to address the crisis."
Women
Sophie Walker from the Women's Equality Party wrote:
"Theresa May's difficult speech today reminded us that she is doing what women do all over the country – the jobs that men don't want. She is standing on a cliff edge, flanked by men who think the job she is doing is too difficult now but ready to push her off once the time is right.
It's particularly disappointing then, to hear a speech from this female leader that fails entirely to understand or tackle the structural inequalities that hold all women back. While an energy price cap and five thousand new homes a year are welcome, they will not compensate for the gutting of social infrastructure that has taken place under the Conservatives. They will not tackle the things that make energy bills and housing less affordable for women.
We know that 86 percent of cuts since 2010 have fallen on women. And it is a scandal that this government allows a handful of men to siphon off billions of pounds from the public purse in tax evasion and avoidance, while all around us women are opening their wallets to repay the national debt.
Rather than correct this, Theresa May is pushing ahead with Universal Credit, a policy that has dire and specific consequences for women, who make up the majority of single parents that will be more than £2,000 a year worse off. She is pushing ahead with the heartless "rape clause" which imposes a two-child limit on universal credit recipients unless a woman can prove she has been raped."
Toast
On Scotland the Prime Minister just sounded slightly desperate coughing up that the second referendum had been 'denied', offering no explanation why or how or in what universe that could possibly be true. It was simply a footnote nod to her grinning proxy.
Maybot is toast.
*
We really need your support to develop and we'd like to ask you to support us by donating to us here.
We've got big plans to launch our new site, to launch new publishing and events projects, and to extend our platform of writers – but all of this needs your support.
Bella Caledonia remains free (and ad-free) and takes us hundreds of hours a month to research, write, commission and edit.
If you value what we do, please consider supporting with a recurring monthly donation of your choosing.
GoCardless to set up a small monthly donation to support independent journalism in Scotland.