Lunch Postponed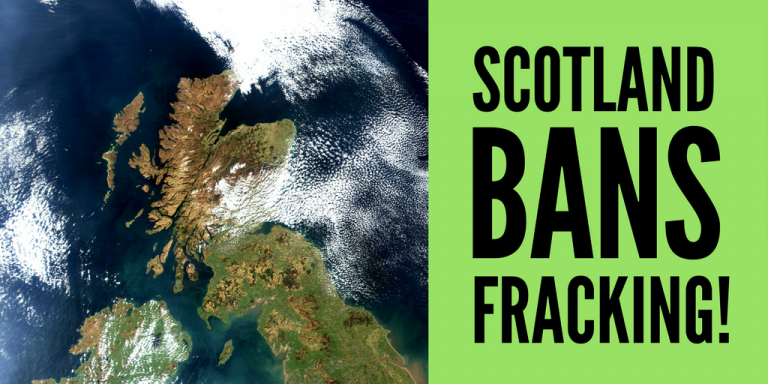 The fracking ban represents a massive breakthrough for the Scottish NGOs that have been campaigning for it for years, lobbying and pressurising the Scottish Government but also contributing research such as the Commonweals 'The Economics of Shale Gas Extraction', but much more than that it represents a huge victory for grassroots activists and communities who would have faced ruin as a result.
The ban will be confirmed by a vote in the Scottish Parliament later this year but as only the Tories oppose it, it will be a formality. Although energy policy is reserved to Westminster, Holyrood's control over the planning system means they can block any application to frack.
But now as the Scottish Government take a historic decision to halt fracking, an unholy alliance of the Conservative government threatening a power grab over environmental policy, the GMB union and INEOS shrieking at the iniquity of it all threaten to combine to act against it.
INEOS's reaction is inevitable and hardly surprising, they had a lot of investment riding on this, but will no doubt redirect their efforts to find communities to pollute elsewhere now. Maximum solidarity must now be extended to protect communities and enforce environmental justice wherever else fracking is proposed and lessons should be learned about who you mobilise effective opposition.
INEOS, which holds fracking exploration licences across 700 miles of Scotland, also warned it was weighing up its legal options, including whether to sue the Scottish or UK governments over £50 million of lost investment.
Good luck with that.
But the GMB's response was more dishonest. They write that the Scottish Government's decision to ban fracking is: "mired in dishonesty and represents and abandonment of the national interest", before going on to make the claim that fracking is linked to fuel poverty.
They wrote: "Against a backdrop of dwindling domestic supply from the North Sea and over a quarter of households in Scotland living in fuel poverty, GMB has accused the Scottish Government of ignoring the realities of the country's needs."
Read the full GMB statement here.
Resurgent
Get this: fracking as an answer to fuel poverty makes as much sense as GM technology as an answer to food poverty. This is a defeat of corporate exploitation and a victory for environmental justice.
But its also an example of a functioning democracy. The Scottish Government Fracking consultation was 2nd biggest in history of devolution with over 60,000 replies – and with 99% opposed to fracking.
That's some serious public participation and to ignore that and go with the needs and interests of INEOS would have been obscene. It's difficult to imagine that level of participation prior to the referendum.
Evidence
As with GM we hear the recurring theme of "evidence" – and the idea that Scotland is diminished by operating as a functioning democracy.
Tom Pickering, Ineos Shale's operations director, said: "It is a sad day for those of us who believe in evidence-led decision making. The Scottish Government has turned its back on a potential manufacturing and jobs renaissance and lessened Scottish academia's place in the world by ignoring its findings."
He added: "It speaks volumes about Scottish leadership on the world stage and sends a clear and negative message to any future investors in Scotland. Expert reports have clearly stated that this technology can be applied safely and responsibly – but it will be England that reaps the benefits."

Lunch date cancelled
Murdo Fraser, the Scottish Tories' Shadow Finance Minister, said: "This is a short-sighted and economically damaging decision which is nothing more than a bid to appease the green elements of the pro-independence movement."
Sadly it looks like Murdo and Ian's gloating lunch date may have to be cancelled.
*
We really need your support to develop and we'd like to ask you to support us by donating to us here.
We've got big plans to launch our new site, to launch new publishing and events projects, and to extend our platform of writers – but all of this needs your support.
Bella Caledonia remains free (and ad-free) and takes me hundreds of hours a month to research, write, commission and edit. If you value what I do, please consider supporting with a recurring monthly donation of your choosing. GoCardless to set up a small monthly donation to support independent journalism in Scotland.