Nicola Sturgeon Stole My Skiing Holiday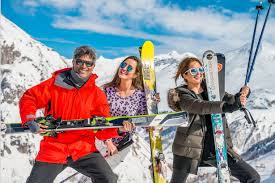 Sometimes the gulf between the media and the rest of us is exaggerated. Sometimes the 'media elite' is nurtured as a class of its own to boo at like we are in the from row of a  Trump rally: "Fake News! Bad Dudes! SNPBad!"
But amongst the cascade of outrage about the Scottish Budget's most modest tax proposals none howled wilder or louder than Merryn Somerset Webb, editor of MoneyWeek, contributor to the Sunday Post (Jings!), the FT, Saga and the Spectator.
The idea of people earning over £33,000 paying £20 a year more, or 38p a week, acting as a sort of existential crisis event for the Middle Classes is laughable. But what's at stake here is not just a decimal point here or there but a wider question of values. The very idea of raising taxes to pay for public services has been broached and this isn't an idea that's going back in the box.
Merryn Somerset Webb is operating on a different planet. She writes: "If you are reasonably high-earning and ambitious, and thinking about taking a job in Scotland, you may be thinking again this week."
This is a squealing Kirstie Allsopp Politics – political commentary reinvented as an episode of Location Location Location:
"So if you earn, say, £150,000, your net income if you live in England will now be £1,174 more than if you live in Scotland. If you earn £60,000 that number is £755. Still thinking of moving? I didn't think so."
This is of course true, but it reveals the economic culture Merryn lives in and her context-free, social-dislocation runs amok. Here she is evoking the Laffer Curve frights:
"One of the reasons that the Scottish government didn't raise rates at the top end further – as they would love to – is because they worried people would leave."
The notion that you can't and shouldn't tax people on high incomes to contribute to society (an idea slavishly replicated by the press about big corporations) is peddled by Arthur Laffer ('Economics guru attacks SNP policy') and is a pet trope of Murdo Fraser.
It's been widely debunked as highly political and his closeness to Donald Trump makes him at best a highly partisan commentator.
Sh continues:
"Say you are dual-earning family both on about £150,000 with a few kids. Nicola Sturgeon just stole your skiing holiday – and you can claim it back by moving to Newcastle. You probably won't go. It's expensive and unsettling – and there is the threat of Corbyn in the south anyway" … sound the Marxist Klaxon!
The cultural void between Merryn Webb and the vast majority of people in Scotland is huge. You've got to love the idea of people struggling by on £150,000 'with a few kids' (and a disconcertingly vague comment!).
Will Scotland be crippled by the loss of wealthy tax-evading emigres from down south? Kath Kidston may suffer, we will struggle on.