The Green Brigade: Football Hooligans or Gateway Politicos?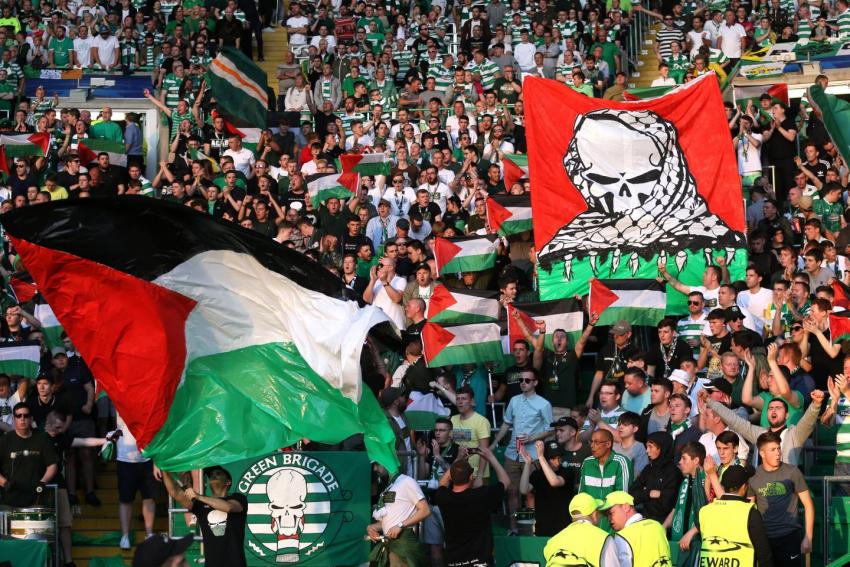 Celtic's Ultras division, The Green Brigade, have been criticised by the mainstream press for some of their activities. But they've also been praised by many for their staged political actions and food bank drives. Jonathan Rimmer investigates which narrative is more accurate…
Football in Scotland remains massively popular, even in spite of rising ticket prices and a "genetically" incapable national team. While the picture is less rosy at a grassroots level, crowds at Premiership games almost doubled last year. Nowhere was this rise more pronounced than at Celtic – the Glasgow club saw a 49% rise in attendances. In a deindustrialised city where trade union power has been greatly diminished, football is one of the few unifying forces left for the working class.
This is ironic when you consider that modern football is regularly cited as an example of hypercapitalism in action, but also because of Glasgow's great divides. These are best illustrated through the Old Firm: Republicanism v Loyalism, Catholicism v Protestantism and even Socialism v Conservatism. Although these conflicts are second nature to many city residents, the political dimension is easily the most underexplored.
Bill Shankly, the great Scottish Liverpool manager of the 1960s and 1970s, famously said:
"The socialism I believe in, is everybody working for the same goal and everybody having a share in the rewards. That's how I see football, that's how I see life."
Similar sentiments have been expressed over the years by the likes of Alex Ferguson, Jock Stein and Brian Clough.
And yet, the vicious rivalry between Celtic and Rangers is often used as evidence that football and politics shouldn't mix. Nowhere are the two sets of fans' professed political ideologies more pronounced than in their Ultras groups.
Ultras have long been regarded as a continental phenomenon – unlike hooligan firms, the groups are generally intended to be non-violent in nature (although there are examples where the two groups overlap) and are renowned for "creating atmosphere" at stadiums through song, the use of flares and the display of elaborate banners.
The Union Bears are generally recognised as Rangers' Ultras group, but, despite having producing banners against Scottish independence, have described themselves as "usually non-political". Celtic's Green Brigade group are far more resolute in their political leanings, calling themselves as a "broad front of anti-fascist, anti-racist and anti-sectarian Celtic supporters".
Over the years, they've supported local foodbanks, raised money for Palestinian charities and campaigned against the controversial Offensive Behaviour at Football Act (many fans argue the legislation was put in place to target them specifically). However, the group have also come under fire for setting off flares and allegedly causing damage on away trips.
Unsurprisingly, authorities have taken a dim view of their actions. In March 2013, members of the group claimed they were harassed by around 200 police officers at a peaceful march along the Gallowgate in Glasgow's east end. Despite the heated confrontation, only two marchers were convicted, one for minor drug possession and one for abusive behaviour.
This perceived hostility, compounded by scathing media reaction, perhaps explains the group's reticence to identify themselves or speak to journalists. The Green Brigade were contacted through official channels for this article, but did not respond by the time of publication.
Members and supporters of the group are similarly hesitant. One young member, who did not wish to be identified, said: "My politics are real, and I think the Green Brigade do great work on stuff like Palestine, but we receive a lot of unfair press and things, so I don't want to say more than that."
Despite the divisive reaction the group receives, what's abundantly clear is their genuine commitment to political causes. Celtic's left wing history is hardly disputed – the club was founded in 1887 with the purpose of alleviating poverty in the Irish immigrant population of Glasgow's east end.
This is central to the Green Brigade ethos. In a 2010 interview, Tony and Berti, two of the founders of the group, said:
"For us at Celtic we believed there had to be some sort of political edge because of the way we were formed and the history of our club."
In the 11 years the group have existed, they have held political education classes, marched with anti-fascist groups and organised football tournaments for refugee groups in Glasgow.
Some socialists may balk at the concept of young activists receiving their political education from Ultras, but supporters of the group say it's a positive platform for working class Celtic supporters. One long-term supporter, who also didn't wish to be named, said: "The foundations of this club were born out of Calton in the east end, which is still one of the most deprived areas of the UK.
"On the point about young people getting their 'political education' from the group and learning about foodbanks and things, I don't think that's entirely true. I think they come from communities where use of foodbanks is widespread. These are very real scenarios. They've been doing food collections for years, but it doesn't suit the wider storyline.
"For me, sport and arts and things are about uniting people, and that's not emphasised enough in this country. I come from a family of Irish republicans who faced a lot of persecution. For someone to pontificate that we shouldn't celebrate our heritage is ridiculous. I can't speak for the rest of the group, but I do agree with a lot of their politics."
It's hard to dispute that deep-seated political anger is a significant motivation for the group, but their exclusivity (founders say that joining isn't an open door process) raises questions over how effective it is as a form of political campaigning. Members of the group have also pointed out they "have a laugh" and "don't take themselves too seriously".
Lecturer and journalist James McEnaney is a life-long Celtic fan who identifies with the group's political views, but he believes such motivations are overshadowed by the group's "often juvenile behaviour".
He said: "They deserve credit for their OBFA protests and the foodbank collections and so on. But I do think a decent chunk of their activity is driven by a juvenile kind of mindset. I'm not sure if that's bad, but it's really not my kind of thing.
"My main issue is the setting off flares in a crowded area. If you do that, the best place for you is a prison cell because you can't be trusted around other human beings. The response is always that 'it creates atmosphere' or that removing them is 'an attack on working class culture'. It's not, it's just immature.
"Does the group get working class people into politics? I'm sure there are members for which that is the case. But it's an argument I usually tend to hear from deeply political people, which makes me think it's a constructed argument that's used as a defence for indefensible stuff."
Are the Green Brigade's actions indefensible?
Members might argue that the even their most controversial acts, such as their anti-poppy protests, are motivated by genuine beliefs. Their arguments are also increasingly represented (albeit indirectly) in a parliamentary context: last week, the Scottish Parliament's Justice Committee considered a private member's bill from Labour MSP James Kelly that proposed repealing the Offensive Behaviour at Football Act.
Whether the bill is repealed or not, it's likely that the Green Brigade's actions will continue to divide even their own supporters. The aforementioned long-term supporter of the group argues that coming down on "political protests" will do nothing to tackle sectarianism in Scottish football or society.
"They say 'keep politics out of football", he said. "But those that espouse that really mean 'keep your politics out of football'. We'll wear 'say no to racism' badges and have minutes' silence for Nelson Mandela, but we get fined for protesting about Palestine.
"You can either say there's no politics in football – and there are clearly efforts from some authorities to make that the case – or embrace that we all have disagreements. Sectarianism exists in churches, golf clubs and bowling clubs, but it's working class football fans who are treated as a bogeyman. Of course, we have our idiots, like anybody else, but our problems aren't as severe as they're portrayed."