The Largely Peaceful Transfer of Power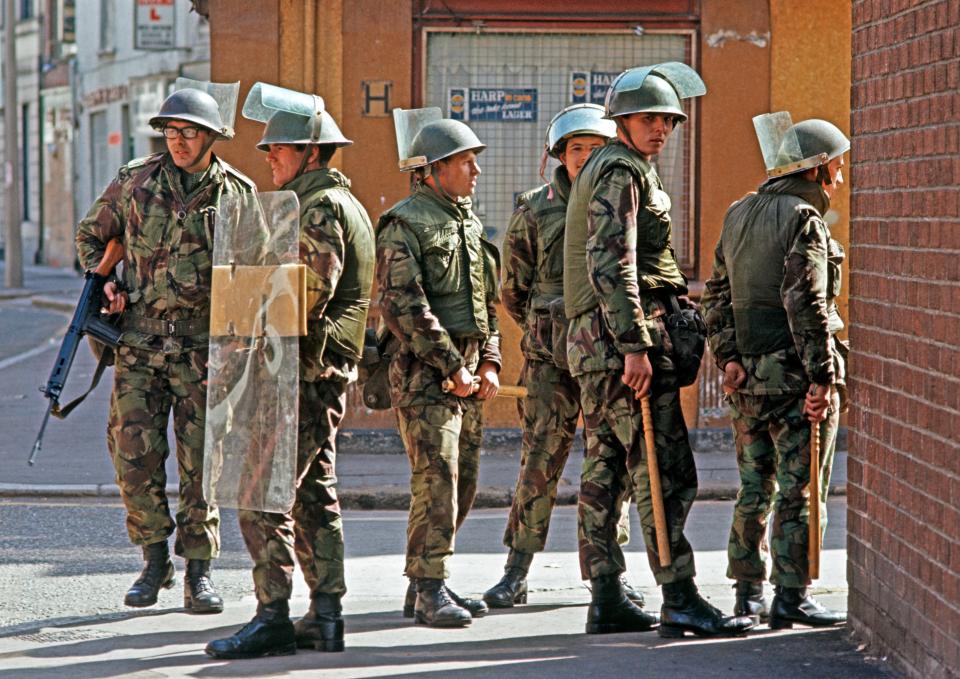 The increasingly ridiculous These Islands project has published another one of its learned essays. If Scotland in Union is marked as a sort of cartoon of class war and pheasant plucking Toffs gleefully tossing lolly into the cause, These Islands is an attempt at an airbrushed respectability. This is your Unionism 'peer-reviewed' and sifted for respectability.
This is Better Together with status anxiety.
In a period marked by an extraordinary reactionary politics and xenophobia Joshua Simons writes of a Britain in language that is reminiscent of Blair in his heyday. It's an imagining of Britishness and Britain that is as much of a fantasy as Boris Johnson's new Britannia or Farage's vision of an offshore haven.
Simons writes:
"Britishness is an identity which embraces pluralism, which views it as a source of strength. It is an identity resolute in its internationalism, defined and redefined over three centuries by men and women looking outward, seeking to understand the place their island should take in the wider world."
This is a whitewash of history and a very peculiar reading of where we are today. It's exultant, euphoric and ridiculous.
He goes on to argue that "war, religion, and trade" drove the formation of Britain's uniquely "resolute internationalism". It's very strange.
He explains: "Over three centuries, war did much to bind Britons together. In a moment of war, citizens must decide whether to defend their country. "
He goes on (and on) to drop-in individual Scots to prop up his remarkable argument.
After explaining the great success of the Defence of the Realm Acts in 1798 and 1803 ("the army grew fivefold over the course of the war, the navy almost ninefold") he writes:
"Some fought to show courage or pugnacity, whilst others, like Peter Laurie, from a family of East Lothian farmers, thought of pragmatic self-interest. Laurie went to London to make his fortune, joining the metropolitan volunteer corps, later becoming Director of the East India Company and Lord Mayor of London."
Later he writes:
"In the nineteenth century, men and women from all four nations – Scotland in particular – saw great opportunity in Britain's empire. A Scot, Allan Octavian Hume, founded the Indian National Congress in 1885, and another, Patrick Geddes, inspired Jawaharlal Nehru, the founding father of modern India. The first Labour Prime Minister in the world, in Australia in 1908, was an Ayrshire miner. Though the United Kingdom is often referred to as England, the Empire is never English."
That would be a really quite remarkable re-writing of the history of the British Empire in India, and I'm not sure I'd use Geddes of the Celtic Revival and Scots Renascence – friend to Peter Kropotkin and confidant to Mahatma Gandhi and Rabindranath Tagore and inspiration to Macdiarmid – as an example to prop up your dodgy retro British propaganda.
But this is Britain as utopia.
He states boldly:
"Christians, Muslims, Jews, Hindus and Buddhists are all Britons now. In a world of growing religious conflict, it is an immense strength of Britishness that it is sensitive to other identities in these islands, comfortable with religious diversity" … before later writing in some confusion:
"We should be ashamed of how we treat so many British citizens who are ethnic minorities, particularly Muslims, in our public culture. How can anyone feel a sense of loyalty to the idea of British citizenship if the values espoused in its defence – fairness, tolerance, and liberty – are often flagrantly ignored in practice? Ethnic minorities are still more likely to be poor and unemployed than the UK average."
His grasp of history seems loose at best:
"These ideas all aim at the same end: to remind ourselves that we, as British citizens, are members of a shared political community. This means we accept that at times in politics we win, and at others we lose. Historically, this has been one of Britain's great strengths: the largely peaceful transfer of power, even in times of great turbulence, such as the decline of Empire or the Irish Home Rule Crisis."
Sorry, what was that?
At times it veers off course from sloppy history into complete incoherence. He concludes:
"More and more economic power is now held in fewer and fewer hands. A politics that is built on these shared challenges, rather than on a coalition of identities, may help to reinvigorate a sense of what it means to be British."
This is academese – gobbledygook – but it's used in this context to try to give balance – and much craved credibility to These Islands. A veneer of leftism (in their eyes) and a patina of academic respectability is the desperate aim.
There's room for a balanced history of Britain, but Unionists drawing on the history of Britain at war, of the British Empire as a source for creating a projection of progressive citizenship, values and exceptionalism is absurd. It's deeply insulting to the many people who suffered at the hands of British troops over centuries and its a comic attempt at creating a fantasy national identity that fails badly.
You might not recognise this "outward looking" Britain from the one  which threatened to "cripple Spain" and invaded Iraq.
The search for the elusive positive case for the union continues.