The Coup Nobody Is Talking About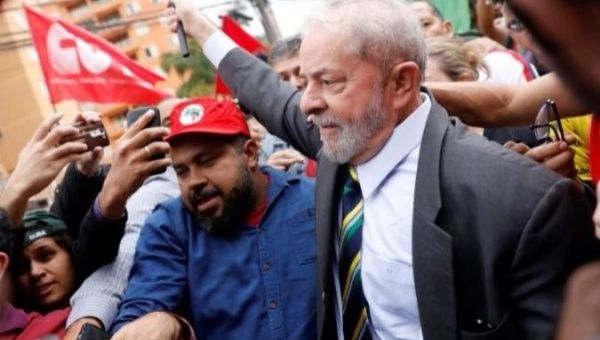 Is a coup taking place in Brazil before our very eyes? Jamie Maxwell investigates.
As a rule, I think political journalists should avoid writing about countries they haven't visited. It's impossible to cover a story properly unless you've actually witnessed its effects, in some fashion, at first hand. Otherwise, you miss the essential, granular details that mark one place out from another. In this instance, however, I'm going to make an exception, because the story in question is so absurd – and so criminally underplayed on the international stage – that I'm finding it increasingly difficult to ignore. 
I've never been to Brazil, although I am, of course, aware of the basics: it has the fifth largest population on earth, the fifth largest land mass, and one of the world's biggest and most consequential economies. I also know that it is in the grip of what looks, at best, like a dramatic attack on its democratic system and, at worst, like a full-blown coup d'état. 
Last week, an appeals court in Porto Alegre upheld a graft conviction against former Brazilian president Luiz Inacio Lula da Silva. Lula ran Brazil for eight years from 2003 to 2011 as head of the leftist Workers' Party (PT) before handing the presidency over to his successor, Dilma Rousseff, who herself went on to serve another five years as president. 
Charges were brought against Lula in 2016 as part of 'Operation Car Wash', an investigation into money laundering at Petrobras, Brazil's state-owned oil company, and they culminated in July of last year when he was found guilty of accepting a bribe in the form of a luxury apartment. But as the American economist Mark Weisbrot wrote in The New York Times recently, this allegation doesn't stack-up: "There is no documentary evidence that either Mr. da Silva or his wife ever received title to, rented or even stayed in the apartment, nor that they tried to accept this gift." 
Lula's supporters point to further weaknesses in the case against him; his phone was tapped illegally; conversations he'd had with his lawyers were leaked to the media; and questions have been raised regarding the neutrality of at least one of the judges involved in his case. 
The treatment of Rousseff, Brazil's first woman president, has been just as bad. She was impeached by the Brazilian senate in August 2016 on the grounds that she had manipulated the country's budget deficit figures, a practice that is both constitutionally problematic and relatively common among Brazilian political leaders. (It's common everywhere else, too: if Gordon Brown had been barred from trying to disguise the extent of the UK's spending gap, he wouldn't have lasted 10 minutes at the Treasury let alone 10 years.) To add insult to injury, a huge number of the lawmakers who voted to impeach her were themselves under investigation for corruption. 
Between them, Lula and Rousseff won four presidential elections in a row (three by massive margins) and enacted a series of social reforms that transformed Brazil. "By 2014, poverty had been reduced by 55 percent and extreme poverty by 65 percent," Weisbrot explains. "The real minimum wage increased by 76 percent, real wages overall had risen 35 percent, unemployment hit record lows, and Brazil's infamous inequality had finally fallen." 
These achievements are now in jeopardy. Lula intends to run for the presidency again at the forthcoming election in October. But he can't do that from behind the bars of a jail cell. If he somehow manages to salvage his candidacy, he could very easily win. If he doesn't, the left vote could split. What is truly remarkable about this situation, though, is the way in which Brazilian political power has been unceremoniously wrenched out of the hands of a party with a solid democratic mandate and siphoned-off into those of an oligarchic elite. 
The current president is a man called Michel Temer. Under Brazil's convoluted multi-party system, Temer – who is a member of the centre-right PMDB, and a veteran of Brazil's oily political establishment – served as Rousseff's deputy prior to inheriting the presidency after her impeachment. In contrast to Lula and Rousseff, whose voters are predominantly young and poor, Temer represents Brazil's affluent middle and upper classes. His platform is aggressively neoliberal. He wants to dismantle the welfare state, sell-off of public assets, liberalise the labour market, and cut health and education spending – all without ever having been elected, and on the basis of an astonishing six per cent approval rating. 
Opposition to the PT's legacy is the galvanising dynamic of the Brazilian right. A coalition of disillusioned professionals, evangelical Christians, conservative media organisations, and entrenched business interests seized on Brazil's cratering economic performance (between 2015 and 2016, the country suffered the worst recession in its history) as an opportunity to oust Rousseff. At the height of the crisis, mass protests erupted both for and against the beleaguered president. The right eventually won, but the fallout has been disastrous: Temer's interim government is – ironically and inevitably enough – now swamped by corruption scandals, and his lacerating free-market cuts are reversing much of the progress made under his two left-leaning predecessors. 
Given these circumstances – a four-times democratically elected government has been toppled on questionable constitutional grounds; a massively popular former president has been handed a lengthy jail sentence following a less than watertight conviction; and a self-appointed administration mired in scandal is frantically shredding key social reforms implemented by its political opponents – you'd think the international community would be in uproar. But no. Despite having repeatedly condemned the Maduro regime in Venezuela, which stands accused of similarly autocratic behaviour, the US, Canada, and Europe have issued absolutely no criticisms of the right's putsch in Brazil. 
Why the silence?
The most obvious explanation is that, under the PT, Brazil was rapidly pivoting away from the West's sphere of influence. In 2009, fuelled by demand for Brazilian iron ore, China replaced the US as Brazil's main trading partner, overturning an 80 year status quo that had cemented Washington's relationship with South America's largest country. This shift occurred at the height of the so-called 'pink tide', which saw leftwing parties take power in a variety of Latin American legislatures, fundamentally undermining US hegemony in a region US politicians had long considered their backyard. 
As if to illustrate the point, shortly after Lula's appeal was rejected in Porto Alegre last week, Temer appeared at the World Economic Forum in Davos, where he extolled the benefits of Western-style deregulation to the global one per cent. "Many are asking if our journey isn't threatened by up-coming elections," he said, referring in part to his efforts to raise the retirement age for Brazilian workers and roll back pension entitlements. "Let me tell you, with conviction: we'll complete our journey."
I have never been to Brazil, and I don't speak Portuguese, but it seems to me like that journey needs to come to a very abrupt and emphatic end.