From Politics to Panto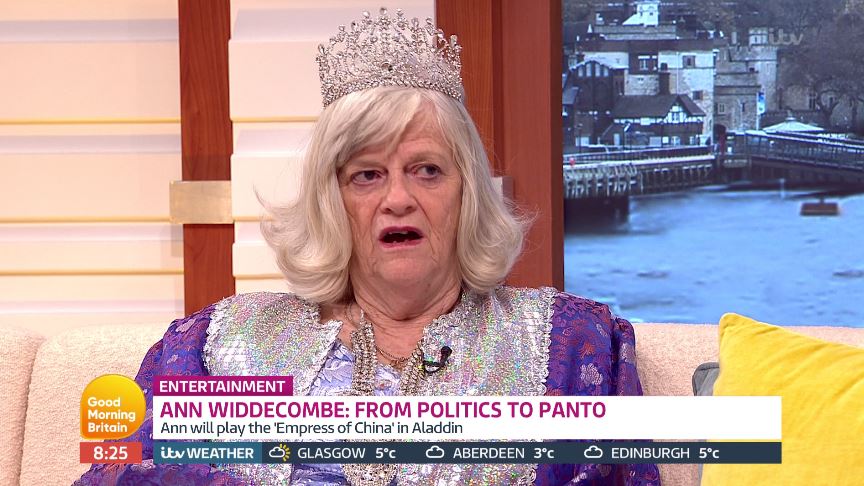 Iain Dale, the Conservatives favourite blogger-turned radio star is celebrating Ann Widdeecombe, urging his readers: "Ann Widdecombe needs your vote. For those of you who don't watch Celebrity Big Brother, she's in the final and voting finishes this evening. It would be great to see her win it, and confound her critics."
On reminding him that, whilst Ann might be hilarious in Celebrity big Brother, her track record whilst Prisoners Minister included advocating shackling pregnant women in chains in the run-up to childbirth.
What a hoot!
A confused Dale denied this had ever happened, so here's a reminder…
As Prisoners Minister Widdecome told MPs they had to be chained and handcuffed to stop them escaping.
The Mirror revealed how mother-of-three Kathleen Mackay, 27, was handcuffed to a warder on a 10ft chain.
And Channel 4 News secretly-filmed footage of Annette Walker shackled during the early stages of a 12-hour labour.
At the time Shadow Home Secretary Jack Straw said: "In a civilised society it is inhuman, degrading and unnecessary for a prisoner to be shackled at any stage of labour."
The policy of shackling pregnant women with handcuffs and chains was introduced during Derek Lewis's tenure as director-general of the Prison Service and was revealed when Channel 4 News showed secretly-filmed footage of Ms Walker in chains at the Whittington Hospital in Archway, north London. It was Ann Widdecombe who defended the policy in a Commons debate of January 1996.
At the time the Independent reported:
"While prison officers allegedly agreed to remove the cuffs during an abdominal examination, the officers remained in the room. The chains were re-applied afterwards and she was chained to a bed in a 12-bed ward. The next morning she took breakfast in the dining room chained to an officer in the view of other patients.
On a second visit to the hospital Ms Walker claims that officers applied the handcuffs very tightly and told her to "shut up" when she asked for them to be loosened. On arrival, she remained chained to two female officers who watched while an internal examination was conducted.
Ms Walker claims that one of the officers told her to "shut up" and said words to the effect of "we've all had babies before – it's nothing". An officer also allegedly called her a "sneaky bitch" for trying to get a visit from her mother while she was in hospital.
She was also chained throughout a third visit. Ms Walker gave birth to her baby on her fourth visit to hospital. She says she was chained to a bed in a private room prior to the birth.
Ms Walker's baby daughter, Tierney, was delivered on 2 January 1996 after a 12-hour labour. "At almost the moment of the birth, the officers' shift changed and a male officer came into the labour room while the plaintiff was covered in blood and the placenta was being delivered," the particulars say."
A summons issued by Ms Walker, 31, at the Central London County Court sought damages of up to pounds £50,000 for the pain, distress, humiliation, anxiety and injury caused by the use of "unnecessary, excessive and unlawful force".
In the end she was awarded £17,000.
[see Beech BAL. Shackled prisoner wins compensation. AIMS J 1998. 10.13, cited in Legal Aspects of Midwifery].
Still – "Ann Widdecombe needs your vote." Oh Big Brother, the irony.