The Right Stuff
Anti-communist hysteria? Check. Sectarianism and violent bigotry normalised? Check. Revived notions of social control through reproduction? Check.  Secret police? Check. Weird nationalism wedded to paranoia and inappropriate militarism? Check.
Any doubts that we are living through times of reaction and revanchism and an emboldened far-right have to be set aside as Conservative forces snarl in the face of their own failure and chaos.
The past week has seen a Sun smear of Jeremy Corbyn given oxygen by the Defence Secretary and former fireplace salesman Gavin Williamson, who said it showed Corbyn "cannot be trusted".
Williamson said: "Time and time again he has sided with those who want to destroy everything that is great about this country, whether it is sympathising with terrorists, backing rogue regimes, or cosying up to those who want to inflict pain and misery on the British people."
The incident might be familiar to those with a bit of history about the British State's way of working.
In Robin Ramsay's, Prawn Cocktail Party: the Hidden Power Behind New Labour he writes: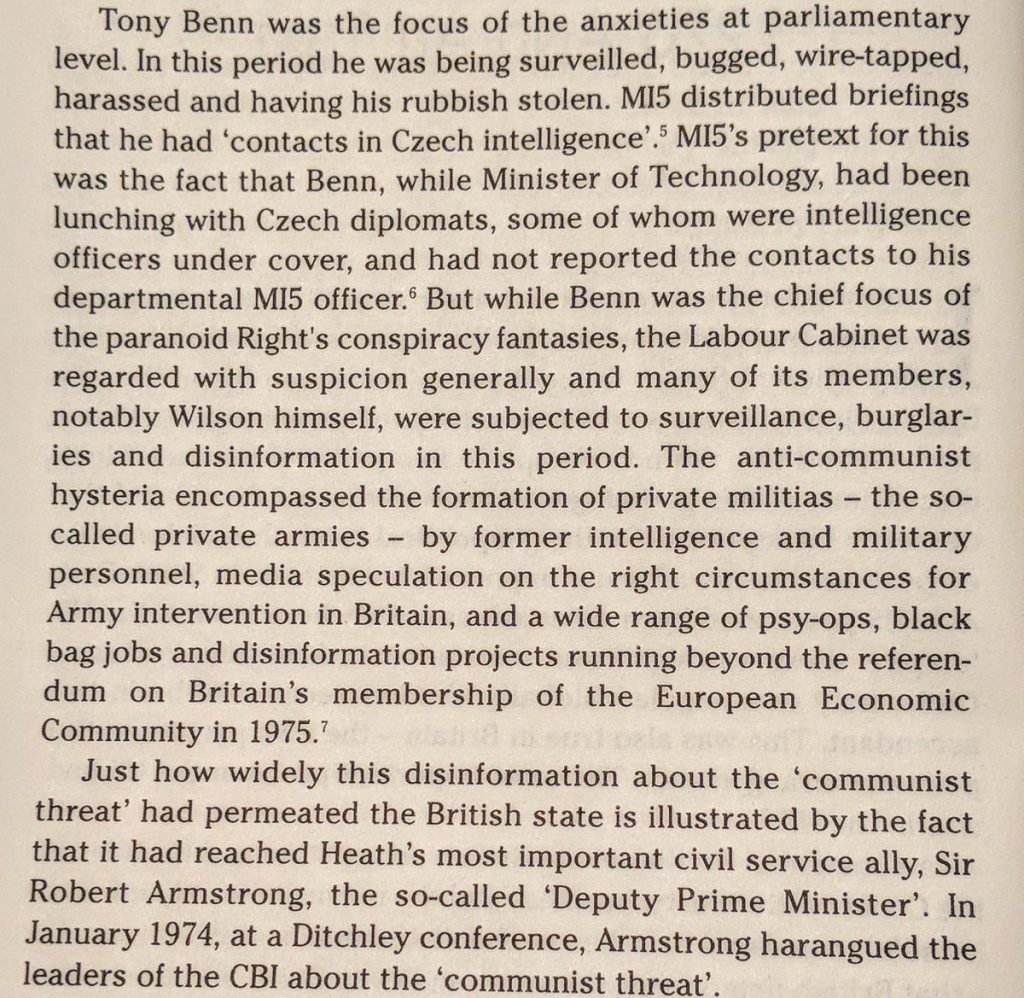 On the day that over 100 charities, campaign groups and civil society leaders have joined forces to launch a new Scotland Declaration on Human Rights, this is important because smearing political opponents isn't compatible with a democracy and people we don't agree with have rights too.
As the declaration states:
"Human rights belong to everyone; rich or poor, old or young, whether born in this country or another. We all have rights regardless of sex, race, disability, sexual orientation, religion, age, gender or belief. We together declare that human rights and equalities must remain at the heart of Scottish society."
But just asserting rights isn't enough, you have to believe in them and you have to have the power to defend them and assert them.
As rights are likely to be under assault in a post-Brexit Britain it's deeply alarming to see a poll showing that more than one in eight Scots oppose their own human rights.
And that's the problem, having formal rights isn't adequate if we have a culture of complacency or the gradual erosion of rights through a lowering of standards and ideals. In a victim culture where blaming the poor, the feckless or the foreign has become everyday, and in which surveillance culture is just assumed and normalised, we are in real difficulty.
The effective use of police spies to infiltrate and impregnate peaceful protestors has been met with a general societal shrug. Julia Rampen reports:
"Reporting by the journalists Rob Evans and Paul Lewis, and their follow up book, Undercover, documented how, from the late 1960s, police had been infiltrating protest groups. Their deceit extended not just to having relationships with women while undercover, but even having children with them. In Kennedy's case, he grew his hair out, pierced his ears and moved to Nottingham, where he began hanging around cafes popular with activists and introducing himself as Mark Stone. As well as gaining a reputation as an effective organiser, Kennedy had at least two serious relationships – the second with Lisa lasted six years.
When the revelations emerged, there was widespread horror at the idea that women had been manipulated in such a way. But seven years on, the public inquiry is cloaked in secrecy (hearings are ongoing, and there was one on 5 February 2018). Since 2014, the police have fought attempts to release details, in particular the aliases the undercover police went by. These are crucial as far as the activists are concerned, because it is these names, not the officers' real ones, that will identify police spies. Meanwhile, the women, and in some cases their children fathered by undercover officers, have had to live with the consequences."
Politicians don't have a higher protection than ordinary peaceful activists.
This is what happened to the Green Jenny Jones: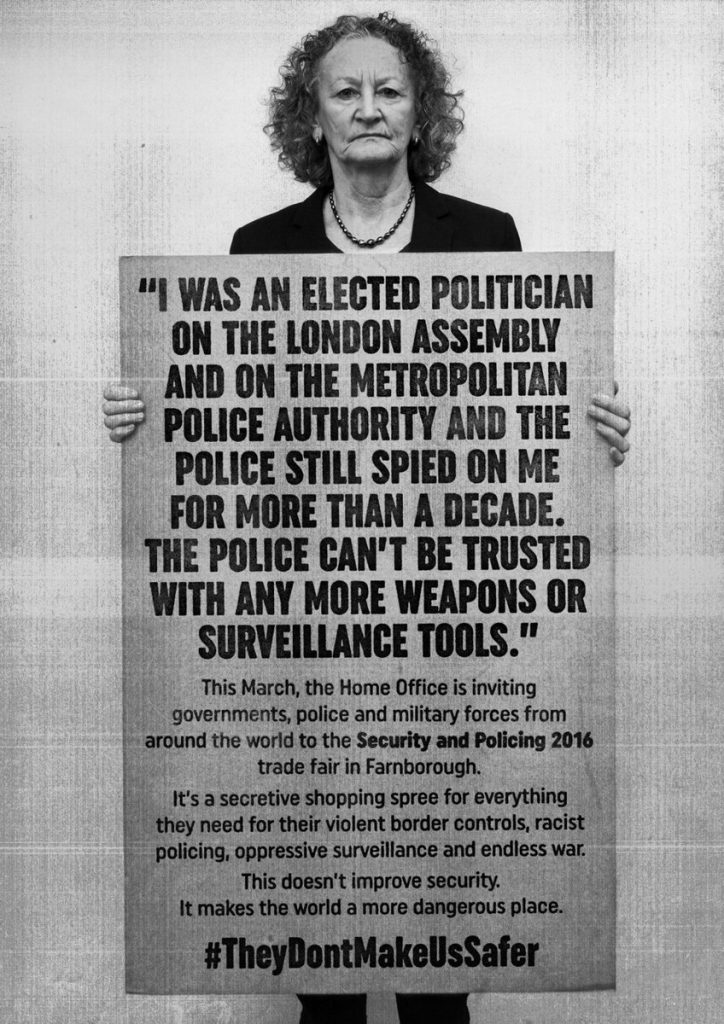 Now, the Met are compounding the crimes by trying to take punitive action against those that they have abused.
As Rob Evans reports:
"Helen Steel fought a four-year legal battle against police chiefs who were eventually compelled to apologise unreservedly for the abuse and emotional trauma she suffered from the deception. As part of the battle, she pursued a legal challenge to force the Metropolitan police to disclose that her former boyfriend, John Dines, had been an undercover officer. She incurred the bill for the police's legal costs after she withdrew the appeal. She says she was forced to withdraw to avoid the possibility of being landed with a much larger bill."
The Green Party's Jenny Jones (herself a victim) has written to Cressida Dick, the Met police commissioner, urging her to drop the attempt to recover the legal costs from Steel and "accept that it is part of the financial cost of poor and sometimes illegal policing tactics".
This isn't some abstract leftie / London issue. As Harvey Duke reported in Bella last month:
"In March 2015, then Home Secretary Theresa May announced a Public Inquiry into Undercover Policing. 'The Inquiry's purpose is to investigate and report on undercover police operations conducted by English and Welsh police forces in England and Wales since 1968.'
This left two large holes: Northern Ireland and Scotland.
Donal O'Driscoll, an environmentalist spied on by Mark Kennedy, commented: "Scotland is not at the periphery of the spycops scandal, but at the heart of it. What we know of undercover policing organisations such as the National Public Order Intelligence Unit (NPOIU) shows us that spycops were active in Scotland and the Scottish police played no small part."
Explanation for the general rights-lethargy vary.
Some explain that it is the Niemöller Paradox: until they come knocking on my door, I don't care.
"First they came for the Socialists, and I did not speak out—

Because I was not a Socialist. Then they came for the Trade Unionists, and I did not speak out—

Because I was not a Trade Unionist.Then they came for the Jews, and I did not speak out—

Because I was not a Jew. Then they came for me—and there was no one left to speak for me."

– Martin Niemöller
Some believe that it is scorn for dissent. Protest is frequently derided as 'student politics'. Scotland and Britain doesn't have a political culture where direct action and large-scale protest (in contrast with, say, France or Catalonia) is held as a legitimate action for the common good.
Some think there has been mission-creep by the police accumulating more and more powers over time as governments of Labour and Conservative have undermined cicil liberties and handed powers to the police.
Others think that the conflation of 'terrorist' threat and 'radical protest' has led to a massive imbalance between the state and the citizen.
All of these contribute and added to this we are complicit in our own surveillance handing over dollops of personal information online every day.
A Scotland Declaration on Human Rights,  is to be applauded, but it needs to be in the context where we can defend ourselves from attacks by the British state, where digital civil liberties are protected and understood and where a culture of dissent is cultivated.