News from Nowhereville: Cludgies, Suilven and the North Coast 500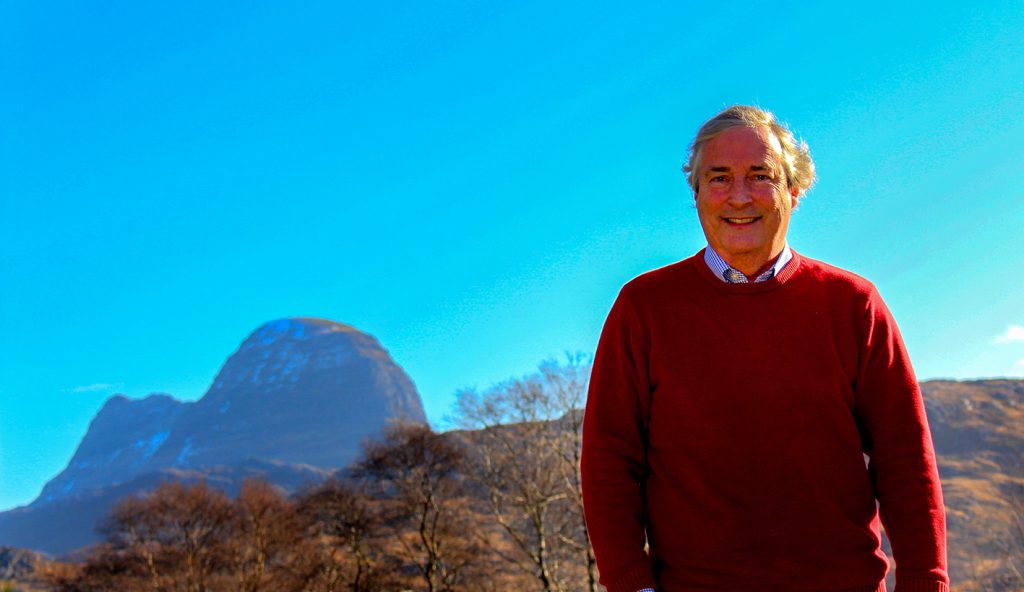 Back in the dim and distant past when the Scottish people only had a corporate entity called 'the Executive' to look after our daily affairs, and the notion of a 'Scottish Government' was merely a phrase Alex Salmond would softly mutter to his bathroom mirror, change was taking place in the heady world of Scottish land rights.
In 2005 Gordon Robertson (pictured) was the general manager for Mohamed al Fayed's Balnagown estate. Al Fayed, pilloried as yet another wealthy man buying up Scotland, put £20 million into Balnagown, restored the dilapidated castle and grew the estate from 60 acres to its current 65,000. Invited to speak at the Scottish Countryside Alliance conference at the Royal Highland Centre, Robertson informed his audience about the pragmatic realities of estate management that despite having the Falls of Shin Visitor Centre, quarries, farms and a thriving tourism business still struggled to break even, to the tune of half a million pounds every fiscal year
Turning to the next speaker at the conference; the Chairman of the Assynt Foundation, which was the first to use the new "right to buy" legislation brought in by the Scottish Parliament in 2003, Robertson opined on the difficulties that the Foundation had ahead of them. From the private perspective, he looked upon the fledgling foundation as an estate that was publicly funded, had received interest free loans and a Scottish Executive funded Development Manager. His forecast was pragmatic and rather lacking in a rosy future. Al-Fayed, he told his audience, had considered a bid for the estate. One look at the books and this profligate, big spender, renowned for the Harrods lifestyle, gulped and put his cheque book away.
A decade or so on and Gordon Robertson finds himself sitting in a rather small office built into the eaves of an estate byre, in of all places, the Assynt estate. Charged with the protection and sustainable development of nearly 45,000 acres of the estate, he cheerily forecasts an optimistic future. It's now two years or so since he took on the challenge of becoming the Executive Officer and putting all his private estate experience to good use for the community cause…without the backing of a multi-millionaire's open cheque book.
The past decade had been fraught with difficulties. The community had actually voted against the bid, some residents, unsure of what community ownership entailed, were turning up with chainsaws looking to gather their winter fuel, believing there was some state sponsored free-for-all game afoot. Estate income was limited to deer stalking and weekly lets for those who could afford to rent the somewhat less than luxurious, Glencanisp Lodge, complete with its metal framed windows.
For those of you unsure as to where Assynt sits in Scotland's geography, this chunk of stupendously beautiful North Highland wilderness is a two hour-drive North-west of Inverness, or top left corner. 'Nowhereville' as the BBC weather chap once rather naively declared. It's a neglected place, the infrastructure creaks. In winter time, there are few lights on in village homes, the darkness revealing the extent of summer home ownership. There are not many jobs and most of those are dependent on tourism.
Robertson and the Board members of the Assynt Foundation have their work cut out to deliver sustainability for the estate; the surrounding parish and their bosses, the community of Assynt. Thankfully they are ambitious, committed and above all, as volunteers, genuinely putting time, experience and effort into ensuring it all works.
Traditionally there's not been much income to be derived from a few views, some coos and fresh air; even if those views are set in an area of sublime beauty. The Estate's assets include several brown trout lochs; an Edwardian hunting lodge, a collection of tumbledown buildings and a handful of mountains, notably Canisp and her much more glamorous sister Suilven, soon to be featured in the upcoming feature film 'Edie'. Glencanisp Lodge is now a 12 room bed and breakfast; operated by a young local couple with a hospitality background who provide comfortable lodgings in a beautiful location with as much local produce as they can source, the metal windows have been replaced! Among the estate buildings, tucked away above the walled garden sits a fully kitted out art studio which must have one of the most inspirational views in the art world.
As those venturing North of Ullapool, on the suddenly hip driving experience, the North Coast 500 route, will attest, this is an untouched paradise. A landscape where one can easily imagine roaming dinosaurs and for Game of Throne fans, dragons too, Wester Ross isn't far away …
The North Coast 500 success has been sparked in part by the phenomenon of the internet age, selfies taken in a landscape so different from much of the UK and Europe. Social media has set interest alight. Instagram, Facebook and Twitter users all fawn over images of smiling happy couples beaming to their friends with the tropical beaches of Achmelvich; Clachtoll, Achnasheen and the Assynt Alps of Quinag, Cul Mor, Canisp and Suilven as backdrops.
Many drive around, intent on avoiding potholes and completing the drive in a couple of days, many decide to return and savour the many experiences the area has to offer. It is these returning visitors that the future of the Assynt estate looks to. Already there are plans to extend the range of accommodation, for both tourists and more importantly, affordable social housing. Hutting plans are being explored, a Shepherds hut in the wilderness, a barge or two on one of Assynt's 900 lochs.
In addition to this mix of snap happy tourists, the estate are looking to take visitors out on safaris to shoot at the local deer, otters and golden eagles…with their cameras. Although a typical deer estate, there are plans in place to develop eco-tourism, to allow visitors to learn about the thousands of deer on the estate, their environment and ultimately for the non-veggie/vegans among us, what they taste like.
For those who bring their own four wheeled homes, the 'Cludgie project' is underway. Recognising that this is just the beginning of Assynt as a must visit destination, for the motor-home and camper-van community, sleeves have been collectively rolled up and a dedicated spot is being made available for weary travelers to top up fresh water, but also, er, rid themselves of used water and the contents of their chemical potties.
Lochinver, the small fishing village a couple of miles down the single track road from Glencanisp has one of Europe's busiest fishing ports, where large trawlers from Spain and France mostly, crewed by a roster of blokes that wouldn't be out of place at a typical UN meeting, disembark their contents into boxes that are then loaded directly into trucks and then head all the way down south to England's Kent coast for distribution onto mainland Europe and furth. Local produce is hard to come by, be it fish, fowl or venison. The estate is contemplating plans to address this, with the feasibility of a charcuterie being investigated, so that visitors might not only enjoy memorable views but savour local produce.
Tourism is but one strand in making Scotland's community owned estates sustainable. Efforts are underway to loosen some of the bureaucratic red tape around Crofting issues and hopefully allow younger folk to venture into a form of crofting that just isn't about sheep and feed. One wonders on the wisdom of a bureaucracy that wants people back on the land, but won't allow them to plant spuds on the ground that there forefathers err planted spuds on. The realities of post Brexit, CAP free Scottish agriculture are looming, diversification is the key. Supporting the young and the new onto the land to make a go of it is a worthy and hopefully long term process of development.
The estate and partners look to reforestation with sensitively sited Native Woodland plantations planned. Already the Coigach and Assynt Living Landscape Project, of which the Foundation is one of the largest members, has created the Little Assynt Tree Nursery where approximately 30,000 native species trees are grown from seed. Species being cultivated include oak, birch, rowan, hazel, scots pine, juniper. dwarf birch, holly and wych elm. The nursery believes 100,000 trees per year are feasible. There are plans for sustainable forestry on the Foundations lands, fenced initially to protect saplings from the deer. There is also the distinct possibility of a Hydro power plant bringing a much needed income to the estate. If difficulties in connecting to the national grid are encountered, connecting to the surrounding villages is a distinct possibility.
For the Assynt Estate, there have been many obstacles along the way, the biggest of course being the ability to finance those 'no-brainer' plans that are the difference between success and failure. Robertson is currently considering such alternative routes as crowd funding to finance the potentially lucrative hydro power. The reality is that the Assynt Foundation has seen its capital value double since it was purchased to some £6 million, roughly the asking price of an average 3 bedroom flat in Westminster.
Put in the bluntest of terms, the Scottish government and the SNP in particular, cannot allow this great democratisation of Scottish land ownership to fail. The once feted Green Investment Bank was held up as the example, head quartered in Edinburgh, it was completely privatised last year and sold off to an Australian banking conglomerate, who have been advised, in the strongest possible terms, that they have to remain committed to green investments. Presumably, like many of these commitments, this advice will last as long as a snowman at our increasingly warming up North Pole…
Perhaps it's time for the First Minster and her cabinet to explore the possibility of creating a substantial investment fund, one that will allow those communities, both rural and urban who are brave enough to step into the frankly terrifying world of 'right to buy', the opportunity to borrow, and pay back the funds, that can make the difference between sustainability or we can face a return to the hidden off shore, non-tax paying corporations who still unfortunately own so much of Scotland.
*
More on Assynt Foundation here and check the trailer for Edie filmed in Assynt here: