Plastic Sea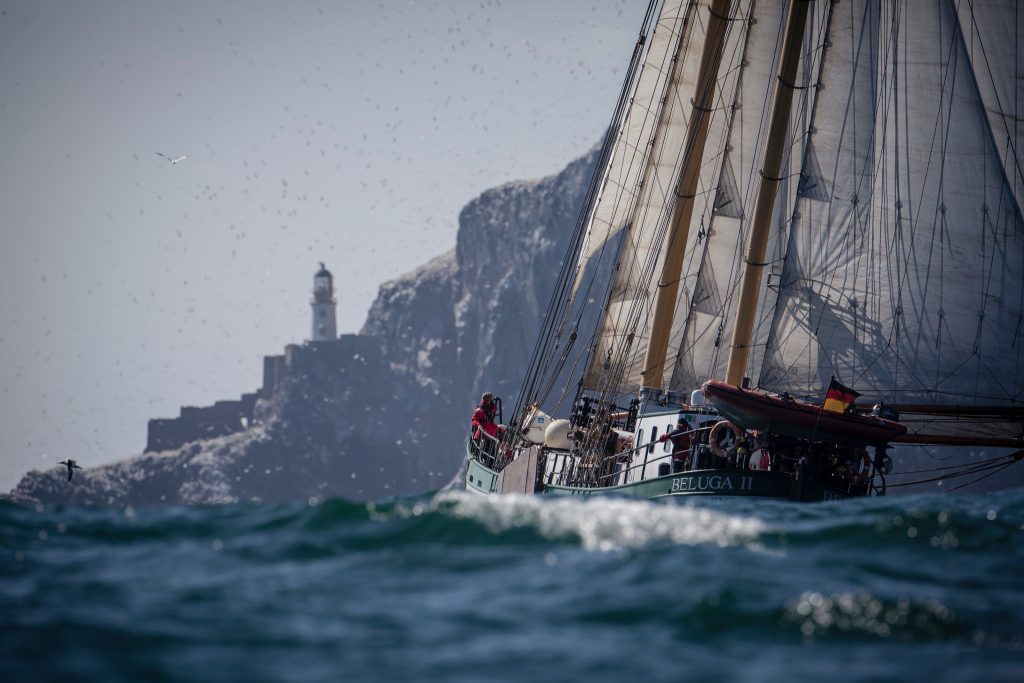 Last year scientists on board the Greenpeace's boat MV Beluga II skirted round Scotland's coast collecting data on the concentration of plastic and microplastics in the sea [microplastics are defined as pieces of plastic measuring less than 5mm in any dimension. All plastic waste tends to break down into microplastics over time, and most of the plastic in our oceans is in the form of micro plastics.]
It's the first and possibly the only such research of its kind.
The results are devastating.
Almost two-thirds of Scottish waters were found to contain micro-plastic pollution.
They collected samples with a focus on areas around the Hebrides known to be important feeding grounds for basking sharks and seabirds. Seawater samples were also collected in key foraging areas and around internationally significant seabird colonies including Bass Rock and the Shiant Isles, which are the home to over 20 seabird species including gannets, puffins, razorbills and shearwaters.
You can download the full report here.
A total of 49 individual samples were analysed by Greenpeace's laboratory to determine the types of microplastics found, and any chemicals or contaminants carried on individual microplastic pieces. Despite the remoteness of Scottish coastal waters, and the low levels of coastal development of the areas surveyed, 31 of 49 samples tested contained microplastics.
Tisha Brown, Oceans Campaigner for Greenpeace UK, said:
"The key finding here is that microplastics are present in some of Scotland's most remote and unspoilt waters. Threatened seabirds and other wildlife are already exposed to them, along with the fish stocks we eat, and there is currently no coherent process or even plan to stop this problem from getting worse."
The survey raises profound questions about the state of our ecology and our responses to environmental problems.
Greenpeace focused on the 'pristine' waters of Mull, Tiree, Rum, Canna and the Western Isles precisely because these waters contain basking sharks, dolphins, whales and sea birds. As Polar Bear = Climate Change icon (people like bears), sharks also play well in the public conscience.
At the launch of the report we had Tory MSP Maurice Golden and SNP MSP Kate Forbes talking about the Scottish Parliament's possible responses. Beach clean-ups were focused on and we were told to think of 'Ocean Optimism'.
But if the west coast is contaminated then that must mean the rivers are contaminated. We've created a product (plastic) that doesn't break down, is very cheap to produce and has multiple applications. Then we've created an economy based on mass consumption and a culture that thrives on throwing things away. That's the basis of our economy, not some aberration from it. That's what it's based on.
A study in Science Magazine in 2015 estimated that around 8m tonnes of plastic go into the sea each year.
That's a truckload of plastic entering the ocean every minute.
You're going to need a hell of a lot of beach clean-ups to fix that.
"Of the 141 pieces of plastic less than 0.5mm that were identified in the samples, the most common material found was polyethylene (43%), followed by polypropylene and polyamide (including nylon) in roughly equal proportions (around 12% each). Polyester (including polybutylene terephthalate) (7%) and various vinyl acetate (including EVA and PVA) fragments (5%) were less frequently encountered, and polystyrene was found in only one sample – in Gunna Sound. The widespread presence of polyethylene and polypropylene in the samples collected at the sea surface is not unexpected, especially in those found some distance offshore. These plastics have a low density relative to seawater (Andrady 2011, 2017) and are therefore more likely to remain at the surface for extended periods than denser forms of plastic. It is not known whether the microplastics collected in this study were primarily local in origin or carried from more distant sources – for example, via currents from the wider Atlantic Ocean. What we can say, however, is that microplastics are a complex and diverse, but widespread and relatively common, component of Scotland's surface marine waters."

– Testing the Waters – Microplastics in Scottish Seas, Greenpeace March 2018
SNP MSP Kate Forbes, has been leading the Final Straw campaign for an end to plastic straws, and succeeded in the Parliament banning straws, and pupils from Glasgow's Sunnyside primary school, have persuaded Glasgow Council to ditch plastic straws. The Scottish Government announced in September it will introduce a Deposit and Return Scheme for drinks packaging.
Detailed proposals for a Scottish system are being worked up by Zero Waste Scotland at the instruction of Roseanna Cunningham MSP, the Cabinet Secretary for Environment, Climate Change and Land Reform, and a final design is expected to be published in the summer. Michael Gove has also suggested he would look at a similar scheme at a UK level.
Campaigners for the Scottish scheme have insisted their plans will go ahead regardless of whether its happens at a UK level, though obviously a UK-wide scheme would be preferable.
Now both of these initiatives are to be welcomed and the deposit scheme has already been backed by more than ninety organisations, including businesses, local authorities, outdoor sports organisations and universities.
A small fully refundable deposit on empty drinks containers has been proven elsewhere to reduce litter, boost recycling, and contribute to the circular economy and has widespread public support.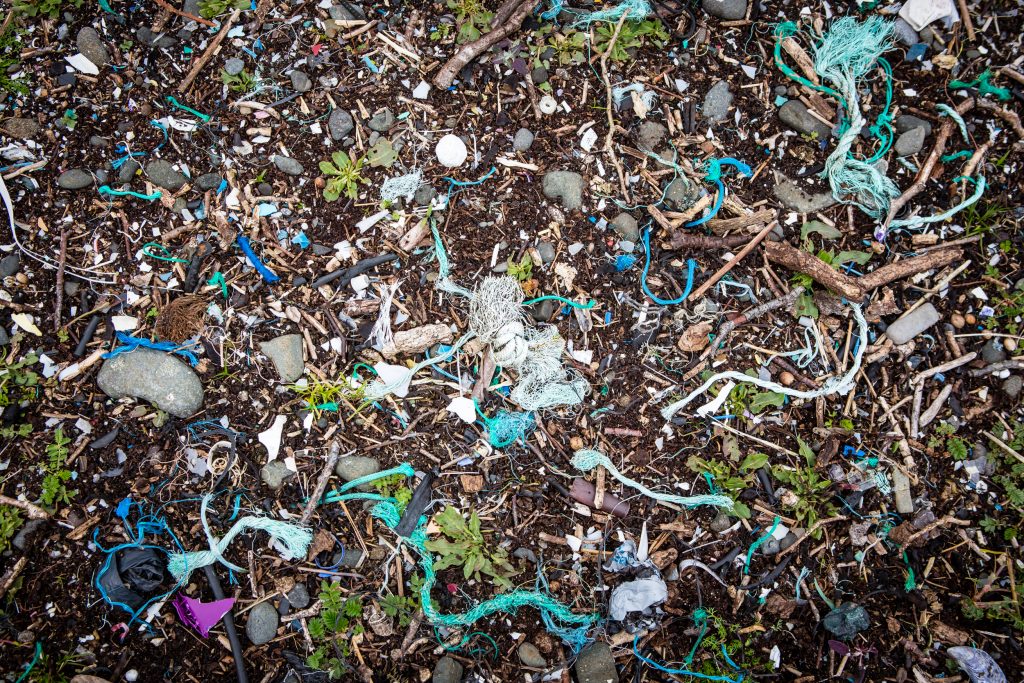 But what we need to be doing is thinking about the leap to a post-plastic society and departure from our throwaway consumable culture. If these measures are steps towards that goal then all good. If they are steps away from that goal by chaining us to ameliorative and negligible differences, then we need to be aware of that danger.
The idea of a Scottish food (and seafood) 'brand' being associated with being 'clean' and 'green' (itself highly problematic) is also potentially undermined by these findings and the reality of a Plastic Sea.
Environmental policies need to be allied to – and connected with the wider aim of a rupture from consumer society and the reality that the production-consumption cycle is what fuels the climate crisis. Rather than a spurious 'Ocean Optimism' we should have a radical realism, face up to what is happening and demand change at a level that has meaning.