Seismic Things Are Happening On The American Left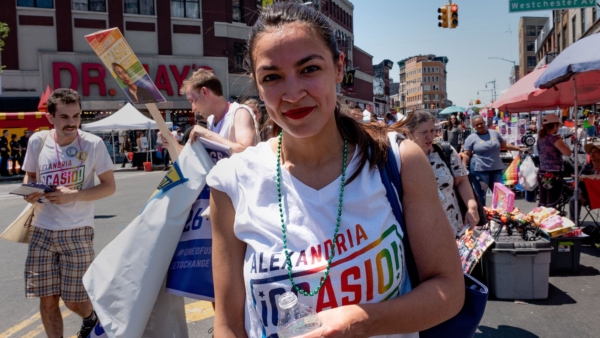 The victory of Ocasio-Cortez in New York wasn't an isolated upset, but the latest in a series of seismic shifts currently taking place on the American left, argues Jamie Maxwell.
When Alexandria Ocasio-Cortez beat Joe Crowley in a headline-blitzing New York primary race last month, the first thing the Democratic Party establishment tried to do was minimise the significance of her victory. 
"They made a choice in one district," the House minority leader Nancy Pelosi told reporters the following day. "It is not to be viewed as something that stands for anything else."
In one sense, Pelosi was right: the result was exceptional. 
Ocasio-Cortez – a 28-year-old socialist – ran her campaign with a fraction of the funds Crowley had at his disposal and none of the corporate support. She was an inexperienced outsider. He was a seasoned Washington operator. Her platform – which included a federal jobs guarantee and the abolition of ICE – was unapologetically populist. His was inoffensive, uncontroversial, and bland.
Under normal circumstances, Ocasio-Cortez would have lost and Crowley – one of the most influential Democrats in the House – would have won. 
But there's nothing normal about politics in America anymore. And the historic success of Ocasio-Cortez (in November, she will become the youngest woman ever elected to Congress) wasn't an isolated upset – it was the latest in a series of seismic shifts currently taking place on the American left.
Ever since Bernie Sanders' failed bid for the Democratic presidential nomination in 2016, the Democratic base has been moving in a more radical direction. Ideas that were once anathema to the party leadership now serve as a litmus test for prospective candidates. 
Take the flagship issue of healthcare. 
Earlier this summer, a new 'Medicare for All' caucus was formed on Capitol Hill with more than 60 founding members in the House alone. And pretty much every major contender for the Democrats' 2020 presidential ticket – from Elizabeth Warren and Kirsten Gillibrand to Corey Booker and Kamala Harris – has come out in favour of a single-payer healthcare system. In 2008, none of them did. 
This reversal has been forced on the party from the bottom up: grassroots activists sit well to the left of mainstream Democratic leaders – as, indeed, do most Americans. 
"National polling suggests that there is public support for an institutional move to the left," Sarah Jones wrote in The New Republic last week. "Polls consistently show that two-thirds to three-quarters of Americans support raising taxes on the rich. Nearly half of Americans support a federal jobs guarantee. And 59 per cent of Americans support Medicare for All."
The emergence of Bernie Sanders as a flag-bearer for America's socialist revival has accelerated the transformation of the Democratic Party. But change was stirring long before the Vermont senator launched his landmark primary battle against Hillary Clinton. 
A few weeks ago, I travelled down to Seattle from Vancouver and found a city in revolt. 
Seattle is America's fastest-growing metropolitan centre, as well as one of its wealthiest and most viscerally unequal. Largely as a result of the tech boom, housing and rental costs have spiralled out of control and the number of people living on the streets has reached an unsettling dystopian extreme. (The homelessness crisis hit a tipping point in 2015 when the mayor was forced to declare a formal state of emergency, which remains in place today.)
Rather than sit back and accept things as they were, however, radical forces in Seattle got organised – and before long had secured a string of major policy victories. 
In 2014, Seattle became the first city in America to implement a $15 minimum wage.
In 2013, voters elected Kshama Sawant – an activist with the grassroots group Socialist Alternative – to the city council. Six months after that, Seattle became the first city in America to implement a $15 minimum wage. Since then, the municipal authorities have raised taxes on the rich, made it harder for landlords to increase rent on low-income tenants, and – just last week – passed a new bill of rights for domestic workers.
In June, under immense pressure from the private sector, the council abruptly ditched its plan to impose a fresh tax on the city's 500 largest companies, the revenues from which – $50m annually – would have been used to build more affordable housing. Nonetheless, as the Vancouver-based journalist Geoff Dembicki noted recently, "the political influence of Seattle's far left is greater than ever."
But Seattle isn't alone in this respect: there has been a measurable upsurge in leftwing activism right across America.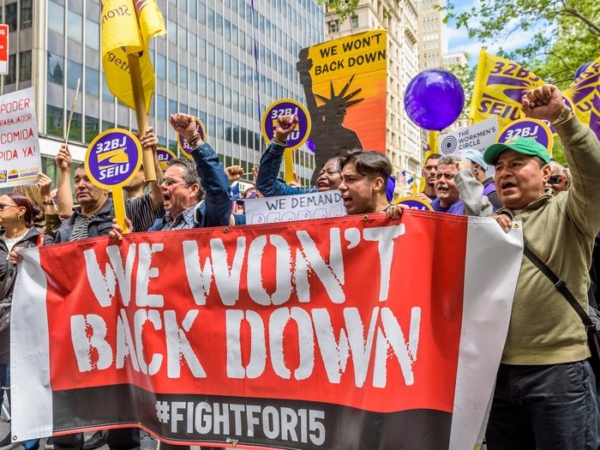 Over the past few months, a wave of strikes – from teachers in West Virginia to bus drivers in Georgia and university employees in California – has swept the country. These walk-outs followed a day of nation-wide action last year, organised by the 'Fight for $15' campaign, that saw fast-food workers from Detroit to Miami withdraw their labour as part of a concerted push for higher wages.
"The audacity of the West Virginia teachers is clearly contagious," Chris Brooks, a writer for Jacobin magazine, remarked in May, as the teachers' strike spread across state lines. "This is an inspiring moment, one that will hopefully leave hundreds if not thousands of activists fundamentally transformed by their experience of collective power."
The most remarkable thing about the new American left is how effective it has been, in a relatively short amount of time, at reframing the terms of national debate. 
The scrapping of student debt, a complete overhaul of the immigration system, and, of course, comprehensive healthcare provision, free at the point of use – these policies have more public traction now than they've had at any stage in the past three decades, despite two ostensibly liberal presidencies and countless opportunities for congressional reform.
Much of this represents an organic social response to the election of Donald Trump, whose constant race-baiting and brazenly oligarchic tax cuts have galvanised a generation of millennial leftists. (Mirroring the rise of Momentum in the UK, membership of the Democratic Socialists of America has increased seven-fold since 2015, from around 6,000 three years ago to more than 45,000 today.) 
But much more pointedly, it's about the future of the Democratic Party, who it belongs to, and why it exists. For the first time in my adult life, and for all the right reasons, that's no longer clear. American socialism is a real, tangible thing – and it's here.