Ten Levels of Doom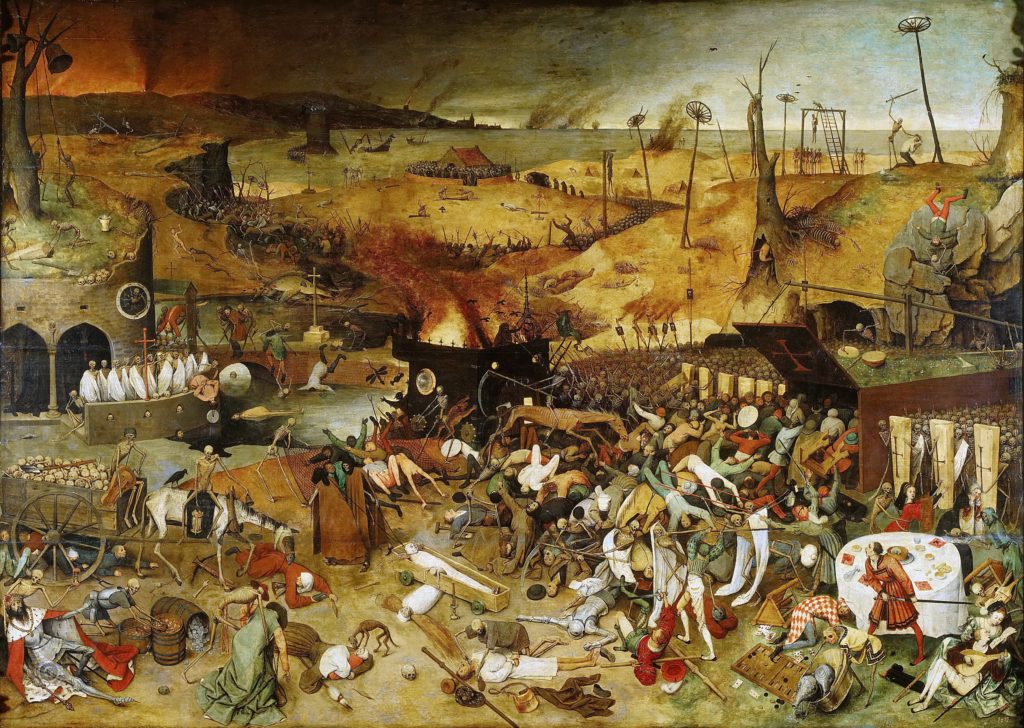 Do you feel it too? The hopelessness that seems to grow every day? Level upon level of it, mounting, hand in hand with the realisation of how little agency we have over pretty much anything. It's clear there is no escape, unless you're one of those space barons, funding your flight of fantasy rather than spending those untold billions combatting the very reasons for wanting to escape. It's almost as if philanthropy is symptom of the evils of capitalism.
But I digress. Come with me, and enter the Ten Levels of Doom…
Level 1: the inner world
I have had depression for around two decades. I've spent more time than I care to think about trying to deal with it. In these times, trying to live with it is as much as can be hoped for. I know I am not alone in this and I think it is very important to acknowledge our invisible illnesses, however this is not that discussion. Instead, simply let the fact of the Big D be your guide for what follows. When it's dark inside, there is a tendency to see it outside too. You are warned.
Level 2: the immediate surroundings
At the start of the August I received notice to move out of the flat (off Leith Walk) that I've lived in for ten years. I don't want to move, however the owner seems to have a sensible, compassionate need for his flat back. All I can do is sigh, try not to contemplate the £60k in rent I've paid since I moved in here (artist+mortgage=lolz) and get on with looking for a new place to live. I also have to not feel that my safe space has just vanished in the blink of an eye. That would not do.
So, I'm looking at flat rentals. Turns out that rental prices have skyrocketed, while the number of available flats has… earthrocketed. Anyone familiar with cities will doubtless realise the mushrooms-in-the-dark spread of key safes is related to this. The stair next to mine has thirteen flats and four key safes. Around here, that is not exceptional.
Key safes, to the uninitiated, are small code-operated boxes containing a set of keys, that are mounted in a public space near the door to be unlocked. Many, if not most, are used by AirBNB owners to leave keys in an easily-accessible place for their customers. It therefore more-or-less indicates where a home has been turned into a 'property' and is no longer available to local residents. It's another example of capitalism destroying a basic necessity of life – almost as if capitalism only works for those who had lots of money to begin with (which may not be as advertised).
This AirBNB-induced change in the rental market has made finding a new place to live much harder. I don't want to move out of this area. I work here. I volunteer here. I contribute here. But when a one-bedroom flat nearby rents for around £800, I don't have a lot of hope that I can afford to live here any more.
It would be nice to believe that Something Might Be Done about the rental home problem, but that would be to expect something of Edinburgh Council which experience suggests is not very likely.
Level 3: the city
Clearly I've got some issues with our local Cooncil. I'm not alone in this. To be kind, Embra Cooncil manifests a certain out-of-touch aloofness. Less kind would be to assume that their decisions seem only to benefit big business and usually include the short-term ability to generate money, regardless of where said money might actually end up. Hint: not in the pockets of locals.
On Leith Walk alone, there are two major works (not including the ******* Trams) backed by the Council that have been bitterly opposed by the people who have to live with the changes. At the top o The Walk, a road interchange is being built that is likely to seriously hamper pedestrians and cyclists. Like a relic of the mid-20th century, it's primary objective is to help cars move, in this case to get them into the massive shopping complex being built next door. All the trees in the area were cut down at the very beginning of the works. Soon three lanes of single-occupancy cars will fill the space, zooming right up against pedestrian-heavy pavements where before green space provided buffer zones. Don't mention active travel. Or space for buses.
Near the bottom of The Walk, a notable block-long Art Deco building is facing demolition. In its place another hotel and, natturally, even more student accommodation is planned. Campaigners have collected over 10,000 signatures in a petition to stop the destruction, however previous campaigns such as at Craighouse and Canonmills suggests all objections are in vain. The message: money is our the boss, not you.
This is not a situation particular to Edinburgh. Most local authorities in Scotland operate with a similar disregard for their populations. While the deplorable state of modern politics is part of this, there is another element at play that is particular to Scotland: our local governments are the most out of touch and least democratic in Europe.
Where the average European local authority contains 5,620 people, Scotland's contains 163,000. That's almost 30 times larger. In area Europe's average local authority is 49km², Scotland's 2,461km² (source). This means our local authorities cover an area 50 times larger than that of our neighbours. It is stunning, yet the only thing we talk about when we discuss local government is how shit it is, how the bins aren't picked up enough and the potholes in the road need filling. The conversation is rarely about how staggeringly large and unmanageable our 'local' authorities are.
Without a proper conversation about this on a national level, we will never see change. Given Scottish governmental tendencies to centralise power, is there any chance of that conversation ever happening? I hae ma doots.
Level 4: the country in which I live
Scotland could be so much better than it is. Since our parliament returned in 1999, there have been some positive changes. However of late our brand of insipid managerialism isn't exactly inspiriational. We make the most of small victories, while looking at the bigger issues with a heavy heart. Two of the biggest, land reform and a replacement for Council Tax, have the potential to improve the lives of almost all of us. You'll find government desire to engage with those issues somewhere far into the long grass.
In the mean time don't expect a positive case for Scotland's independence to be made anywhere except in the hopeful, desperate words of campaigners. It's important to remember that large scale positive change is being saved for after we get independence. Oh look, a squirrel.
It could be worse, of course. We could have a Scottish Government that acts like the one in Westminster.
Level 5: the union in which we are stuck
Brexit. May. Brexit. Johnson. Brexit. Farage. Brexit. The Sun. Brexit. Hopkins. Brexit. Question Time. Brexit. Corbyn. Brexit. Stockpile food. Brexit. The army on standby. Brexit. Brexit. Brexit until you want to boke. Brexit until you want to walk into moving traffic.
The vestigial remnants of Empire clutch desperately at power, with the purest distillation of delusion. The two largest parties sing the same odes to Jerusalem and neither say anything even remotely close to what I believe.
Being Scottish, I should be used to this. Somehow, though, both the Tories and Labour being on the same Brexit side has shocked me. It shouldn't have, given, well, most of the last forty years, but still. There is no official opposition. None. Not even an abstaining one.
Level 6: the corporate media
Instead the barking of the media is an echo chamber of the madness, and that's when it's not being the ringleader. Even dear old Auntie, that most British of corporate media institutions, has become hopelessly unmoored. It comes as little surprise to viewers in Scotland, of course. We simply look on with resignation as our national broadcaster airs a tiny bandwidth of information in the guise of balance. That's the same balance, who can forget, that brought us the joy of Farage on Question Times and in doing so gave UKIP a platform where it should have had none.
Short-sighted, money-grubbing, idiot Toff conspiracy, or group think in 'our' media, where a large bulk of those in power come from just two universities? If you're not sure, feel free to pick both options. You would not be wrong.
Oh, and we've also now had eight years of murderous austerity. Did you forget that was still a thing? It is, although you'd be forgiven for having forgotten given the corporate media never mentions it and didn't really ever challenge the narrative in the first place.
It's almost like the power in our country rests mostly with a small group of people from more or less the same background.
Level 7: the people in power
I mean just look at them. Those in government are the biggest bunch of incompetents, liars, racists, sociopaths, borderline criminals and moronic conspirators ever to be in office (at least in my lifetime) and yet still, still, Labour struggle to move ahead of them in the polls. It's almost as if siding with the government on a hugely self-destructive plan and abstaining from voting on almost everything else of note isn't a convincing case that Labour could run things better. To be fair they're (probably) not as evil as the Tories, rather perhaps just foolishly Lexit naïve.
Still, at least the Tories aren't as outright fruit-and-nut deranged as Trump.
Level 8: the world
That orange shit storm is beyond belief and while he spreads slurry as far and as wide as he possibly can, the minion hordes of the far right are emboldened to push their vile countenances above the parapet, finding new unfettered platforms for their hate.
Alex Jones. Breitbart. Rupert Murdoch's distinctly Aryan Fox News (which may be coming to a screen near you soon) and more. The far right have become bold enough as to march in Berlin on the anniversary of the death of Nazi Deputy Führer Rudolf Heß.
Along with the far right, the orange bawbag has given new hope to climate change deniers. Among their blinkered number is Andrew Neil, the prominent BBC political commentator, among other things, who will mumble about global warming with no apparent understanding of the phenomenon, whenever he should chance to look at the weather outside his window.
Level 9: the planet
Did you seen that weather lately? Did you know pretty much the whole globe experienced a heat wave? The reality of climate change at this point has become pretty much unarguable. When even The Sun has mentioned it, you know it must take a very special type of tinfoil helmet to still argue that it isn't anything to do with humanity.
No matter than millions of us have seen this coming and have tried to do things to help, without the support and leadership of responsible governments, our attempts are a drop of tepid piss in a rising, warming ocean. Responsible governments, you may have have noticed, aren't really a thing in these days of the corporate capture of democracy (which is similar to carbon capture, except real). Instead our governments do little more than mouth empty platitudes.
Right now there are vast areas of tundra defrosting, releasing more carbon into the atmosphere and thereby intensifying the heating and changing of the climate. Then there's the sea ice feedback loop.
Sea ice reflects heat away from the planet. When higher than usual temperatures cause ice to melt, more heat is absorbed by the sea, which is darker, and in turn the warming water causes more ice to melt. With more melted ice comes more heat absorption by the sea leading to more melting ice and so on.
All this is just the tip of the climate change iceberg, which in fact you'll note isn't made from ice but is rather a vast saragossa of plastic. Well done to the leaders of us humans!
Level 10: the future
What we have to look forward to globally is further climate chaos, including extreme storms, rising tides and both climate change induced war and resource wars caused by mass migration of humanity from areas no longer able to support life.
What's that you say? Forced displacement of humans is at a record 68.5 million? Cape Town has almost ran out of water? Brilliant! Whatever will be next?
–
This was a choose my own misadventure. There are many more paths that journey down through our preapocalyptic times. Have you chosen yours? Feel free to share it below, there's no end to the doom. Personally, I'm looking for a nice and quick nuclear weapon flash ending, rather than a long and drawn out resource war one. But that's me: always hopeful!